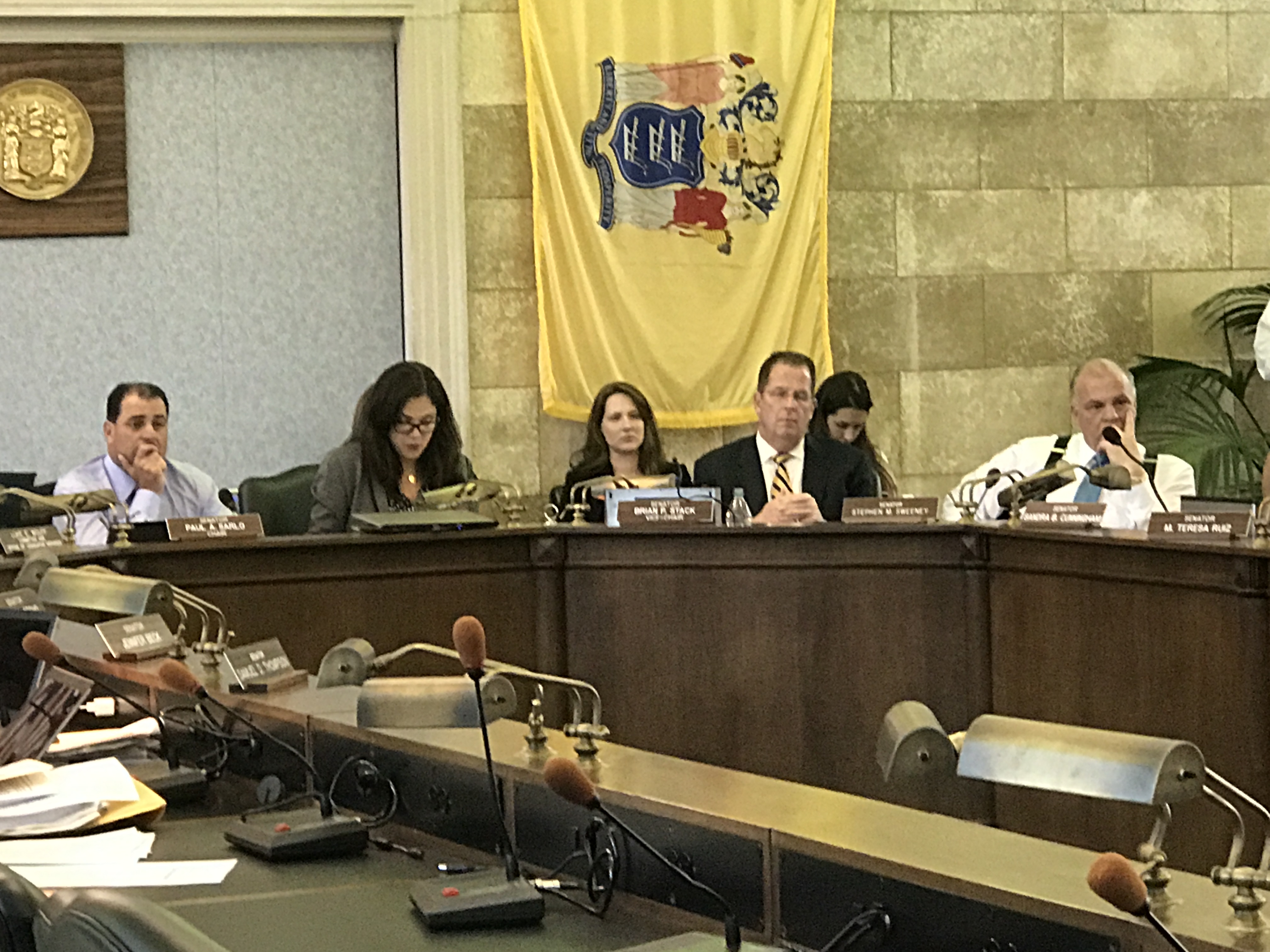 Facing a fast-approaching deadline, New Jersey Democrats rolled out a $34.7 billion state budget Monday night with no assurances that Gov. Chris Christie will sign off on their spending priorities.
Budget committees in the state Assembly and Senate unveiled and approved the new appropriations act for fiscal 2018 around 10 p.m. Monday. The budget is on track for final legislative approval on Thursday, two days before the July 1 constitutional deadline.
But even if Democrats pass the spending plan, there's a chance Christie could hack away all the extra spending they included — nearly $320 million above what he proposed — before signing it into law.
Democrats added $100 million for schools, $25 million for preschool programs, and $195 million for dozens of programs including legal aid for the poor, domestic violence prevention, cancer research, higher education investments and tuition assistance grants, cost-of-living adjustments for direct care workers, and prisoner re-entry efforts, among others.
"We added to the governor's proposal a series of Democratic priorities that promote opportunity and care for the most vulnerable," Sen. Paul Sarlo, chairman of the Senate budget committee, said in a statement after the meeting. "In past years, we have succeeded in funding many of these same priorities but the governor rejected or reduced funding for others. We have the opportunity with this budget to address these Democratic priorities and have them accepted by the governor."
In budget negotiations last week, Democrats have said, Christie agreed to sign off on their budget plans only if the Legislature passed a bill to convert the state lottery into an asset of the public worker pension system, and another bill, to let the state reduce the reserves of New Jersey's largest health insurer, Horizon Blue Cross Blue Shield.
Lawmakers in both the Assembly and Senate budget committees gave the green light to Christie's lottery proposal Monday, and the Senate Budget and Appropriations Committee approved a controversial bill that would force Horizon to spend down any "inefficient," or excessive, surplus.
But the state Assembly did not take up any Horizon bill, and Speaker Vincent Prieto (D-Hudson) said any measure that targets the insurer is dead in the lower house.
"I think that is a question more appropriately asked of the governor," said Assembly Budget Committee Chairman Gary Schaer, when asked if the budget his committee just passed would become law. Schaer (D-Passaic) added that Prieto earlier on Monday reaffirmed his commitment not to post a Horizon bill.
The Senate budget committee passed the budget by a 9-4 vote, with two Republicans, Sens. Tony Bucco (R-Morris) and Kevin O'Toole (R-Essex), in favor, and one Democrat, Sen. Jeff Van Drew (D-Cape May), opposed. The Assembly Budget Committee approved it by a 9-0 vote with four abstentions from all the Republicans on the committee.
Democrats had planned to shift $46 million in so-called adjustment aid from overfunded school districts to cash-starved schools that have seen large enrollment growth in recent years, but their budget ended up redistributing a smaller amount, $31 million. Sarlo (D-Bergen) said the governor's office requested that change in adjustment aid because Christie was concerned that some towns such as Toms River would have gotten hit too hard, losing millions of dollars in state aid.
Democrats are expecting $35.2 billion in revenue for fiscal 2018 and their budget includes a $412 million surplus, which experts would consider low since it is roughly 1 percent of spending.
Technically speaking, the $34.7 billion budget is about $840 million less than the $35.5 billion plan Christie proposed in February. But that's because Christie's lottery plan shifts about $1 billion in revenue from the general fund directly to the pension system, and it is therefore no longer reflected in the budget.
Despite warnings from some experts that it was more of an accounting gimmick than a real fix — and that the pension could end up losing money — both the Senate and Assembly budget committees approved the lottery plan in a pair of 13-0 votes. The transaction would run for 30 years, making the lottery an asset of the $73 billion pension and pumping a steady stream of cash into the retirement funds every month
Advocates of the plan say it would provide a stable stream of revenue — around $1 billion a year — for the troubled pension system, immediately increasing the funded ratio for the state-managed plans from 45 percent to 59 percent, and to 65 percent when state and local pension funds are combined. Those figures from state Treasurer Ford Scudder are premised on a $13.5 billion valuation of the lottery.
The state's pension payment for the coming fiscal year was scheduled to be a record $2.5 billion. But that payment was reduced to $1.5 billion in the budget passed by the committees Monday, since the lottery transaction freed up about $1 billion in the budget.
The freed-up $1 billion would be spent on the same services for education, veterans and senior and disabled residents traditionally supported by the lottery, Democrats said Monday night.
But critics have described the plan as a budgetary gimmick, arguing there's no guarantee the $1 billon currently spent on needy groups would be made up in the future. Municipal Market Analytics warned the state's pension payment could be too low if it misses the mark on valuing the lottery system at $13.5 billion.
The plan is a top priority of Christie, who tried to save the pensions from collapse with broad reforms in 2011, but yanked billions of dollars in contributions he had pledged three years later, in 2014, amid a budget crunch. On Monday, Christie touted his plan as an "enormous accomplishment" if enacted.
"It will be the cap on our efforts to make the pension more solvent," he said during his monthly "Ask the Governor" radio show on New Jersey 101.5 FM.
Christie declined to say whether he'd sign the budget without a deal on Horizon.
More information (June 27): Here are links to the budget bill, a score sheet, and the language changes posted to the Legislature's website.