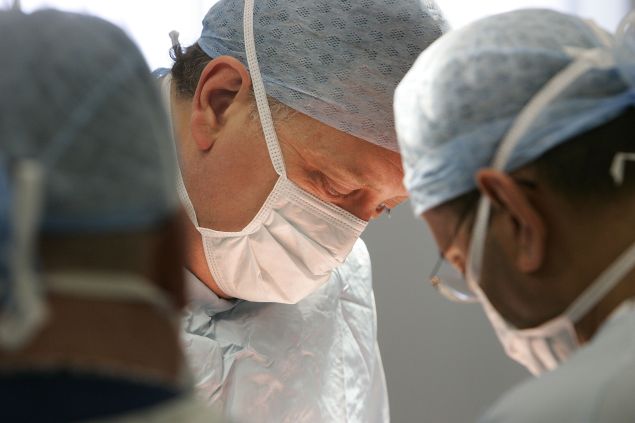 Gov. Chris Christie won't let one of his most controversial plans this year — to raid Horizon Blue Cross Blue Shield's reserves — die without a fight.
Faced with a deep reluctance in the Assembly to take up his idea before the June 30 deadline, the governor at a fire-breathing news conference took it upon himself to announce a $15.5 million fine on the insurance company that had been levied quietly days before by the state Department of Human Services. DHS itself seemed to want no part in the public tit-for-tat.
And Christie, who has not been able to get even a single lawmaker to announce support for the plan (although he claims to have sponsors waiting in the wings), is also trying to get Democrats to agree by offering to sign their plan to jack up school funding by $125 million above his own budget proposal for fiscal 2018.
Quote of the Day: "When I go to court, it breaks my heart, because the courts are all filled with Latinos." Carmen Salavarrieta, director of immigrant advocacy group Angels for Action.
Christie Discloses Horizon Violations in Unusual Attack
Gov. Chris Christie launched a new broadside Wednesday against the health insurance company that has become his white whale and nemesis this year in an increasingly strange sequence of events.
Salvador Rizzo, Observer Read more
Christie Presses Horizon Bill in Budget Talks
Gov. Chris Christie's plans to raid the reserves of Horizon Blue Cross Blue Shield and commit the New Jersey lottery to the public pension system were brought up Tuesday during a round of budget negotiations with the Democratic leaders of the Legislature, Assembly Speaker Vincent Prieto said Wednesday.
Christian Hetrick, Observer Read more
Opioid-related trips to NJ ERs have doubled
Opioid-related trips to emergency departments in New Jersey doubled between 2005 and 2014, according to new data from a federal report.
Ken Serrano, Asbury Park Press Read more
CRDA chair unapologetic about awarding insurance contract to Norcross firm
The chairman of the New Jersey Casino Reinvestment Development Authority made no apologies Tuesday about the recent awarding of the authority's insurance brokerage contract to a firm headed by South Jersey Democratic power broker George E. Norcross III.
Amy S. Rosenberg, Inquirer Read more
Trump thanks 2 whose yearbook references to him were altered
President Donald Trump posted a Facebook message of thanks to two New Jersey high school students whose references to him were removed from their yearbook.
Associated Press Read more
State Police more likely to ticket minority drivers
Hispanic drivers throughout New Jersey are about 28 percent more likely to receive tickets than white drivers when pulled over by State Police, according to a data set released by Stanford University.
Nick Muscavage, Gannett Read more
NJ Representatives Lead Bipartisan Push to Preserve Income Tax Deduction
Two New Jersey congressmen are leading a bipartisan push to convince the Trump administration to drop a proposal to eliminate a federal income-tax deduction that helps offset New Jersey's highest-in-the-nation property tax bills.
John Reitmeyer, NJSpotlight Read more
Report: GOP Bill Would Cut Health Insurance for 540K in New Jersey
Nearly 540,000 New Jerseyans stand to lose health insurance by 2026 if a Republican rewrite of the Affordable Care Act that passed the House this year becomes law, according to a report released Wednesday by a liberal think tank, New Jersey Policy Perspective.
Alyana Alfaro, Observer Read more
Freeholders to county jail inmates: No smart TVs for you!
Hudson County jail inmates won't be watching "The Bachelorette" on fancy televisions any time soon.
Caitlin Mota, NJ.com Read more
To boost libraries, N.J. lawmakers push $125M bond issue
New Jersey lawmakers, seeking to help public libraries stay relevant, are pushing for additional funding for new building and technology upgrades to lure people to visit for more services than just books to take home.
Melanie Burney, Inquirer Read more
Professor questions suspension following TV show appearance
An adjunct professor at a New Jersey community college is questioning why she was suspended after appearing on Fox News.
Associated Press Read more
'Summer of Hell' for Morris & Essex riders
Tom Ehrhard's cheery disposition soured when informed of additional rush-hour delays that await him next month on his daily commutes to New York.
John Cichowski, The Record Read more
Newark Mayor Ras Baraka to announce re-election bid Thursday
After a first term presiding over a downtown building boom, employment and technology initiatives, and the hiring of police officers to address crime city-wide, Mayor Ras Baraka will make it official on Thursday: he is running for re-election.
Steve Strunsky, NJ.com Read more
Newark to vote on big push to avoid gentrification with affordable housing
The City Council is scheduled for a final vote Wednesday night on a rule requiring 20 percent of large residential projects be set aside for people with low and moderate incomes to keep housing affordable.
Steve Strunsky, NJ.com Read more
NJ to Toms River schools: You can't come to Trenton to protest
State of New Jersey to Toms River: Don't go to Trenton.
That was the unceremonious message sent to the Toms River Regional School District on Wednesday.
Erik Larsen, Asbury Park Press Read more
Residents Petition Recall of Wayne Councilman
A petition was filed Wednesday for the recall of Councilman Richard Jasterzbski.
Jessica Presinzano, The Record Read more
Even 'Jeopardy!' has tough time explaining Bergen County's blue laws
If you don't understand Bergen County's blue laws, you're in good company.
Bill Ervolino, The Record Read more
Paterson council rejects $34,000 injury payment for retired police chief
In a split vote, the City Council on Tuesday night rejected a $34,857 workers-compensation payment for retired police Chief James Wittig, who claimed he hurt himself falling on the stairs at headquarters in 2011.
Joe Malinconico, Paterson Press Read more
EDITORIAL: Another Bridgegate mystery to ponder
The law firm of Christopher Wray, President Donald Trump's pick as new FBI director, billed New Jersey taxpayers more than $2 million for services rendered as Gov. Chris Christie's personal attorney during the Bridgegate affair.
Asbury Park Press Read more
Does N.J. need a state germ? Fuhgeddaboudit
What is New Jersey's official state microbe? If that question should come up during a trivia contest, the answer is (insert drum roll here) Streptomyces griseus.
Times of Trenton Read more