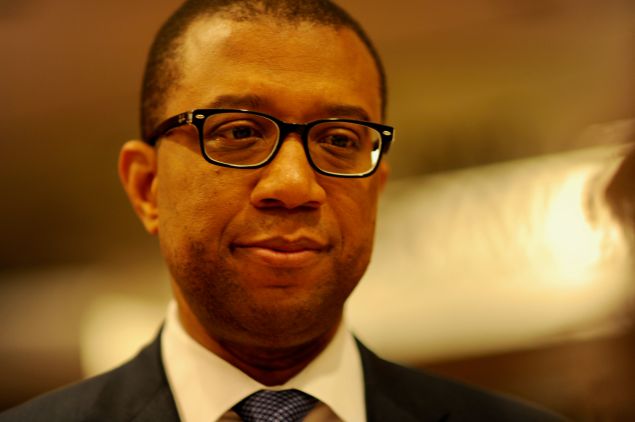 Does Jim Johnson have a future in New Jersey politics? Maybe, maybe not, if you ask some of the Democratic power brokers he spent months attacking before the primary.
If Phil Murphy wins the governorship, he could pack a stadium with friends and allies seeking to be rewarded with cabinet or court appointments or political support for statewide and congressional races. So the thought that Murphy would pass any of them over and lend support to Johnson, who attacked Murphy as a soulless corporate raider through the bitter end of the campaign, is a curious one.
Gov. Chris Christie canceled an appearance at Harvard where he was to discuss opioid addiction on Monday. The governor blamed flight delays and cancellations in Boston. But he was going to be cutting it close in any event, since he had packed his schedule with events — including a sports radio guest-hosting gig on WFAN in the morning.
Quote of the Day: "Pissed off Montclair moms who are furious that Hillary lost and are doing things like writing 'resist and persist' on their $500,000 houses." – Matt Hale, Seton Hall University political science professor
Does Murphy foe Jim Johnson have a future in N.J. politics?
Johnson, a former U.S. treasury official and former prosecutor, accused Murphy of buying the election by funneling campaign contributions to local party bosses. He smeared Murphy for working at Goldman Sachs. He openly called him a liar.
Ryan Hutchins, Politico Read more
Christie cancels address at Boston opioid conference, citing flight delays
Gov. Chris Christie was scheduled to deliver the keynote address at the International Conference on Opioids at Harvard Medical School on Monday afternoon, but he was forced to cancel his appearance due to delays and cancellations of flights into Boston, his office said.
Nicholas Pugliese, The Record Read more
DiGaetano, Traier Call for Unity After Bitter NJ Senate Primary
Now that Passaic County Clerk Kristin Corrado has won a heated Republican primary for the state Senate seat in the 40th District, her rivals are saying it's time to lay down arms and unite the party.
Alyana Alfaro, Observer Read more
Norcross firm muscles in to Atlantic City contract — without specifying price
The contract was executed with an asterisk — three in fact, in the spots where maximum dollar amounts were to be spelled out.
Amy S. Rosenberg, Inquirer Read more
Republican Gordon Endorses Democrat Phil Murphy for Governor
Powerful Republican fundraiser Gail B. Gordon, who said she has always voted Republican in gubernatorial contests both in New Jersey and her native Pennsylvania, will vote for Democrat Phil Murphy in the November general election.
Max Pizarro, Insider NJ Read more
Christie: Opioid commission may propose changing HIPAA rules
The presidential opioid commission may propose changing patient privacy regulations so there are clear exemptions for overdose cases, Gov. Chris Christie, the commission chairman, said Monday.
Katherine Landergan, Politico Read more
Small Seeks Recount in Atlantic City Mayoral Primary
Atlantic City Council President Marty Small is seeking a recount in the city's Democratic mayoral primary after losing to Councilman Frank Gilliam.
Christian Hetrick, Observer Read more
NJ Judiciary Committee Approves Murray for Court
Acting Essex County Prosecutor Carolyn Murray cruised through a Senate Judiciary Committee hearing Monday and is now a step closer to becoming a Superior Court judge.
Christian Hetrick, Observer Read more
Op-ed: State funding for Stockton boosts A.C. recovery, lifts region
Amid the flurry of legislative activity that characterizes the end of the fiscal year sits a budget appropriation that holds the promise of good things to come, the specter of economic growth and development, the idea that education, businesses, government and organized labor actually can work together, solve problems, grow our state's economy.
Brigid Harrison, NJ.com Read more
Trump just spent another weekend in Bedminster, N.J. Here's what his visits cost
Just what does it cost Bedminster, N.J., every weekend that President Trump visits his golf club there? $8,064 is what the little Somerset County town billed the feds when he visited back in November as president-elect. And that doesn't include the $17,893.38 that state lawmakers say it cost the county prosecutor's office.
Michael Burke, Philly.com Read more
Powerful N.J. Republican asked to back colleagues over Trump
A bipartisan majority of the New Jersey congressional delegation wants one of their own, Rep. Rodney Frelinghuysen, to preserve funding for the agency that investigates chemical accidents.
Jonathan D. Salant, NJ.com Read more
Christie suggests NFL betting could be legal in N.J. in time for 2018 Super Bowl
Gov. Chris Christie expressed optimism on Monday about New Jersey winning its legal battle on sports betting — and said Monmouth Park would be ready to accept bets "inside a week to 10 days" if the U.S. Supreme Court sides with the state on the issue.
John Brennan, The Record Read more
Every single N.J. lawmaker in D.C. is against Trump on this one
All 14 New Jersey lawmakers in D.C. have asked President Donald Trump's administration to reject seismic testing in the Atlantic Ocean, a step that could lead to allowing oil drilling near the Jersey Shore.
Jonathan D. Salant, NJ.com Read more
N.J. moves to regulate growing telemedicine industry
An Assembly panel Monday voted to regulate the burgeoning tele-medicine industry in New Jersey that supporters say will enable medically fragile people to remain home rather than having to travel for appointments, and save money by cutting back on unnecessary emergency room visits.
Susan K. Livio, NJ.com Read more
Roots of college sexual assault issues go far beyond campus, lawmakers told
Within three weeks, a task force that has taken a year to study issues surrounding sexual assault on college campuses in New Jersey will issue its report and recommendations.
Michael Symons, NJ101.5 Read more
Jersey City religious leaders demand say in developing former toxic waste site
Dozens of religious leaders on Monday demanded a seat at the table in the redevelopment of the city's Bayfront area, after some of them spent decades fighting to clean up the former chromium dump site.
David Giambusso, Politico Read more
N.J. to stop notorious Meadowlands landfill from polluting Passaic River after years of delay
A 94-acre landfill in the Meadowlands will be walled off to prevent oil, insecticides, sewage sludge and a slew of other toxic waste from leaching into the Passaic River under a $39.4 million project announced Monday by state officials.
Scott Fallon, The Record Read more
NJ mental health services at risk, nonprofit community providers say
A plan by the Gov. Chris Christie administration to limit spending on those with serious mental illnesses could force treatment centers to reduce services or close down, nonprofit community mental health providers said during a meeting with the Asbury Park Press editorial board Monday.
Bob Jordan, Asbury Park Press Read more
Ex-Long Branch councilman to pay back $82K of stolen deceased wife's benefits
A former Long Branch city councilman was ordered by a federal judge Monday to pay $82,854 in restitution for collecting his deceased wife's Social Security disability checks, according to a U.S. District Court filing.
Dan Radel, Asbury Park Press Read more
Delgado-Polanco Named Political Director for Northeast Carpenters
Lizette Delgado-Polanco was announced on Monday as the new political director of the Northeast Regional Council of Carpenters, a promotion from the previous role of deputy political director she had with the labor group.
Alyana Alfaro, Observer Read more
Wall HS teacher suspended over Trump yearbook censorship
The Wall High School teacher and adviser of the yearbook club has been suspended due to alleged censorship of images and quotes by students supporting President Donald Trump.
Mike Davis, Asbury Park Press Read more
N.J. school removes painting of porcine President Trump grabbing cat
A Morristown High School student's controversial art project featuring a porcine version of President Donald Trump holding an agitated cat has been removed from the school's annual Art & Design Show amidst complaints.
Justin Zaremba, NJ.com Read more
EDITORIAL: Expanded Narcan access will save lives
Gov. Chris Christie continues to show us he's not only serious about making the fight against opioid addiction in New Jersey a central theme in his final year as governor, but that he's willing to attack the epidemic from multiple angles, even those his fellow conservatives might not find that palatable.
Asbury Park Press Read more