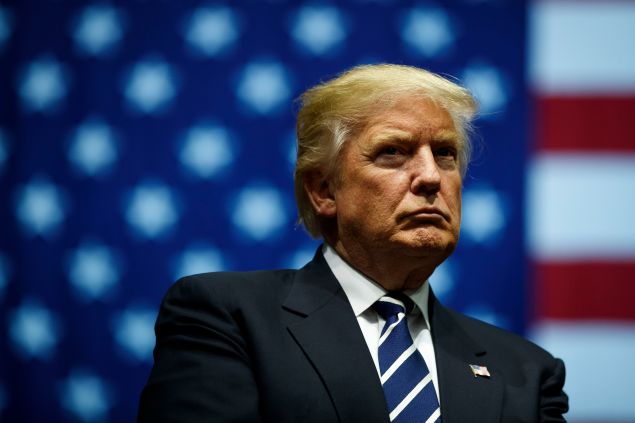 President Trump will be holding a fundraiser for Rep. Tom MacArthur at his Bedminster golf club, a show of gratitude after the 3rd District congressman helped get the American Health Care Act through the House. The money may help MacArthur hold onto his seat next year, but it's getting harder and harder for him to make the case he's a moderate after the health care vote, and a fundraiser with Trump moves him farther to the right than the center.
With primary day on Tuesday, it's cram time for anyone hoping to vote based on the issues.
And in the world of legislative races, the New Jersey Education Association has endorsed Fran Grenier, the Republican challenging state Senate President Steve Sweeney, one of those teachable moments for students of New Jersey politics.
Quote of the Day: "Fran Grenier doesn't owe his allegiance to party bosses, so he will be free to represent the interests of voters in the district." – NJEA President Wendell Steinhauer
Trump to host fundraiser for New Jersey ally in health care
President Donald Trump will be hosting a fundraiser at his New Jersey golf club for the Republican lawmaker who helped revive the GOP health care overhaul.
Associated Press Read more
NJ Gov Race: The Candidates Go Out In Jersey Style
The primaries in the governor's race will be ending on an acid note this year, as Democrats and Republicans flail their arms like windmills at each other in the final days, hoping to depress their respective voters from turning out.
Salvador Rizzo, Observer Read more
NJ candidates for governor 2017: Issue-by-issue comparison
New Jersey voters on Tuesday will choose the Republican and Democratic candidates to run next fall to succeed Gov. Christie. On the GOP side, Lt. Gov. Kim Guadagno and Assemblyman Jack Ciattarelli have been battling over competing tax plans and their closeness — or lack thereof — to the unpopular Christie.
Maddie Hanna, Inquirer Read more
Governor's race 2017: It's primary time
Voters go to the polls Tuesday to decide who among the major parties will move on to the November election. In the final update of the primary, below is a roundup of campaign activity as candidates make their final pitches to voters.
Dustin Racioppi, The Record Read more
NJEA Endorses Sweeney's Republican Challenger
That'll teach him.
New Jersey's largest teachers union has endorsed the Republican candidate challenging Senate President Steve Sweeney, the top elected Democrat in state government.
Salvador Rizzo, Observer Read more
N.J. lawmakers who backed Obamacare repeal invested in health companies during debate
The two New Jersey lawmakers who voted to repeal and replace the Affordable Care Act bought or sold securities in health care companies while the issue was before the House, financial disclosure filings show.
Jonathan D. Salant, NJ.com Read more
At the 'Summer White House,' You Are Never Far From a Trump Photo
Under cloudy skies in fall 2002, as guests and reporters looked on, Donald J. Trump dug into the ground with a gold-painted shovel to signify the opening of Trump National Golf Club in Bedminster, N.J.
Laura Holson, New York Times Read more
National Politics Hang Over Tuesday's New Jersey Primary
The African-American heritage parade on Saturday here drew to a momentary standstill. Philip D. Murphy, a Democratic candidate for governor, was darting back and forth across the street, responding to endless calls for handshakes, hugs and selfies.
Nick Corasaniti, New York Times Read more
GOP primary: Jack's for a tax but Kim's a gaffe machine
As I've noted, I never bet more than a six-pack of beer on politics.
To that end, I called one of my favorite betting partners, Pat Murray of the Monmouth University Poll, to see if I could rustle up a bet on the gubernatorial primaries on Tuesday.
Paul Mulshine Star-Ledger Read more
Winners and Losers: The Final Countdown
New Jersey is just days away from the gubernatorial primary, and the candidates are making their final efforts to stand out, including ad blitzes and last-minute town hall events. By this time next week, the next stage of the race will have kicked off and New Jerseyans will have one Democrat and one Republican to choose from in the race to replace Gov. Chris Christie.
Observer Staff Read more
Republicans Duke It Out for O'Toole Senate Seat
A Republican primary in North Jersey has been marked by accusations of carpet-bagging, consorting with criminals and alleged mortal threats — heady stuff even by New Jersey standards.
Alyana Alfaro, Observer Read more
Public Education and the Candidates
Public education has already played a big role in the race to be New Jersey's next governor — maybe as much as in any gubernatorial election in recent memory.
John Mooney, NJSpotlight Read more
Congressman joins anti-Trump protesters near his golf course
A few hundred protesters rallied against President Donald Trump near one of his New Jersey golf clubs.
Associated Press Read more
Booker: Trump's Environmental Moves Will Hurt Minorities
U.S. Sen. Cory Booker is fired up about President Trump's decision to withdraw the United States from the Paris climate agreement, charging that the move will have an outsize impact on communities of color.
Alyana Alfaro, Observer Read more
Two N.J. coal-fired plants shuttered as Trump pulled out of Paris accord
Two of New Jersey's coal-fired plants were shuttered Thursday, even as President Trump outlined plans to save fossil fuel jobs by withdrawing from the Paris climate accord.
Frank Kummer, Inquirer Read more
Christie nearing settlement in nurse's Ebola quarantine
New Jersey Gov. Chris Christie is nearing a settlement in a lawsuit filed by a nurse who was quarantined in 2014 after working in Sierra Leone during the deadly Ebola outbreak, according to court documents.
Associated Press Read more
Attack Mayor Fulop to win JC Ward E council seat?
If you're feeling fancy free, you must be in Jersey City's Ward E or more precisely Downtown where the living can be almost like being in Hoboken, expensive and full of amenities that many consider above those other areas of the urban beehive.
Agustin Torres, Jersey Journal Read more
'People are hungry for change': Camden's mayoral candidates hoping for an upset
The debate audience was already starting to grumble when a resident submitted a question pleading for Camden's next mayor to fix the city's pockmarked streets.
Allison Steele, Inquirer Read more
Oyster Creek going away, but not its radioactive waste
Years from now, the iconic stack of the Oyster Creek nuclear power plant will be a distant memory. The buildings will be gone, the vast majority of workers will be gone, and the 625-megawatt power plant will have long since stopped producing energy.
Amanda Oglesby, Asbury Park Press Read more