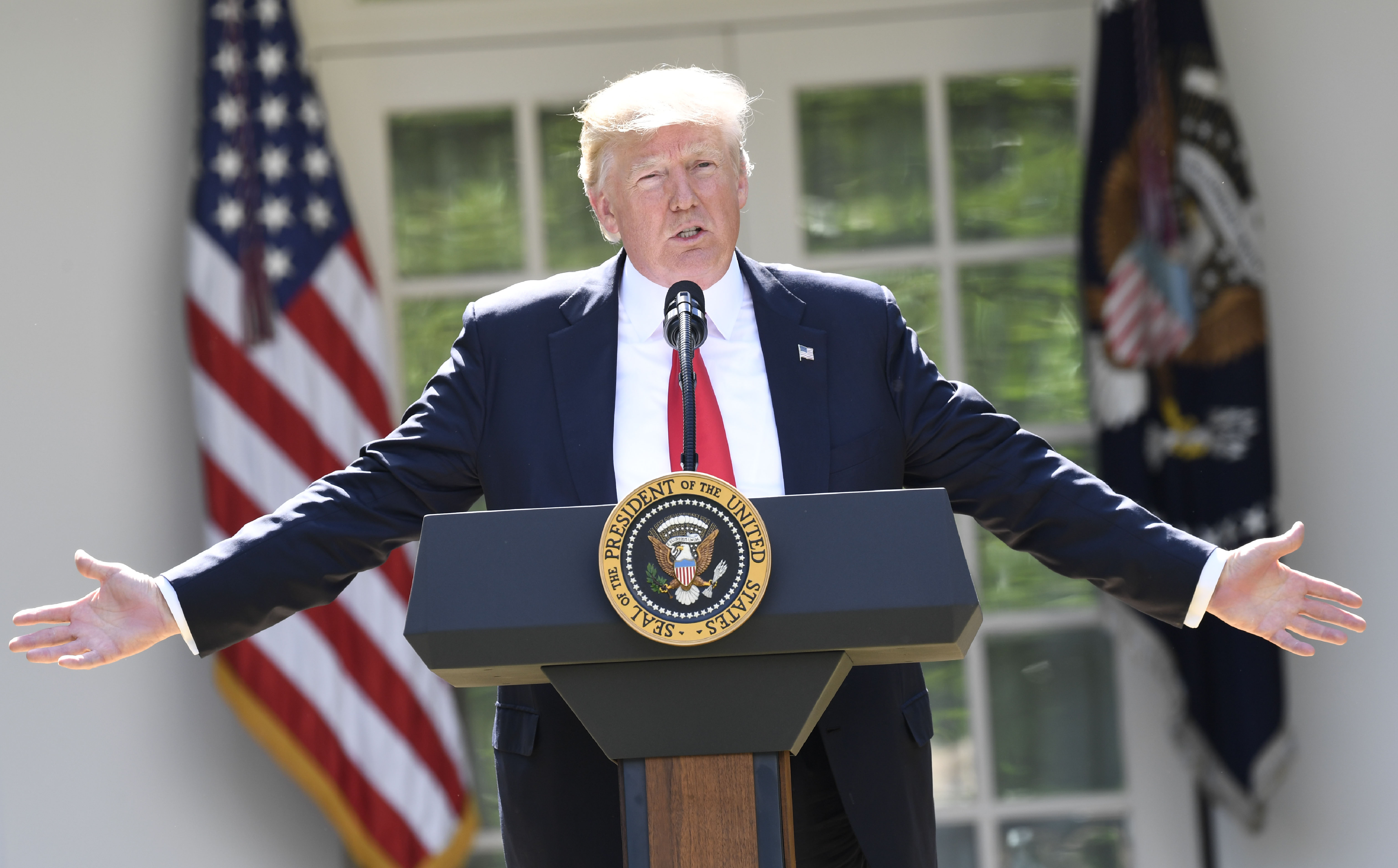 President Trump announced Thursday that the United States will withdraw from the Paris climate accord of 2016, making it the largest and most influential country not to participate in the international agreement aimed at mitigating climate change.
While Trump said his decision was the first step in an effort to see if there was a "better deal" for the United States, the decision to opt out has been met with concern from many in the international community. In New Jersey, reactions have been largely negative.
Here is what some New Jersey lawmakers and advocacy organizations had to say about the decision.
Sen. Cory Booker (D)
Booker called Trump's move "a vicious blow to American leadership in the world and to our future."
"Leaving the Paris agreement means the U.S. will lag behind the rest of the world in creating the jobs of the future and it will set back our collective efforts to confront the dangers of climate change," he said in a statement. "We have to do everything we can to protect the environment for future generations. We must refuse to yield in the fight against the Trump administration's dangerous and backwards environmental policy. This moment must serve as a rallying cry for us to double down in this urgent fight."
Before Trump formally announced his intention to withdraw, Booker went on a 12-tweet spree to denounce the impending decision.
Sen. Bob Menendez (D)
Menendez said the decision "will have grave consequences for generations to come."
"It signals to the world that in the face of collective challenges, the U.S. will choose a path of isolation rather than engagement, based on a willful denial of fact," he said in a statement. "By capitulating to the demands of fringe voices who reject science and promote reliance on the dirty energy sources of the past, the United States is abdicating our leadership and our responsibility to be stewards of the environment."
Rep. Donald Norcross (D-1)
Norcross said Trump was "prioritizing corporate polluters over the health and well-being of our children and grandchildren."
"We should be following sound science, embracing global cooperation and building a 21st century clean energy economy," he said in a statement. "This administration continues to do the opposite, which is preventing our country from moving forward. Building the clean energy economy is the real way we'll bring high-wage jobs to America."
Rep. Tom MacArthur (R-3)
MacArthur said climate change is a "critical issue" and that the United States must act as "good stewards" of the environment. He did not outright endorse or reject Trump's decision to withdraw.
"In any future agreement, we must protect American workers from a competitive disadvantage and ensure that nations across the globe also carry their weight," he said.
Rep. Frank Pallone (D-6)
Pallone, the ranking Democrat on the House Energy and Commerce Committee, said Trump's "shortsighted" and "negligent" decision puts the future at risk.
"By abandoning this agreement, President Trump is showing the world that an American commitment can be reversed on a whim," Pallone said. "This devastating decision abdicates our role as a global leader, and breaks our promise to nearly nations to work together to address climate change."
Rep. Leonard Lance (R-7)
At a Tuesday night town hall meeting, Lance said that he supported the Paris climate agreement but that he wished it imposed stricter regulations on other nations. He has not released an official comment since Trump's decision to withdraw.
"I hope — but I don't know the answer to this– that the administration won't leave the Paris agreement," Lance told constituents in Cranford on Tuesday. "I would have preferred an agreement that is stronger regarding emissions from other countries — China and India, for example."
Rep. Albio Sires (D-8)
Sires said he was disappointed in Trump's decision but that he hopes the administration and Congress can "work together" to curb carbon emissions.
"This shortsighted and selfish act not only damages our nation's credibility abroad, but also endangers the future of our planet for the sake of scoring political points," Sires said in a statement. "By withdrawing from these commitments, we are telling the international community that the U.S. government is not serious about addressing climate change."
Rep. Bill Pascrell (D-9)
On Twitter, Pascrell said the decision to pull out of the agreement was "based on propaganda pushed by anti-climate hard liners."
Rep. Donald Payne Jr. (D-10)
Payne said that Trump's decision "sends a signal that the United States will not honor its commitments to our international partners."
"Climate change increases extreme weather events and natural disasters like Hurricane Sandy, one of the deadliest and costliest storms in U.S. history," he said.
Rep. Bonnie Watson Coleman (D-12)
"President Trump cannot continue to bury his head in the sand about the devastating consequences of climate change at the expense of our planet's future," Watson Coleman said in a statement. "This decision is proof that even in his inadequacy as our nation's leader he has surrounded himself with people who are just as ill-equipped or ill-advised to make decisions with international implications."
POLITICAL CANDIDATES
Phil Murphy, Democratic candidate for governor
On Twitter, Murphy said New Jersey must push back on Trump at the state level.
"Pres. Trump's decision to pull out of Paris Accord will do irreparable harm to the world. Future generations will judge us on how we react," he said on Twitter.
Jim Johnson, Democratic candidate for governor
"Pulling out of the Paris Climate Agreement will go down as one of the worst human rights abuses of the 21st century," Johnson said on Twitter.
John Wisniewski, Democratic candidate for governor
Wisniewski called Trump's move "irresponsible and reckless" and said New Jersey should attempt to uphold the Paris agreement regardless.
"Now more than ever, New Jersey must take bold steps to reduce it's carbon pollution," he said in a statement. "As a state, New Jersey must treat climate change like the emergency it is. We must dedicate resources and commit ourselves to the Paris accords even if Trump is taking a swan dive on his responsibilities."
ADVOCACY GROUPS
Jeff Tittel, director of the New Jersey Sierra Club
"Even though Trump pulled out of Paris this afternoon, we still had two coal plants in New Jersey close today: PSEG's Hudson and Mercer plants," he said. "The country will still move forward with clean energy and New Jersey will next year. Our state will see the most consequences from climate change including sea level rise and flooding. This is only the beginning of the battle and we will continue to fight to protect our planet!"
Ed Potosnak, executive director of New Jersey League of Conservation Voters
"By withdrawing from the agreement to reduce the toxic emissions that are causing the Earth to warm, President Trump has made the U.S. an outlier like Syria, the other nation opposed to the Paris accord," he said. "The president's colossal mistake makes it more important than ever to ensure that New Jersey has a governor and a Legislature committed to establishing a clean energy future by creating green jobs and transitioning to a clean energy economy."
Clean Water Action NJ