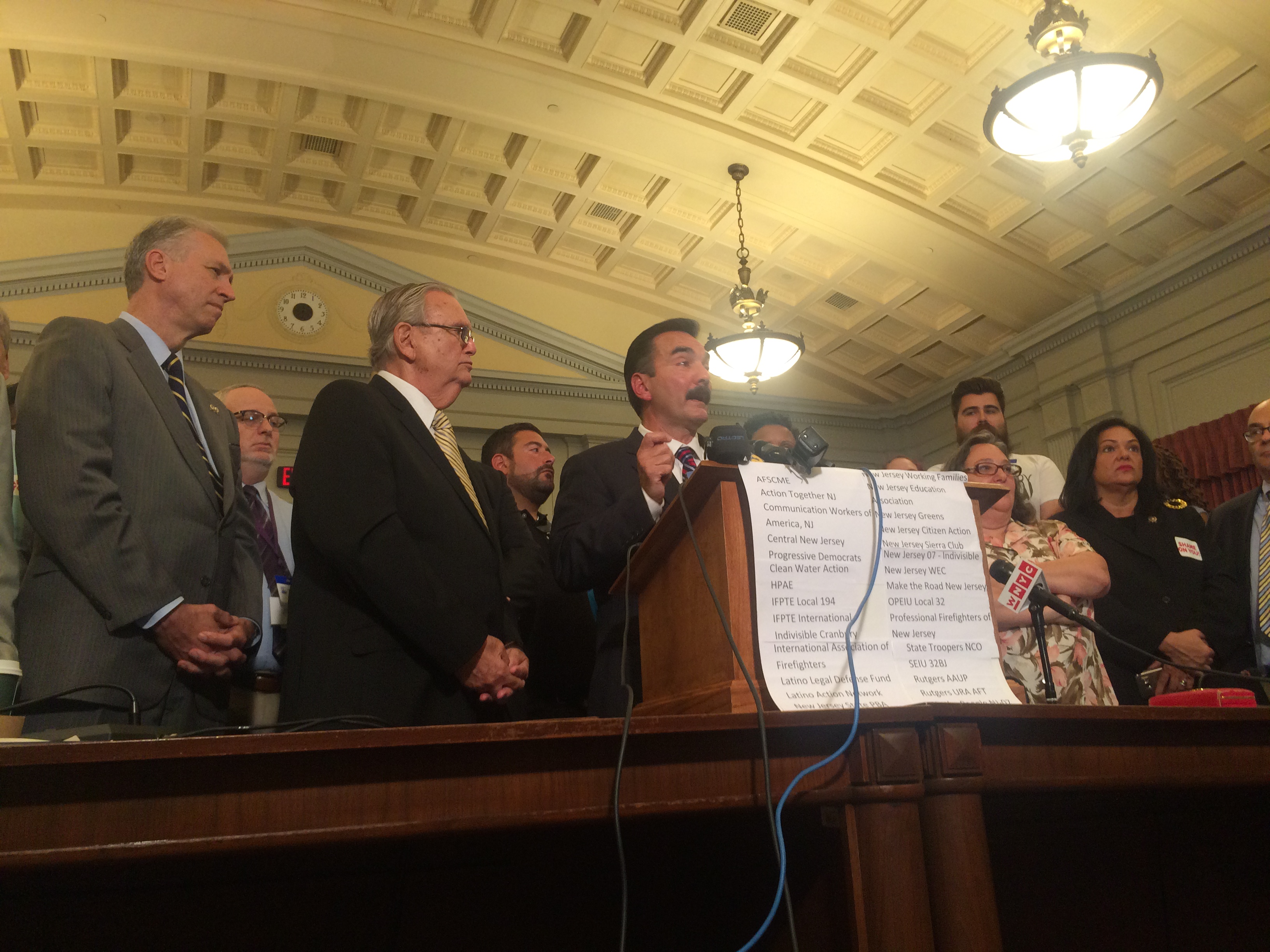 A shutdown of state government began at midnight Saturday as Democratic leaders in the Legislature continued to fight among themselves and with Gov. Chris Christie over the fate of New Jersey's largest health insurance company.
The insurer, Horizon Blue Cross Blue Shield, has inflamed passions in the state house and divided Democrats unlike any other issue in nearly eight years of Christie rule, preventing a new budget for fiscal 2018 from taking effect and shuttering the government for the first time since 2006.
At the center of the budget fight is a controversial bill that would allow the state to force Horizon, a not-for-profit insurance company with 3.8 million policyholders, to spend yearly from its $2.4 billion reserve fund, be it on public health initiatives or on its subscribers. Without a Horizon bill, Christie says he will use his line-item veto to slice off $320 million that Democrats added to his budget proposal — a threat that has sowed chaos and division among the legislative ranks, pitting Democrats against each other for days with no resolution in sight.
Christie says Horizon's top executives are making millions of dollars while sitting on piles of money — and must spend more on public health. The Democratic-controlled state Senate has passed a bill to clamp down on the company, swayed by the extra $320 million Christie is promising for budget programs he has routinely slashed or kept at low funding levels for seven years.
And then there's Assembly Speaker Vincent Prieto, who refuses to post the Horizon measure for a vote. Prieto and a large chorus of supporters across the idelogical spectrum say that Horizon has come under an unprecedented siege by the government and that passing the bill Christie wants would endanger public health at a time when Congress is discussing a rewrite of the Affordable Care Act that would end a Medicaid expansion, which Christie accepted in 2013 and which has transformed the insurance landscape in New Jersey.
As the deadline to enact a new state budget came and went on midnight, all sides remained at an impasse. A meeting Friday afternoon between Christie and the top six legislative Democrats resolved nothing. When the $34.7 billion budget went up on the Assembly floor, it failed to get the 41 votes needed for passage for the second day in a row. Nearly two dozen Democrats withheld their votes for the budget — even though they support it — as a pressure tactic to get Prieto to cave on Horizon.
Underlying it all was a series of rivalries, all of them at play long before Horizon came to the fore. The same Assembly Democrats withholding their votes for the budget have announced plans to oust Prieto from the speakership next year. Senate President Steve Sweeney and Prieto have long maintained a sharp intraparty rivalry. A key part of the budget deal involves a redistribution of school funds opposed by New Jersey's largest teachers union, which reviles Sweeney and supports Prieto.
And Christie, although he may be at a historic-low 15 percent approval, has always been a master at exploiting Democratic fissures for his own advantage.
That baffling clash of egos and ideas turned toxic this year, bringing the state government to a screeching halt for all non-essential services at midnight, closing down state parks just as Garden State residents kicked off their Independence Day holiday, and furloughing tens of thousands of government workers handling everything from birth certificates to driver's licenses.
The Assembly and Senate remained open for business through the night and lawmakers from both houses expected to return to Trenton on Saturday.
"This was completely avoidable," Christie said in a statement issued shortly after midnight, releasing an executive order formally closing down the government. "But Assembly Speaker Vincent Prieto needlessly stalled the budget process, forcing the closure of New Jersey government and inconveniencing everyone living in and visiting our state."
Prieto said the blame lay with Christie, Sweeney and the Democrats in his own caucus who were bent on punishing one insurance company as a condition of funding the government.
"He's holding the budget ransom with these 24 members that have abstained, that should be voting for it, and those are the members that are shutting down government at this point in time," Prieto said in a news conference after midnight.
In addition to the Horizon bill, Christie had asked as part of the budget deal for legislation to convert the $1 billion-a-year state lottery into an asset of the pension system, and that measure appeared safely on track for passage in both houses this week.
"I want to make it clear to the people of New Jersey: I'm ready to sign a budget, and quite frankly, I don't care which budget comes to me," Christie said in a news conference Friday, extending Democrats a choice.
Give me the Horizon bill and the 73 line items you added to the budget — roughly $320 million for increased school aid and other programs such as cancer research, tuition assistance grants, recidivism, legal services for the poor and domestic violence prevention — are safe.
Don't give me a Horizon bill, and I will use the line-item veto to mow down many of those programs before I sign the budget into law.
"I'm ready to sign a budget by midnight tonight," Christie said. "They send me a budget with Horizon and with the lottery, then these 73 spending items will stay. If they send me a budget without lottery and without Horizon, I will still sign a budget, but then many of these 73 items will go."
The shutdown represents Trenton at its most dramatic and bizarre.
The fight has at once galvanized the state's machinery of county political bosses, business and labor groups, think tanks and sundry advocacy organizations. But it has done so in a way that flips the traditional relationships and power dynamics in Trenton.
The Republican governor — a self-described free-market conservative — is crusading against one not-for-profit company that insures nearly half the state's residents, essentially seeking to subject Horizon to unique regulatory terms and dictate how they should spend from their reserve fund for emergencies and disasters. He has support from lawmakers aligned with Democratic power brokers in Essex, Middlesex and Union counties, and South Jersey. A fair number of Republican lawmakers — typically the first to cry foul about government overreach into the business sector — also support the plan.
Meanwhile, the Democratic Assembly speaker — a party boss from wheeling-and-dealing Hudson County — is staring down Christie and fellow Democrats as Horizon's biggest defender. He has become an unlikely champion of corporate America basking in the support of all the business, labor, environmental and advocacy groups at work in the state house, all the editorial writers in the state, conservative thought leaders in the state, tea party groups and Americans for Prosperity and the Wall Street Journal editorial board and Steve Forbes and Donna Brazile.
"None of this should be tied to the budget," Prieto said at a rally in the state house with hundreds of supporters who gave him a hero's welcome after the meeting with Christie. "Nothing should be held hostage."
Raising questions about the seriousness and purpose of the Horizon proposal, both Christie and Sweeney (D-Gloucester) indicated that the bill to clamp down on the insurer could be repealed quickly by the next governor — and that neither of them would be especially bothered by it.
Phil Murphy, the Democratic nominee, and Lt. Gov. Kim Guadagno, the Republican nominee, have called on lawmakers to stop the Horizon bill and pass a clean budget this week.
"Phil Murphy wants it repealed, it'll be repealed," Sweeney said Thursday evening at a news conference, describing the Horizon legislation as something that "is not going to be around next year."
Christie, in turn, said that potential outcome would not affect the terms of the budget deal he was offering Democrats. He didn't think Sweeney's comments meant Democrats were offering a bait-and-switch, he said. And even if the Horizon measure did not outlast the year, Christie said, he would count it as enough of a victory to give Democrats their $320 million for programs he has ignored for seven years.
"I repealed a bunch of things that Jon Corzine did," Christie said Friday. "I can't worry about that."
Bill Castner, a top Horizon executive and former executive director of the Assembly Democratic majority office, a lobbyist who has drawn Christie's ire and that of several powerful Democrats this year, says the thought of enacting and then repealing the bill is dangerous.
"You know, that's a really cavalier way of looking at the type of radical impact this would have," Castner told NJTV on Thursday. "The legislation would say we're the insurer of last resort. We almost went bankrupt in 1992 when we last had that designation. The legislation would expand our obligations to not only our own policyholders, but to our competitors' policyholders which would create economic harm."
He called the entire policy — which was fast-tracked through the Senate this week — "outrageous" and "disgusting."
Most provisions of the Horizon bill, including the parts affecting its $2.4 billion reserve, would not kick in until February. But one key provision to make the company New Jersey's insurer of last resort once again — which would force it to take on all consumers who could not otherwise afford health care — would take effect right away. Horizon executives testified this week that it would drive up costs for its current subscribers, since the company would have to find money somewhere to cover "last resort" consumers, and the surplus would be in line for a haircut.
Raising questions on the other side of the balance, as first reported by Observer on Friday, before he emerged as Horizon's biggest champion in the Legislature, Prieto agreed to co-sponsor a bill in 2006 that would have raided the company's surplus to fund charity care reimbursements to New Jersey hospitals.
"I can't say that I am stunned by hypocrisy in Trenton, but it is outrageous," Christie said at his news conference Friday. "So I don't think we can assume any longer that the speaker's reticence to do this has anything to do with principle."
Prieto said "things change and things evolve" when asked about that bill.
"That was over a decade ago," Prieto said, and Congress at that time was not discussing a sea change that could gut funding for Medicaid, which could have wide consequences for the health care market in New Jersey. "Five hundred thousand residents that have gotten coverage from the Medicaid expansion — that goes away. So how do we cover those people? Times are different."
There were signs that Christie, Prieto and Sweeney might agree to move a different bill instead of the Horizon plan to avert a shutdown Friday. But after caucus discussions in the late afternoon, no alternative surfaced. The speaker said Christie offered to drop the Horizon plan if lawmakers delivered the votes for the "newspaper revenge" bill that he could not get done last year. Democrats didn't bite.
In the end, there was no new deal, and the budget failed to get the needed 41 votes in the Assembly even as Prieto kept the bill up for hours and announced to the news media that he would keep the vote going indefinitely into Saturday, allowing members to cast or flip votes at any point. The Senate remained in session and recessed until Saturday without holding a budget vote.
The meeting at Christie's office included Prieto, Sweeney, Senate Majority Leader Loretta Weinberg (D-Bergen), Senate Budget Chairman Paul Sarlo (D-Bergen), Assembly Budget Chairman Gary Schaer (D-Passaic) and Assembly Majority Leader Lou Greenwald (D-Camden). It was fruitless.
"I'm really sorry that people's egos here are getting in the way of the public," Sweeney said shortly after 8:30 p.m. as senators stood by awaiting developments in the Assembly. The Senate president drew his own line in the sand: He would not sacrifice the $320 million in funding for schools, cancer research, tuition grants, legal services for the poor, just so Prieto could protect one company.
"I'm the Senate president and I'm not willing to give that up," Sweeney said. "There's priorities that we put in place for a reason."
Asked whether he could put his frustration into words, Sweeney said, "Not without using four-letter ones."
Key to the budget deal would be a significant change to New Jersey's school funding formula that Sweeney has made a top priority this year. The budget agreement with Christie would redistribute $31 million from overfunded school districts to underfunded districts that have seen large enrollment growth without a commensurate increase in state aid. Because that redistribution is opposed by the state's largest teachers union, the New Jersey Education Association, some Democrats fear that the party's gubernatorial nominee, Phil Murphy, who is close to the NJEA, will not agree to it if it's left to him.
Under that lens, Christie is Sweeney's best shot at beginning to implement what would be one of the biggest school funding policy changes in years.
"I've been after education funding for over 15 months to try to start to fix the problems in education funding, so it's not an act, it's real," Sweeney said.
The budget has stalled in the Assembly because a coalition of roughly two dozen Democrats from South Jersey and Essex, Middlesex and Union counties are withholding their votes to pressure Prieto to agree to the Horizon plan. After labor unions supporting Prieto began to apply their own pressure to lawmakers from Mercer County, where Democrats are facing tighter re-election races than in bluer parts of the state, those lawmakers — Assemblymen Dan Benson, Wayne DeAngelo and Andrew Zwicker — switched their budget votes from abstain on Thursday to yes on Friday. It was not lost on anyone in the state house that nearly all the Democrats withholding their budget votes have signed a public letter announcing their intentions to oust Prieto from the speakership next year and replace him with Assemblyman Craig Coughlin (D-Middlesex).
But Greenwald said the real concern was securing a deal with Christie that would protect funding for the state's most vulnerable residents.
"I'm on the side of 9 million people here in New Jersey, and I'm on the side of people getting a deal done for school funding, and the people that are standing with me are on the side of getting pre-K funding and nursing home funding and funding for Medicaid," he said.
Christie had urged lawmakers since February to pass a bill that would let the state raid Horizon's $2.4 billion reserve fund after he leaves office. At first, he wanted the state to take roughly $300 million a year from the not-for-profit company to fund drug treatment programs. A similar Horizon bill that would not automatically raid $300 million per year, but that opens the door to grabbing funds from the insurer in some circumstances, narrowly passed the Senate by a 21-15 vote Thursday. Christie now wants that bill, sponsored by Sen. Joe Vitale (D-Middlesex).
A motley crew of organizations including the Chamber of Commerce, the New Jersey Business and Industry Association, three of the state's largest labor unions, environmental groups, consumer advocates, liberals and conservatives, all praised Prieto's resistance to the Horizon bill as part of a broader budget deal. They added that a government shutdown must be avoided.
"So much is at risk due to some of the worst politics we have ever seen," said Communications Workers for America New Jersey Director Hetty Rosenstein. "This budget is being held hostage for the worst possible reason. It is being held hostage by Governor Christie, who wants revenge against Horizon. It is being held hostage by Senate President Steve Sweeney, who continues to act like there is only one house of the Legislature."
Rosenstein said groups supporting Prieto's decision would make sure the public knows the shutdown was not on Prieto. The NJEA's top lobbyist, Ginger Gold Schnitzer, said a shutdown would be pinned on Christie and Sweeney.
"Governor Christie wants to do something pretty awful to Horizon policyholders," she said. "There's no debating that. But we've learned over the last few weeks that Horizon is capable of sticking up for itself. What's really disgusting is who else he is willing to hurt to get his way. … He's saying that if he doesn't get to hurt Horizon, he'll settle for hurting kids instead."