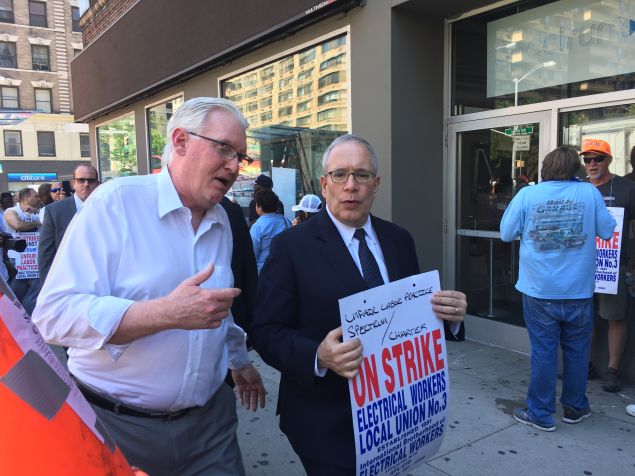 City Comptroller Scott Stringer joined members of International Brotherhood of Electrical Workers Local 3 at their picket line outside the Spectrum/Time Warner Cable on the Upper West Side this morning to demand that Charter Communications—which bought Time Warner Cable for $55 billion in May 2016 and renamed it Spectrum—grant "a fair and just contract" to its workers.
The cable technicians walked off the job at the end of March after negotiations with Charter for a new contract failed. The union last reached an agreement with Time Warner on pay, pensions and health benefits in 2013, but it expired earlier this year.
The union has accused the communications giant of refusing to bargain in good faith, and slammed the company's push to reduce its contributions to retirement and insurance plans.
"I'm proud today to be on the picket line with you because your fight is my fight," Stringer told the workers on the line along Broadway in Manhattan. "Your families and your children are the children and families of our city, and we are not gonna allow a corporate conglomerate to take advantage of our families and our children. We demand a fair and just contract."
He said that the "new group" may not understand "the traditions of our city" that he says are rooted in valuing working people and "the aspirations to a middle class."
The liberal Democratic official also blasted President Donald Trump for his anti-union stance. Trump has expressed support for so-called "right to work laws": legislation that would end requirements that all employees of an organized company pay dues to the union that negotiates their contract.
"I know what's going on in Washington is about disengaging workers in this country but this is New York City and we respect medical care and pension benefits, an opportunity to have retirement security," he said. "Let's make it clear that the people at the higher end of Spectrum are making tens, tens, tens of million dollars a year and the reason they're doing well is because you've done right by this company."
Charter has maintained that it has complied with the agreement that expired on March 31. In an email to the Observer, the company insisted it had offered the union a 22 percent wage increase and a "comprehensive" benefits package.
"This competitive offer will have a positive, lasting impact on employees' standard of living and allows us to grow a well-paid, highly skilled workforce for the benefit of our customers," a corporate spokesman said in the statement.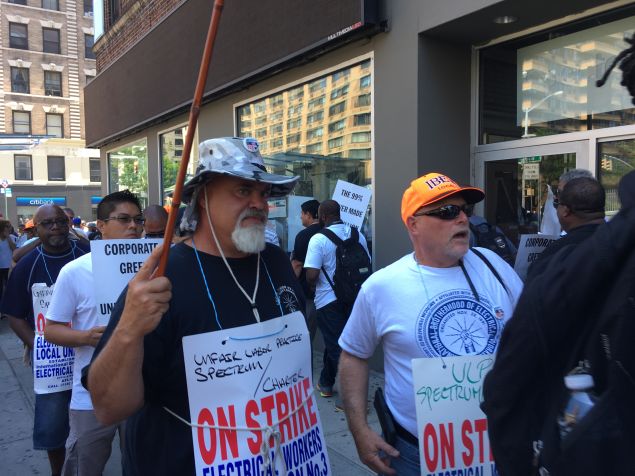 Stringer is not the only local official to endorse the strike: in April, Public Advocate Letitia James sent a letter to Charter President and CEO Tom Rutledge requesting that Charter meet with the 1,800 striking employees to renegotiate a new contract. More than half of the 51 Council members—35—signed on to the letter.
Mayor Bill de Blasio called for the company to grant a more generous contract to the union last Monday during his weekly appearance on NY1, a proprietary Spectrum channel. And Gov. Andrew Cuomo belatedly proffered his "solidarity" to Local 3 at a rally last week, though workers in attendance described his statement as "disappointing."
Workers along the picket line today carried signs slogans such as "CEO Paid $99 Million, Disgrace"—alluding to the $98.5 million compensation package the company gave CEO Thomas Rutledge last year—and "UNION JOBS ARE GOOD JOBS."
"Shame on Spectrum!" worker Victor Sanchez said to the Observer. "It's corporate greed at its finest."
Another IBEW Local 3 member, David Lopez, a 45-year-old hub technician, praised Stringer and other officials who had backed the walkout. He told the Observer that, though the company has changed hands, its administrative team is largely the same
"I've been with them for 27 years," Lopez said. "Spectrum came in about two years ago, but here's the thing: they never got rid of the old management team. So it's been the same management team. It was just a new name, same managers."