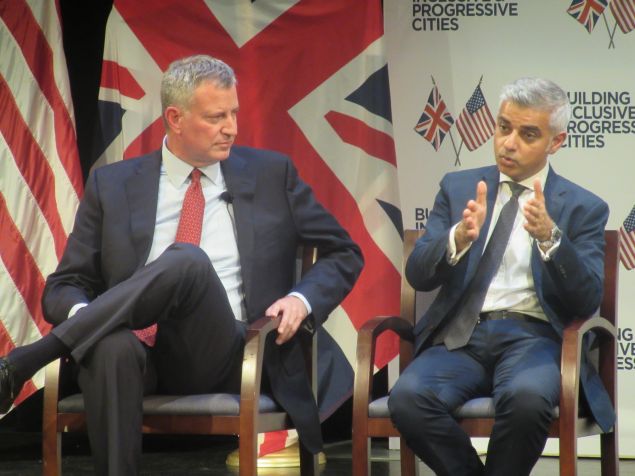 Mayor Bill de Blasio blasted President Donald Trump today for his misleading social media assault on London Mayor Sadiq Khan following terrorist attacks in the British city Saturday night that claimed at least seven lives—and called Khan a "very positive example" who should be "supported, not attacked."
Khan, a member of the Labour Party and the first Muslim elected to lead the United Kingdom's capital, had said that Londoners would see "an increased police presence" following the truck attack on the London Bridge and nearby stabbing rampage, and that there was "no reason to be alarmed by it." Trump mistakenly interpreted the comment as Khan saying that there was "no reason to be alarmed" by the attack itself, and slammed Khan repeatedly on Twitter, most recently this morning.
[protected-iframe id="10c4cc9c1d007f1a919b97d24d19d844-35584880-66645959″ info="//platform.twitter.com/widgets.js" class="twitter-tweet"]
De Blasio, a liberal Democrat friendly with Khan, described himself "astounded" that Trump would misconstrue the words of a leader of a major foreign city—one doing an "extraordinary job supporting his people in a time of pain and reminding people to be strong and resilient."
"That's what Mayor Khan was saying, you will see—look at his words," de Blasio said. "You will see more police presence, don't be alarmed by that, recognize that's part of how we're protecting you. He was saying exactly what a leader should say and to have the president of the United States attack him was absolutely unacceptable and not helping anyone be safer."
In both instances, Khan's spokesman said the London mayor has been busy dealing with the attack and working with the police, emergency services and the government—and said that he has "more important things to do" than respond to Trump's " ill-informed tweet that deliberately takes out of context."
De Blasio also hit the president for potentially alienating moderate Muslims by lashing out a prominent member of the faith.
"On top of that, Mayor Sadiq Khan is a very positive example to the Western world of someone who came from the Muslim community and has become a leader of all communities and he's a very positive example to peace-loving Muslims and Muslims who believe in democracy all over the world," de Blasio continued. "He should be supported, not attacked."
The Democrat also alluded to his friendship with his London counterpart, which goes back to 2014 when they first met at a Labor Party Conference in Manchester, England. De Blasio congratulated Khan on his mayoral victory last May, and the pair held a "Building Inclusive and Progressive Cities" forum in Long Island City in September where they discussed their vision for inclusive, progressive cities and doubled down against anti-immigrant rhetoric during the presidential race.
"I know him personally," de Blasio added. "I like him very much. I found it an affront to someone who is trying to do the right thing for his people."
At the forum, Khan spoke about the Islamophobia that he witnessed during his presidential campaign and expressed hope and confidence that Democratic presidential nominee Hillary Clinton would win. Khan has been outspoken about his frustrations with Trump, blasting his attempts to ban individuals from Muslim-majority countries from entering the country, though Trump had said that he personally could be an exception to the rule.