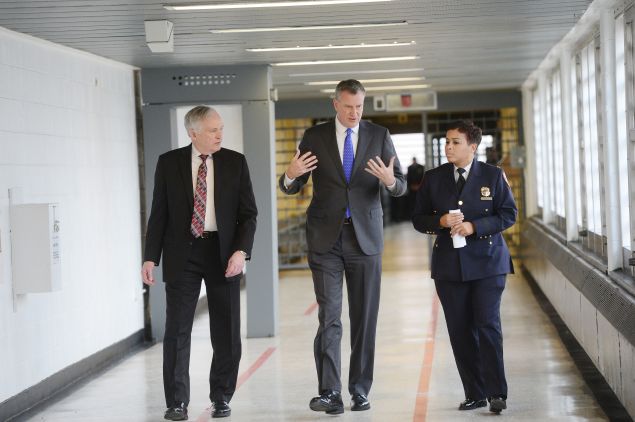 Mayor Bill de Blasio asserted yesterday that he "does not see" Rikers Island being closed ahead of the 10-year time frame he proposed in his recently unveiled plan to shut down the sprawling detention complex—though he said he'd be "surprised pleasantly that changes are happening quicker."
Last week, de Blasio released a "roadmap" for phasing out the incarceration center, which mostly reiterated steps he called for when he announced a plan to shutter Rikers in March: combining sentencing, bail, mental health and rehabilitation reforms to reduce the city's inmate population from 9,300 to 7,000 by 2021 and 5,000 by 2027. He insisted his proposal leaves open the question of where to put the new facilities because of the Council's long-established practice of giving its members veto authority over zoning changes in their district.
Yesterday, the mayor visited a facility on Rikers and met with correction officers and staff, a meeting that was closed to press—four days after he unveiled the roadmap.
"I do not see it—and I will always say we'd love to be surprised pleasantly that changes are happening quicker, but part of why I went to Rikers today was to speak to the officers and knowing that the word would spread to all the rank and file that we really believe it will be a 10-year process and that the folks who are now a part of our workforce are gonna be here for the long haul," he said during his weekly "Mondays with the Mayor" segment with NY1's Errol Louis on Monday night.
The de Blasio administration has pointed to reforms such as an 18 percent reduction in jail population through less enforcement, expanded alternative to jail programs and reducing case delay, more than $1 billion added to the Department of Correction's capital plan to improve the physical conditions in the city's jails and a decline in serious injuries to correction officers and use of force resulting in serious injury to incarcerated individuals.
He said that the city has had to add a lot of correction officers "just to get up to our full strength complement we should have" and that it is an ongoing process. He anticipated that by the end of the year, they will "finally be there" so that they can achieve greater safety on Rikers and make the reforms, which he said require having a sufficient number of officers.
The mayor stressed that the city has to drive down the crime rate and institute ameliorations such as bail reform—steps he said require cooperation from the district attorneys and the state "in terms of the court system."
"All of those things have to happen and we need sites for additional local jails and they have to be built," de Blasio continued. "All of that will take real time so if I saw an opening to do something faster, of course I'd take it but I think it's good to level with people and say by every estimate, we think it's 10 years."
The timetable places the burden of actually closing the complex on the mayor's successor, and the plan does not have a schematic for locating the replacement jails bordering the criminal court buildings in each of the five boroughs, as called for in a report former state Court of Appeals Chief Judge Jonathan Lippman co-authored earlier this year.
A commission that studied closing the jail facilities at Rikers—one impaneled by City Council Speaker Melissa Mark-Viverito and led by Lippman—endorsed the 10-year interval. Criminal justice reform advocates and some elected officials, however, have said that it is possible for the city to close Rikers in a short time frame.
Outgoing Corrections Commissioner Joseph Ponte—who recently resigned following a scandal surrounding top Department of Correction officials' abuse of city-owned vehicles —will officially step down from his position on Wednesday.
De Blasio said that a number of candidates have been looked at and interviewed "initially," though not yet by him. He insisted that acting Commissioner Cynthia Brann—who worked in the Maine Department of Corrections which Ponte previously headed for 26 years—has been a "strong" acting commissioner and that despite Ponte's departure, "the work will continue unabated."
And he defended Ponte and Brann, whom the DOI report also found misused her city-issued car, making 18 trips to malls in New York and New Jersey. He insisted that every agency "is being directed to have clear, uniform rules, citywide standard."
"We're gonna fix that problem but right now in terms of someone who's ready to continue the leadership which has helped to reduce violence, has helped to bring about needed reforms at Rikers and the correction system, she's someone who can continue doing that over the next few weeks while we're finding a new commissioner," he said.
And he said "it was certainly good to speak to some of the rank and file today."
"I spent some real time there listening to both what some of them thought was working but also some of the challenges that have to be addressed," he said. "So yes, he was welcome at the event. It doesn't surprise me if a union leader thinks they wanna steer clear of something like that but there is definitely a dialogue."