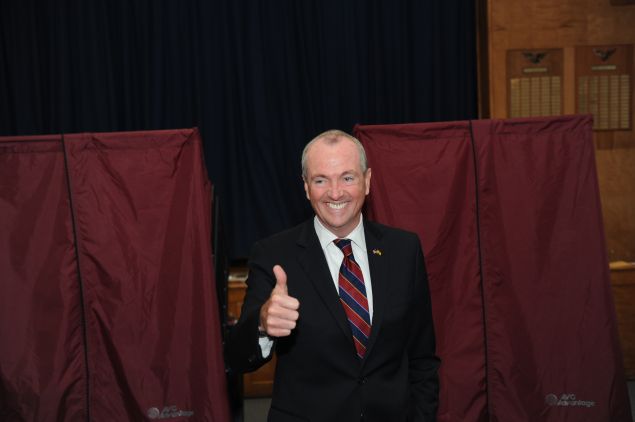 Behind the millions of dollars, the sterling resume, the upbeat TV ads and the sleek campaign apparatus, what has become apparent over the last three years is that Phil Murphy is one of the shrewdest political tacticians in the state, leveraging every asset he could to take over the New Jersey Democratic Party and become its nominee for governor.
In this regard — setting aside their vast policy differences — Murphy is not unlike the man he hopes to replace. Gov. Chris Christie may be deeply unpopular today, but he once mastered this game, too. He planned his moves far ahead like Murphy. He hired some of the finest political talent. He was a big-league fundraiser with a high tolerance for retail politics. And he became a student of the blood feuds, the bonds and the smoky folklore of New Jersey's political scene — and moved accordingly.
Murphy, 59, a former Goldman Sachs banker, handily won the Democratic nomination on Tuesday night after months of leading in the polls and spending well in excess of $21 million, not just on his campaign, but on a 527 group and dozens of candidates and party committees operating at nearly every level of New Jersey government. The first donations, a pair of checks totaling $30,000 to then-Assembly Minority Leader Joe Doria's legislative leadership committee, came in 2001, the year after Murphy and his family moved to Middletown.
From 2006 to 2009, Murphy was the finance chair of the Democratic National Committee under Howard Dean, raising around $300 million to help implement the "50-state strategy." He was then named U.S. ambassador to Germany by President Barack Obama, serving from 2009 to 2013.
Democrats saw a natural candidate sleeping inside Murphy years ago. One of his biggest fans was U.S. Sen. Frank Lautenberg, who was impressed by Murphy's run at the DNC and his charity work and tried to push him from a behind-the-scenes to a top-of-the-ticket role.
"I think Lautenberg saw in Phil a little bit of himself," said Brendan Gill, Murphy's campaign manager and Lautenberg's former state director. "They both came from literally nothing, self-made, came through public schools, got themselves through great institutions of higher learning: Lautenberg at Columbia, Phil at Harvard."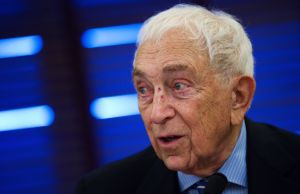 Both Democrats got a late start in politics, after high-flying careers in business, he said. Lautenberg founded Automatic Data Processing, the payroll services company, and Murphy was a top Goldman Sachs executive who eventually rose to its management committee, led the Asia operation and co-chaired the investment management division.
Around 2012, Lautenberg pressed then-Vice President Joe Biden to fly to Germany in a bid to recruit Murphy for an important race. Biden didn't say which one, but an educated guess would be the New Jersey governor's race in 2013, when Christie was up for re-election.
Christie was riding high back then. Many Democrats chose to sit out the race.
And Murphy apparently kept his powder dry.
A native of Needham, Mass., a Boston suburb, Murphy took his first big step on the New Jersey political scene in early 2014 after returning from Germany. He established a nonprofit, New Start NJ, now chaired by his wife Tammy, that gave him an entrée into the state's policy debates and a vehicle to start making connections with stakeholders and political leaders. He quickly sought counsel from Julie Roginsky, a seasoned Democratic strategist who had worked several big New Jersey campaigns, and the political advertising shop Message and Media.
Then, in early 2015, Murphy enlisted Gill, one of the top Democratic operatives in New Jersey, fluent in both statewide campaigns and the workings of Washington, D.C.
An Essex County freeholder, Gill earlier in his career had worked for state Assembly Democrats and U.S. Reps. Bill Pascrell and Steve Rothman. He spent years as Lautenberg's state director and ran U.S. Sen. Cory Booker's race in 2014 after advising him in the 2013 special election to fill the seat that became vacant with Lautenberg's death.
The partnership turned out to be fruitful, supercharging what had been a Murphy "crusade" on the issues into an operation that began to play in the all-important back rooms where the Democratic Party's county bosses cut deals and give marching orders, said Patrick Murray, director of the Monmouth University Polling Institute.
"Phil Murphy smartly surrounded himself with solid campaign operatives led by Brendan Gill, who has spent the better part of the past 20 years in the trenches of New Jersey politics," said Michael Soliman, a Democratic strategist. "While other candidates were making small inroads across different counties in New Jersey early in the race for governor, Brendan recognized that one of the most important elements to winning a statewide primary is to endear yourself to as many county organizations as possible."
Murphy held hundreds of meetings and cut hundreds of checks, building up goodwill among party chieftains and winning praise for his policy focus and gregarious nature.
"He was just a regular guy," said Lou Stellato, chairman of the Bergen County Democratic Organization. "He wasn't aloof. You could sit down and have a coffee with him, have a soda with him, have a beer with him. There was a comfort zone there from the first time I met him."
Democrats who got to see Murphy up close would often make the same surprised remark: "He's no Jon Corzine." (The last Goldman Sachs alumnus to run for governor as a Democrat, Corzine has something of a reputation for being remote.)
More importantly, Stellato said, Murphy knew the issues cold and had "mapped out a blueprint" to get the Democrats back in power after eight years of Christie.
Gill said Murphy entered the field as an "unknown quantity" in the midst of two more established party leaders who were both plotting their gubernatorial campaigns: Jersey City Mayor Steve Fulop of North Jersey and Senate President Steve Sweeney of South Jersey.
But Fulop and Sweeney had their hands full handling their governmental business, while keeping one eye on the governor's race. And Murphy was all in, which gave him a priceless runway, he said.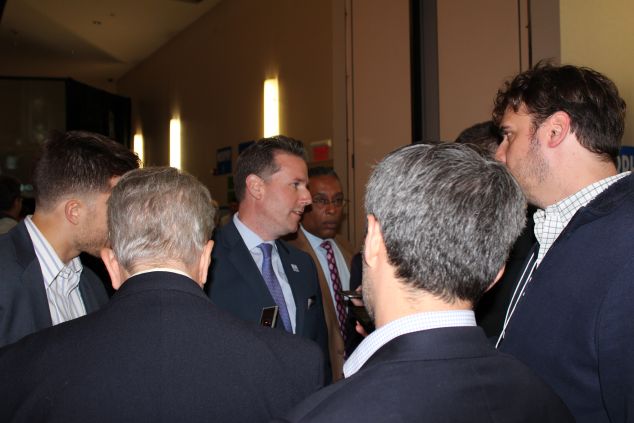 "Phil was spending a tremendous amount of time meeting with people all across the state to talk issues, not politics, just issues," Gill said. He argued that after Bridgegate, advocacy groups and elected officials felt a leadership vacuum in the state and were eager to hear from someone with new ideas, a role Murphy was happy to fill.
But there were also the signs of a politician who was going to lock down every single pocket of support he could by any means available.
In late September, Murphy held a meeting with Fulop, and shortly thereafter, the Jersey City mayor announced he would not be joining the race and endorsed Murphy at a hastily arranged event outside city hall.
Speculation abounded for months. Democrats were stunned.
Faced with the prospect of a Sweeney governorship in which South Jersey Democrats called the shots in Trenton, the party bosses in the north threw their support to Murphy days later, in October.
Their endorsements came with a big prize: the top ballot position in New Jersey's most populous counties. Sweeney dropped out, saying his path was shot. Soon, all 21 Democratic county committees were behind Murphy. Overnight, he became the prohibitive favorite to win the nomination. All the major labor unions and liberal advocacy groups followed, all the environmentalists, all the major donors. The pollsters said game over. The national media never really took an interest in the race till last week.
Stellato was part of the coalition that backed Murphy in October, but he played down the regional conflicts.
"We're here to win," he said. "If there was someone from the south who we thought was going to be head and shoulders above the other candidates, and a winner, that's the way we would go. Phil Murphy had that persona. The perception was clear that Murphy had the ideas, he had the think tank, and he had the energy to get it done."
Gill said Murphy was willing to go the distance with or without Fulop and Sweeney in the race.
"By the time Fulop dropped out, Phil already had those relationships; he invested a tremendous amount of time," he said. "We also invested heavily in people on our team who helped make sure that Phil got introductions to communities that normally feel ignored by the political process," such as Latino organizations, faith-based and philanthropic groups, urban development groups and other constituencies.
"I really think there's a quality to Phil's candidacy," he said. "That's why you're seeing organizations respond. That's why you're seeing political leaders respond. That's the total package. It's not just investment in the party, which we made and which we stand behind.
"We didn't just give money to county organizations. We supported local and county organizations for tactical things that they wanted to do to rebuild our Democratic Party."
Since 2001, Murphy has donated nearly $200,000 to New Jersey Democratic candidates. He has given almost $726,000 on top of that to campaign committees for state legislative races, to the Democratic county machines and to the party's municipal organizations. Murphy and his wife have poured nearly $3.8 million into a 527 political advocacy group, New Way for New Jersey, according to IRS records. And he had self-financed close to $16.4 million out of $20.1 million spent on his primary race as of May 23, state records show.
The investment paid off with 48 percent of the vote in a primary election where around 500,000 Democratic voters turned out. That beat expectations but was lower than the turnout levels set by Corzine in 2005.
Murphy has spent millions running TV ads for nearly a year, but the scant few public polls released in 2017 have shown that despite that spending he is nowhere near household-name status and that many voters are tuning out the governor's race.
"I tend to think that campaigns have consultants that say, 'You need to tick off these boxes in terms of expenditures,'" said Brigid Harrison, political science professor at Montclair State University. "'Here's our vendor for television advertising, and here's our vendor for direct mailers.' There's a media-industrial complex built around campaign expenditures."
Murphy plans to cap his spending at $13.8 million in the general election and accept public matching funds, however, so having run the ads earlier on in the cycle may turn out to be a benefit. "Maybe it paves the way for increased name recognition, visibility, comfort level with the general electorate moving forward," Harrison mused.
Where Murphy's supporters saw a genial guy with deep pockets promising a liberal sea change in Trenton, Murphy's chief rivals for the nomination, Assemblyman John Wisniewski and former U.S. Treasury undersecretary Jim Johnson, saw a plutocrat corroding democracy and making phony promises.
Wisniewski at one debate called Murphy a hypocrite for pushing clean energy policies while holding investments in companies involved in hydrofracking and natural gas pipelines, and Murphy at the time said there was "probably no good answer" he could give on that score.
"We have a candidate who has made the system awash in money — it's obscene the amount of money," Wisniewski said at a Democratic primary debate last month. "It's pay-to-play at its worst," he charged. "We saw Phil's campaign reports where he's bid up the price to almost $20 million, including a $15 million loan — it's an obscene amount of money and New Jersey can do better," he said.
"One of the county chairs said, 'I control 10,000 votes,'" Johnson added later. "That's not a democracy."
Gill said that was rich, considering that Wisniewski is a former chairman of the New Jersey Democratic State Committee and Johnson was a top Treasury official under President Bill Clinton.
"We were endorsed by all three major publications of record," Gill said, referring to the Bergen Record, Star-Ledger and Philadelphia Inquirer. "They're not influenced by county political organizations. "
Soliman said Murphy ran on a bona fide liberal platform (tax increases on the wealthy, equal pay for men and women, a $15 minimum wage, full funding for schools and pensions, higher education investments, legalizing marijuana, closing loopholes that tend to benefit Wall Street financiers, resisting President Trump) and worked hard — long before he had the county lines — to court hundreds of local Democratic officials, state lawmakers and anyone with a vote at the party's county conventions.
At some town halls, Murphy would recount how German Chancellor Angela Merkel offered to come to New Jersey to campaign for him, and then he'd start rattling off the names of all the mayors and council representatives and Assembly members in the audience and how he met each one and what they discussed.
"When it came time to vote, a lot of folks, from county committee members to voters in Tuesday's primary, not only met and liked Phil but also believed that he was the right person to bring Democrats to victory this November because of the policies he put forward throughout this campaign," Soliman said.
Asked whether Murphy ran to the left to insulate himself from criticisms over his Goldman Sachs history, Murray, the Monmouth University pollster, said "this was not a strategic choice on his part."
"This is what he believes," he said.
Lt. Gov. Kim Guadagno, the Republican nominee, already has telegraphed that she will be making the race all about Murphy's promise to raise some taxes and drive up spending in a state where voters say they pay too much already.
"We have a long history in New Jersey that it's a bigger crime to be far to the right than it is to be far to the left, and we see that time and time again," Murray said. "I don't think he thought too much about that early on. I'm sure some of his advisers thought about it but believed that that history, combined with the toxicity of Chris Christie for Republicans in this state, wasn't going to hurt him."
Democrats predict Murphy will have a much easier ride running against Guadagno, Christie's loyal lieutenant for the last seven years, than he would have gotten against Assemblyman Jack Ciattarelli, the second-place finisher in the GOP primary.
"I think she's got to answer for the sins of Christie," Stellato said. "They're joined at the hip. All of a sudden now you have a visceral disdain for the person? That's a hard pill to swallow."
And Murphy, now closer to the prize than ever, will have a powerful megaphone at his disposal at a time when New Jersey residents have a deep distaste for the sitting president.
"Donald Trump will cut health care, he will gut public education, he will destroy our environment and target our immigrant communities all to feed his warped vision of America," he said in his victory speech Tuesday night. "We will stand up to this president with a steel backbone and tell him, 'You will not do that, Mr. President, in the great state of New Jersey.'"
Correction (9:39 p.m.): This story has been updated to reflect that New Way for New Jersey is a 527 group, not a super PAC.