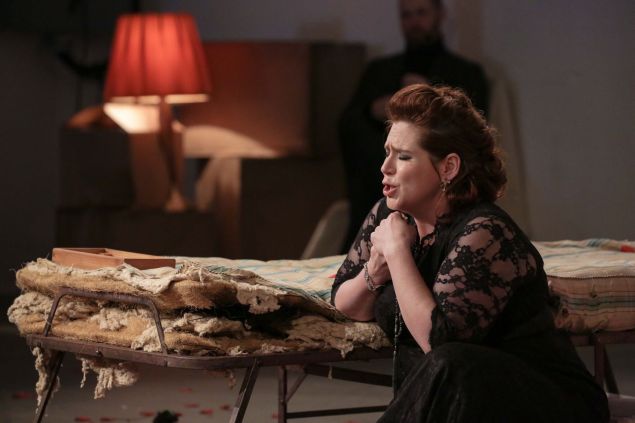 Hearing an unfamiliar opera for the first time, you might feel love at first sight: "Where has this piece been all my life?" Or your reaction might the the exact opposite: "Why didn't someone warn me?"
Sadly, nobody warned me about On Site Opera's thuddingly dreary production of Milhaud's The Guilty Mother last week. This promising new company took a major misstep with this presentation, which turned out to be disappointing when it was not downright annoying.
To begin with, the work itself, a trendily post-tonal 1966 setting of Beaumarchais' sequel to The Marriage of Figaro, bordered on the unlistenable. The International Contemporary Ensemble, conducted by Geoffrey McDonald, squeaked and plonked and thudded deafeningly while the singers bawled out shapeless and undifferentiated arioso lines.
Fortunately the plot of the piece, something about how the bastard daughter of the Count can't marry the bastard son of the Countess because of a stolen jewel box and some burned letters, is so pointless that you don't mind so much the unintelligible French text.
Among the singers, tenor Andrew Owens, as the lovelorn Léon, showed the most promise at creating a character under these adverse circumstances, even though laryngitis had reduced him to whispering his part. As the Countess, soprano Jennifer Black flung out some high-lying dramatic phrases in the final act that might have been easier to savor from a distance greater than arm's length.
Eric Einhorn's stage direction, set in The Garage, an anonymous loft space, was inoffensively vague in detail, but infuriating in its defiance of the company's mission statement. This was not in any way a "site specific" production unless we are to believe that the Almavivas inhabited David Hemmings' photography studio from Blow Up.
The Milhaud mishmosh I hope I never hear again. The On Site people, based on their past delightful productions, deserve another chance. And while they're at it, maybe next time they can rent folding chairs in a size larger than "toddler."