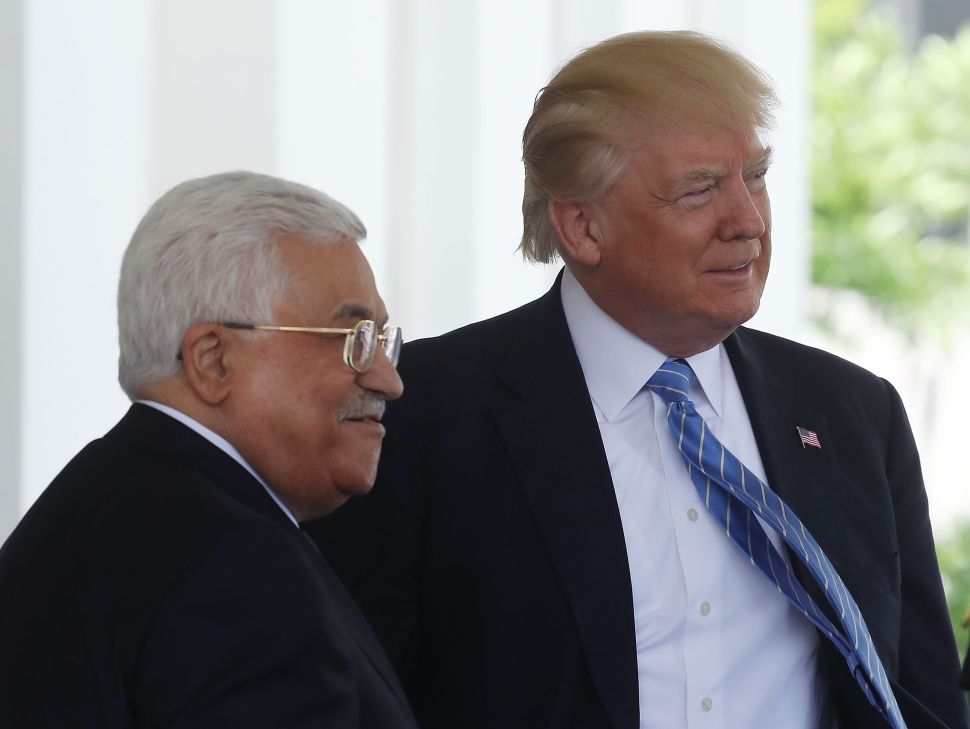 If you pay terrorists or the families of suicide bombers, you are aiding and abetting terror. It is that simple.
Despite denying that they no longer offer monetary incentives and support to terrorists, the Palestinian Authority is still paying terrorists' families and imprisoned terrorists. In other words, they are lying.
Halting the funding of terrorism was probably President Donald Trump's most significant demand to Palestinian President Mahmoud Abbas in their meetings, first in Washington and then in Bethlehem. The other major demand he made was for PA to stop—totally stop—the incitement of violence and glorification of acts of terror.
While in Washington, Abbas assured Trump that the Palestinian Authority had stopped funding terrorism. But during their meeting in Bethlehem, Trump showed he had Israeli evidence that Abbas' government was still sponsoring terror.
On Tuesday, Secretary of State Rex Tillerson testified before the Senate Foreign Relations Committee that the Palestinian Authority is no longer rewarding acts of terror by paying terrorists and their families. Tillerson said, "They have changed that policy and their intent is to cease the payments to the families of those who have committed murder or violence against others." He continued, "We have been very clear with them that this is simply not acceptable to us."
Israel says that the Palestinian Authority has not changed its policy, and, if anything, evidence shows an increase in anti-Israel propaganda and recruitment for terror. According to the official Israeli response, "Israel does not recognize any change in Palestinian policy that continues to pay the families of terrorists. The Palestinian Authority continues to praise, incite and encourage terrorism through payments."
Israel is already taking matters into its own hands. According to the Camp David Accords, all products coming in to the Palestinian Authority come in by way of Israeli ports, at which time they are taxed. Israel then hands over the taxes to the Palestinian Authority. Israel has said that they will calculate how much the Palestinian Authority pays to reward terror and they will subtract that amount from the taxes they collect and then hand the final amount to the PA.
The Times of Israel calculated that the Palestinian Authority has paid $1.2 billion to terrorists and their families over the past four years. In fact, one of the most lucrative PA positions is that of a terrorist. There is even a ministry dedicated to paying terrorists. It's called the Ministry of Prisoners' Affairs, and it deals with terrorist prisoners in Israeli jails and the families of terrorists. Palestinian prisons do not fall under the purview of this ministry.
Issa Karaka, the Palestinian minister of Prisoners' Affairs, announced that calling for the stopping of these payments was an act of war. He said, "The Palestinian society is made up entirely of families of prisoners and shahids, and they are all victims because of the Israeli occupation." He continued, "This demand to stop payments for prisoners' families is no small matter, but something very big with social ramifications." Karaka also claimed that, "No one in the Palestinian Authority could make such a move." Karaka finished, "It would be very difficult for the Palestinian Authority to stop the humanitarian aid to the families of prisoners and shahids."
Karaka's words were directed against the United States.
Israel has already begun to stop PA funds sent to terrorists. Elazar Stern, a member of Israel's Knesset from the Yesh Atid party, proposed a law addressing the issue that passed its first reading 48 to 13. Stern said, "When the PA transfers funds, by law, to terrorists and their families, it promotes a policy of murdering Israelis. The budgeting of terrorism is a clear political act, and it is not consistent with the peace process."
There are two issues at the heart of Israel's response. First, Israel cannot stand by as terror is directed at its citizens. Secondly, and more significantly, is the moral issue. Israel cannot be a part of terror by transferring money that rewards terrorists and their families for attacking, maiming and killing Israelis.
One way or another, the Palestinian Authority must stop incentivizing terrorism. If Abbas won't stop and Trump can't convince him to, Israel will be left to do it on its own.
Micah Halpern is a political and foreign affairs commentator, author the "The Micah Report," online and host of the weekly TV show "Thinking Out Loud w Micah Halpern." follow him on twitter: @MicahHalpern