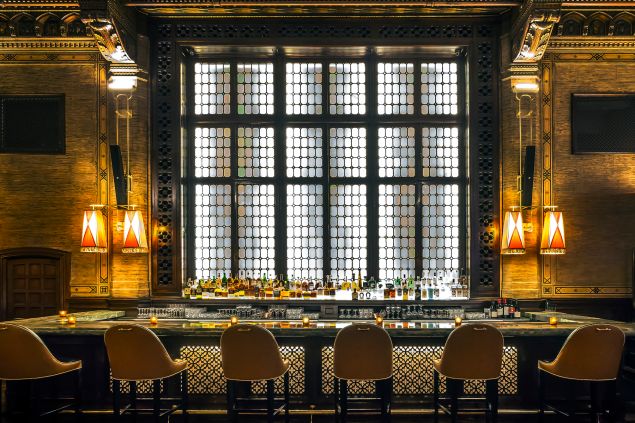 When most New Yorkers heard that the iconic Campbell's Apartment was closing about 15 months ago, they began mourning the loss of yet another iconic New York destination. It was one of the most magical bars, so very seeped in history. Anyone felt like a real New Yorker when they walked into that exquisite room at 15 Vanderbilt Avenue, which was once the private office and reception hall of financier John William Campbell. You half expected to see Don Draper sitting at one of the corner tables, blowing smoke, nursing an Old Fashioned and eyeing his next victim. Plus, it has that wonderful allure of being a bit hidden, even though it's actually located adjacent to the clusterfuck known as Grand Central Station. Campbell's Apartment is basically New York's version of Platform 9¾, except this one comes with tasty cocktails.
So we were all thrilled when it turned the historic landmark wasn't actually closing, but the Gerber Group was actually revamping it, to reopen it with some new flare. Now called The Campbell, the boîte has received some new additions, including two more casual bars—Campbell Palm Court  and Campbell Terrace—located outside the actual space. The two new bars were introduced to increase capacity, especially to those busy commuters; the bar is now more inclusive and less of a secret. There is also a new menu, with some delightful cocktails like The Aviation, as well as a somewhat more casual dress code (but still no flip-flops, hats or shorts, mind you.) But don't worry, most of the historic architecture has been maintained. Campbell's personal steel safe, a century-old leaded glass window and the original wooden bar are all still intact, as are the 25-foot hand painted ceilings and a grand stone fireplace.
"As soon as you enter The Campbell, the sense of history is palpable," said Randy Kemper, Designer for Ingrao Inc.  said in a statement. "We focused on restoring the space's original features, while utilizing traditional materials and design features whenever possible. The end result is a breathtaking revitalization that brings the historic venue seamlessly into the 21st century while paying homage to its storied past." Speaking of a storied past, it turns out that Campbell himself had quite a colorful one. Here is a look at some of the most notable things to have taken place at The Campbell Apartment.
The Campbell Years 
Campbell, Chairman of the Board of the Credit Clearing House, opened the office space in 1923. He was a huge fan of Italian design, hence the Florentine decor. For an authentic feeling, he even shipped in Italian chairs and tables and a $300,000 Persian rug. Campbell never lived in the space but he and his wife often used it for entertaining parties of about 50 people; they even held the occasional piano or organ recital. William K. Vanderbilt II was most likely a guest at these gatherings as his office was also in Grand Central.
Campbell himself was quite an eccentric. Though he didn't fully Howard Hughes it, he would often work sans pants, as he hated getting them crinkled. 
When It Was a Jail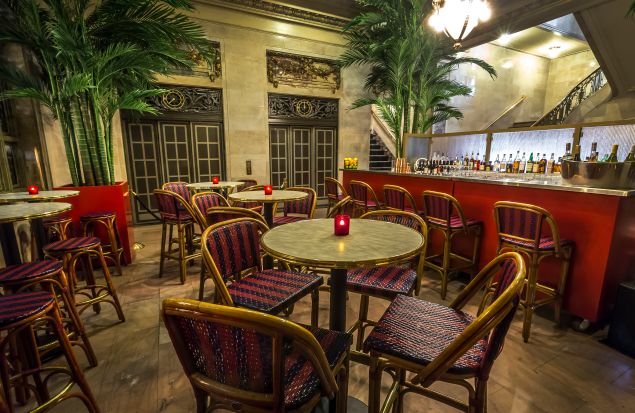 After Campbell died in 1957 the space went through some slightly weird transitions. It had a few more office tenants (including a signalman's office), but eventually the Metro-North Commuter Railroad police used it to store their guns. After the furniture and beautiful rug was removed, it actually served as a jail for sometime. The wine cellar was converted into a cell for prisoners.
The Restoration
It wasn't until many years later, in 1999. that it became a chic New York institution. Hospitality Holdings was responsible for the $2.5 million renovation, restoring the grand space to its former glory, as much damage had occurred over the years. They brought back old school cocktails and insisted on a dress code; there would be no sports apparel or flip flops here, as this bar was for gentlemen and ladies. This ere was when The Campbell Apartment really solidified itself as one of the classiest bars in the city.
The Gossip Girl Moment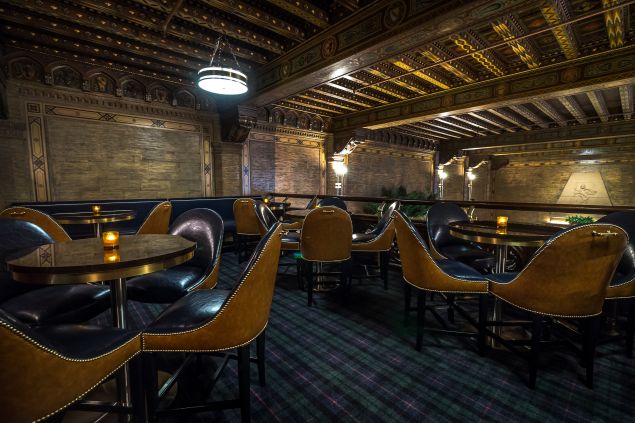 In the fall of 2007, with Sex & the City long over, New Yorkers were yearning for a show about rich, spoiled teenagers from the Upper East Side and their sexual escapades. Enter Gossip Girl. In the premiere, the scandalous Serena van der Woodson had sex with her best friend's boyfriend, Nate, on top of the bar at (you guessed it) The Campbell Apartment. Why were teenagers in a bar during the day? We don't know, but it made for good TV and set the sexy and cosmopolitan tone for the entire series.
The Haunting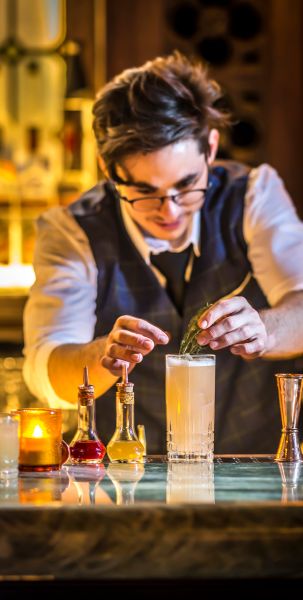 A pivotal Gossip Girl cameo is cool, but a ghost is even better. The spirit of Campbell is rumored to still be haunting the joint. According to Gothamist.com, the Eastern Paranormal Investigation Center observed paranormal sightings in the venue. "Some customers and staff have pointed out eerie incidents that have taken place at the cocktail lounge, such as unexplained gusts of cold air, taps from behind without anyone in sight, sounds of an organ playing, and doors mysteriously shutting on their own."
The Campbell is also a great venue for parties and weddings and with this new restoration and updated vibe, the bar will continue to be home for more New York history. We are looking forward to more TV appearances and ghosts at The Campbell.