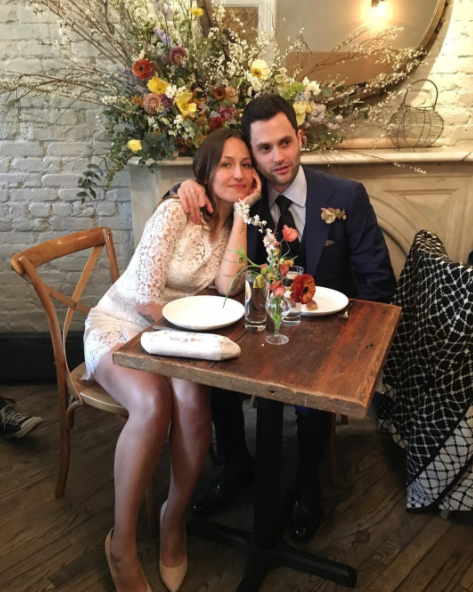 Penn Badgley's second wedding occurred over the weekend. No, his first wedding was not when he and fictitious Upper East Side socialite Serena van der Woodsen finally tied the knot on Gossip Girl, despite the pesky fact that he cyber bullied her for many years and was at one point potentially her brother. In reality, Badgley's first and second wedding were both to Domino Kirke, sister of Girls star Jemima and Mozart in the Jungle actress Lola. He's marrying into quite a celebrity-filled family, so it makes sense the wedding itself would be full of famous cameos.
The pair originally tied the knot at a courthouse in February, replete with plenty of small Brooklyn touches, including a vegan, gluten-free fig topped cake and wide legged fashion jeans. The couple had been dating since 2014. Badgley previously dated his co-star Blake Lively, and he then dated singer Zoe Kravitz, the daughter of Lenny Kravitz and Lisa Bonet.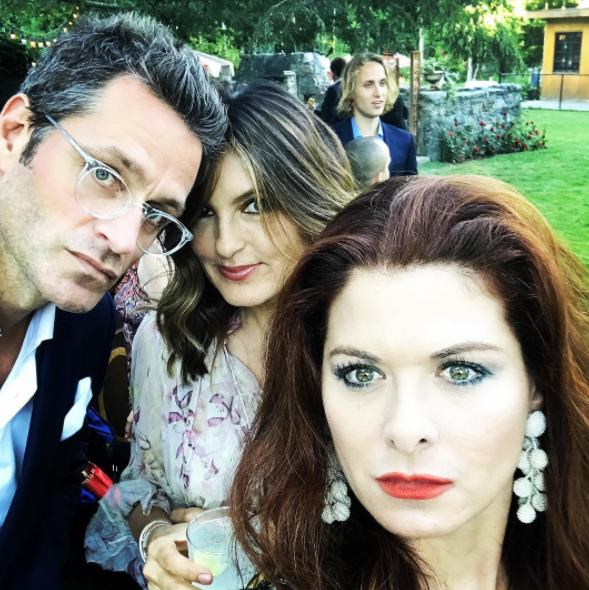 The London-born Domino is also is the daughter of a musician. Her father is Simon Kirke, the drummer for Bad Company, so she's comfortable with her new husband touring with his band MOTHXR. Domino is also a singer, and she recently premiered the dreamy new single "Beyond Waves." When she's not performing, she's working as a doula in Brooklyn, which sounds like it could be a Girls subplot.
This wedding was a far more formal affair than their courthouse nuptials, where Domino's young son wore a beanie and her sister opted for a T-shirt. At this affair, Law and Order: SVU star Mariska Hargitay posed with Debra Messing and Zac Posen on Instagram.
These festivities took place at Lake Waccabuc in upstate New York. The bride wore a beige lace dress paired with a silver headband, looking very festival ready. Her concert look made sense, as she joined The Shirelles onstage to sing "Will You Still Love Me Tomorrow" before the night was over. Now that's a Brooklyn wedding, even if it's miles away from the borough.