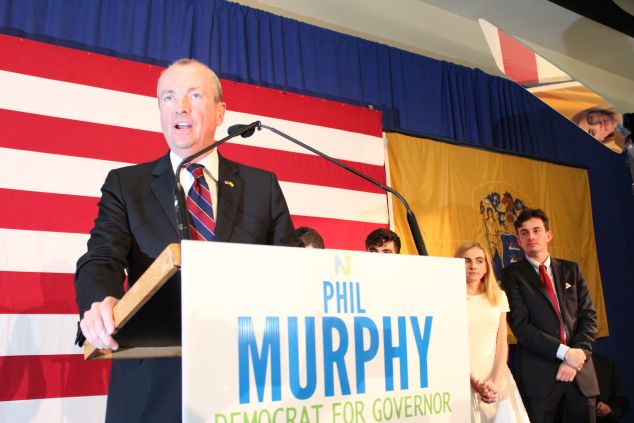 NEWARK — Phil Murphy won the Democratic Party's nomination for New Jersey governor on Tuesday, capping a methodical brick-by-brick effort spanning several years in which he hired some of the state's top political talent, locked up every major endorsement, and spent millions from his personal fortune built up over 23 years at Goldman Sachs.
The former U.S. ambassador to Germany under President Barack Obama, Murphy, 59, won the Democratic primary with 48 percent of the vote. His closest rivals were former U.S. Treasury undersecretary Jim Johnson and Assemblyman John Wisniewski, each with 22 percent.
"New Jersey, here is my simple promise to all 9 million of you: I've got your back," Murphy said in a victory speech at the Robert Treat Hotel in Newark. "People all across the state are demanding change, and I am here to change things."
He will face Republican Lt. Gov. Kim Guadagno in the November election to replace Chris Christie, the term-limited and unpopular governor whose approval rating has hit historic lows below 20 percent this year.
Guadagno has been Christie's second-in-command through two terms, and Murphy already is casting the race as a referendum on Christie and President Trump, a Republican who is also unpopular in New Jersey.
In Murphy, Democrats have chosen a wealthy financier who has spent at least $16 million of his money on the race, inviting constant comparisons to former Gov. Jon Corzine, another Goldman Sachs executive who spent lavishly to win the governor's mansion. Republicans are painting Murphy as the second coming of Corzine, who lost a re-election bid to Christie in 2009.
Murphy led Guadagno 50 percent to 25 percent in the most recent poll with a head-to-head match-up, a May 3 survey from Quinnipiac University.
"This will be a proxy war: Donald Trump vs. Jon Corzine — and certainly Chris Christie is brought into the mix because they're easy foils," said Brigid Harrison, a political science professor at Montclair State University.
The New Jersey race should draw national attention, although, so far, it hardly has registered with voters in the state or with the national media. Still, it's one of only two gubernatorial races this year along with Virginia's, and one of the first statewide elections since Trump was elected president.
Murphy's most recent messaging and TV ads have focused fire on Trump, and the Democrat has pledged to resist the president's moves "with a steel backbone" on everything from climate change to immigration.
"We are better than Donald Trump and we are better than Chris Christie," Murphy said in his victory speech.
"This is the single most important race in the country in the next three years before the presidential race," former Vice President Joe Biden said at a Murphy rally recently. "The whole country, and without exaggeration, the world, is going to look at it.
"They're going to look to decide whether or not America's bought into this crass and mean-spirited, negative and uncomfortable rhetoric that we have been subject to the last 10 months, or whether or not we're able to reestablish and reassert who we are."
Orin Kramer, a hedge fund manager and Democratic donor, said statewide elections double as statements on the president. He referenced Gov. Brendan Byrne's campaign in 1973, when voters were starting to turn on President Richard Nixon in the wake of the Watergate scandal.
"That election was a referendum on Nixon," Kramer said. "This election will be a referendum on Trump and Christie, which is not a good starting point for Republicans."
Murphy, who was born and raised in Massachusetts and had a well-received run as finance chair of the Democratic National Committee in the years before Obama's election in 2008, began his quest for the New Jersey governor's office about two years ago. He launched a nonprofit think tank to study statewide policy issues and increase his visibility, donated handsomely to local Democratic officeholders and committees, and declared his candidacy more than a year before Primary Day.
He eventually cleared the field of the two politicians many predicted would be his chief opponents in the Democratic primary — Jersey City Mayor Steve Fulop of North Jersey and Senate President Steve Sweeney of South Jersey.
Fulop had been laying the groundwork to run but surprised many in the state's political scene when he pulled the plug in September before announcing. He endorsed Murphy the next day. North Jersey party bosses then closed ranks behind Murphy in an effort to slam the door on Sweeney, a powerful lawmaker backed by Democratic power broker George Norcross.
On the same day Murphy rolled out endorsements from the Democratic county chairmen of Bergen, Essex, Hudson and Passaic counties, which hold the bulk of the state's voters, Sweeney canceled his bid.
Murphy's campaign had spent more than $20 million as of May 23, more than twice what all of the other candidates from both parties had — combined. He locked up the support of all 21 Democratic county committees, giving him the top ballot placement across the state. And he racked up a broad coalition of endorsements from unions, advocacy groups and elected officials, including the state's largest public worker unions, Biden and former Vice President Al Gore.
That support, and his unflinchingly liberal campaign premised on several tax increases on high earners, helped shield him from attacks over his long tenure at Goldman Sachs, the multinational finance company.
"He started very early and worked very hard reaching out to the various organizations," said former Gov. Jim Florio, a Democrat. "Obviously his money is helpful as well, but he put a lot of energy into an early campaign and cleared the field of the dominant players who were expected to be involved. And a lot of the political people in the state saw him as the inevitable winner, and therefore they signed on."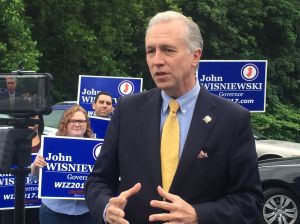 Republicans quickly went on the attack.
"New Jersey Democrats have selected an out-of-touch candidate in the mold of Jon Corzine who would raise taxes, drive away jobs, eliminate school choice and increase unaffordability," said Jon Thompson, a spokesman for the Republican Governors Association. "With the millions he made as an executive at Goldman Sachs, Murphy bought the German ambassadorship, political favors, endorsements, the Democratic nomination, and now, he's attempting to buy the governorship."
The campaign's early-bird planning — combined with Fulop's and Sweeney's exits — was instrumental in turning Murphy, a Middletown resident and father of four with his wife, Tammy, into the odds-on favorite not only for the nomination but for the governorship.
By the time his lead rivals — Johnson, Wisniewski and state Sen. Ray Lesniak — jumped in the race, Florio said, the primary "was essentially done."
Murphy's campaign effort has raised at least $21.2 million, $16.9 million of which has come from his own bank account, state records show. He spent more in the lead-up to his campaign, donating hundreds of thousands of dollars to county committees. His rivals hammered this kind of spending as "obscene" and undemocratic, claiming for months that Murphy was buying the election. But political analysts and surrogates said Murphy was building a state party that had been neglected during the Christie era, spent much less than Corzine, and built real support by meeting with every major group in the state with a stake in policy and government.
"The one thing about the politics that differs with Jon Corzine is his ability to press the flesh with key party leaders and make them feel very comfortable with him as an individual, which Jon Corzine never did," said Patrick Murray, director of the Monmouth University Polling Institute. Of the two Goldman alums, Murphy is by far the superior retail politician, party insiders and political observers say.
"People will portray this as Jon Corzine redux, with the parallel of course being the amount of personal wealth that Mr. Murphy was willing to invest in how own nomination," Harrison said. "But the differences between Corzine and Murphy, at least to me, are readily apparent."
"Phil Murphy is no Jon Corzine," said John Currie, the chairman of the state Democratic Party, at an endorsement event in October. "He's a man who understands and cares about the people of New Jersey. He's a man who understands party politics."
Murphy plans to take public matching funds in the general election, which would cap his spending in that race at $13.8 million.
Johnson, another political newcomer to the Jersey scene, surprised many by being the first to receive public matching funds and caught some national attention because of his impressive resume and his calls for ethics and electoral reforms.
But he entered the race relatively late — days after Murphy locked down all the big endorsements in North Jersey — had low name recognition and spent the end of the campaign attacking Murphy as an out-of-touch Wall Street executive instead of focusing on issues plaguing the state, analysts and experts said.
"Now is the time for us to come together — at a critical time in our state and our nation's history — and work together to end the Chris Christie era and replace it with a strong, Democratic governor," Johnson said in a statement.
Wisniewski thanked his supporters in a concession speech and said his campaign created a dialogue about improving the Democratic Party.
"Thank you so much from the bottom of my heart and from my family for the incredible opportunities you have given me to talk about issues across this state in a way that I never dreamed would be possible," Wisniewski said. "We talked about the values that have not been represented in the Democratic Party. We've talked about the values and the discussion we need to have as Democrats."
Murphy's opponents "went negative and made this race about Phil Murphy's money as opposed to fighting for New Jerseyans," said Democratic strategist Michael Soliman.
"At the end of the day, voters want to hear about the candidate but more importantly, what they stand for and how they'll improve New Jersey and their quality of life," he said.
Wisniewski, a state lawmaker for two decades who led an investigation into the Bridgegate scandal, chairs the Assembly Transportation Committee and recently led the New Jersey Democratic State Committee. He is among the most knowledgeable politicians on transit issues in the state — which would seem to be an asset during a year of train derailments and hellish commutes. But Wisniewski, a Sayreville lawyer, ran as a political outsider in the mold of Democratic presidential candidate Bernie Sanders. Wisniewski led Sanders's campaign in New Jersey, but Sanders never returned the favor with an endorsement. Meanwhile, Sanders's son, Levi Sanders, was on the stump with Murphy on several occasions.
"He ran away from who he is," Mo Butler, a Democratic strategist, said of Wisniewski. "He ran as a populist when he is a consummate insider."
Murphy has proposed a liberal agenda that includes a public bank for small businesses funded by taxpayers, tax hikes on the wealthy, a minimum wage increase to $15 an hour, tougher gun laws and the legalization of marijuana. That's the core of his policy platform — and it would be a sea change compared with Christie's two terms.
Murphy also has promised to fully fund education at the levels contemplated in the School Funding Reform Act of 2008, which Christie has shorted for years. And he has vowed to ramp up to full funding for the public worker pension system, perhaps the biggest financial albatross on the state's $35 billion annual budget, over the next several years. That would add billions of dollars in costs to the state budget over his governorship, should he win, almost certainly requiring tax increases.
Those pledges helped Murphy earn the endorsement of the New Jersey Education Association, the powerful teachers union. If elected, Murphy would have to walk a fine line accommodating both the NJEA and Sweeney, the state's top Democratic legislator and an NJEA enemy. The union and the Senate president do not see eye-to-eye on the issue of school funding and Murphy will likely have to play referee.
Marie Blistan, the NJEA's incoming president, speaks highly of Murphy and said a top political priority would be to get union-friendly lawmakers elected in this year's legislative races to give him enough room to succeed.
"He has stayed consistent on his messaging throughout his time campaigning and we're excited to help him put a team together in the Legislature and in the counties and the local communities as well," she said in a recent interview.
All 120 seats in the state Legislature are on the ballot this year. Michael Muller, director of Senate Democratic Majority, the lead Democratic campaign committee for state Senate races, said he expects to run a coordinated statewide operation with Murphy for the down-ballot races.
"This is probably going to be the first time since 2005 that we've had the ability to coordinate at such a level," Muller said. "Our last two gubernatorials, with Christie doing well, gubernatorial candidates on the Democratic side were kind of fending for themselves and were in very difficult scenarios. I think we're going to wind up having a very large-scale, coordinated effort that will look a lot more like the Democratic campaigns we waged in 2001 and 2005."
Harrison Neely, executive director of Senate Republican Majority, said GOP candidates would run "locally-themed, locally-focused" campaigns for the Legislature, regardless of who tops the ticket.
"To the extent that the top of the ticket affects our races, it's going to be what it's going to be," Neely said. "We're going to control what we're able to control."
Murphy congratulated Guadagno and said he looked forward to a campaign on the issues. But he also previewed his general election strategy — casting her as an emblem of the Christie years.
"Four more years of Christie-style politics won't change New Jersey's unfair, unsuccessful, unsustainable course, but we will. Four more years of Christie-style politics won't make New Jersey the state where we draw the line against Donald Trump, but we will," he said. "New Jersey cannot afford a governor who has been complicit in the failures that have left families struggling."