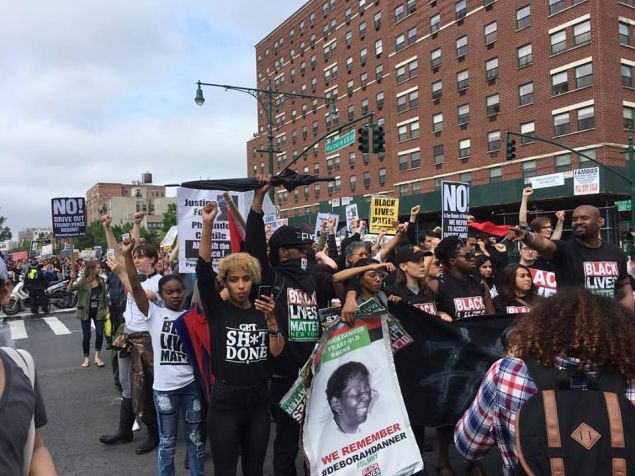 A day after a Minnesota jury acquitted the cop who killed Philando Castile, a 32-year-old black man, several hundred activists marched for more than two hours on Saturday afternoon from Harlem all the way to Trump Tower—blasting the United States for having "lynched another black man."
On July 4, 2016, Officer Jeronimo Yanez pulled over Castile's car—later saying he believed the deceased to be a robbery suspect—and after a brief exchange of words, fatally fired his sidearm at the man, claiming that he thought Castile was reaching for his gun. Castile's girlfriend Diamond Reynolds livestreamed the encounter on Facebook, which contradicted parts of Yanez's account.
Among the participants of "No Justice, No Peace. March for Philando Castile" were members of Black Lives Matter of Greater New York, Refuse Fascism and NYC Democratic Socialists of America. 
"We're here today because America has lynched another black man," Black Lives Matter of Greater New York President Hawk Newsome proclaimed, formally kicking off the speech portion of the event.
Newsome alleged that prosecutors had police footage that they did not introduce in trial because "they didn't want that cop to go to jail." He repeated a common complaint that local district attorneys cannot be trusted to fairly and vigorously pursue charges against law enforcement because of their close relatioship with cops.
"Prosecutors work with police every day," he said "I see faces out here of protestors, some of whom I've been arrested with and those same cops that arrest us work with the DA's office every single fucking day. They're friends. They're buddies."
He claimed that the system is rigged and "doing exactly what it's meant to do," which he said is to oppress people, including black, brown, LGBTQIA, men and women.
"If we are not part of the dominating class, then we are enemies of America," Newsome continued. "The way that we overcome that is how? Love, love, love. My love equates to rage in these circumstances."
Edward "Noche" Diaz, a member of activist group Refuse Fascism, said that as soon as he was asked to participate in the march, he readily agreed—arguing that they could not wait to plan a response to the verdict.
"When I got the call yesterday, I said, 'Right on!,' because that is exactly what we need to do, not wait around for whenever would be convenient to call for a protest," Diaz said. "This man was murdered, he didn't get to plan his funeral…his life was stolen and the cop who did it got to walk yesterday so we need to be here today. And we join the hundreds of people out in the streets of Minnesota last night, where they need to be."
Activist Amanda Moore, Black Lives Matter of Greater New York's point of contact with the Castile family, ran a livestream of the event so the family could watch. She said that they thought "they were going to do the right thing" because "everybody who knew Philando knew that he was a good man."
"Everybody knew Philando was a good person but as always, the system just seems to fail in some type of way," Moore said. "It fails you if you have any type of melanin in your skin. And I am here today live streaming this for Minnesota for…his whole entire family because this has to end and the world is watching."
The march kicked off on 116th Street and Lenox Avenue. Marchers shouted chants such as "Black power, baby!," "No justice, no peace. Fuck these racist police!," "What do we want? Justice. When do we want it? Now! If we don't get it, shut it down!" and "Hey, hey! Ho, ho! Racist cops have got to go!" When they arrived on the Upper East side, they yelled, "Hey, hey, Upper East Side! Are you here for black lives?"
The marchers frequently marched into the streets, at one point blocking traffic at the intersection at 116th Street and Lenox Avenue and chanting. By the time they arrived at Trump Tower—at a little past 6 pm—the officers started putting up barricades around them.
At multiple points along the route of the demonstration, NYPD officers ordered the protestors to disperse on the grounds that they were disrupting vehicular traffic, and threatened the objectors with arrest.
Actor and activist Jabari Brisport, a DSA member running on the Green Party line for the seat currently held by Brooklyn Councilwoman Laurie Cumbo, said capitalism "brought black people here as capital."
He noted that Castile's mother, Valerie, said in a Facebook Live video posted yesterday that she is "mad as hell" and declared that the system "has failed black people and will continue to fail us."
"It's descended from a system of slave catchers so we can't be surprised when it continues to hunt down black bodies," Brisport said. "The system is working just like it has for hundreds of years and it has got to go."
Retired union leader Helen Hines, who is running for the seat currently held by Bronx Councilman Rafael Salamanca, called on people to "take a stand" and said the only way to make a difference is "to challenge our votes." She recalled that Reynolds' four-year-old daughter was in the vehicle when Yanez killed Castile.
"What about the child that was sitting in the backseat when the young man was being taken right out?" Hines said. "That can be any of us."