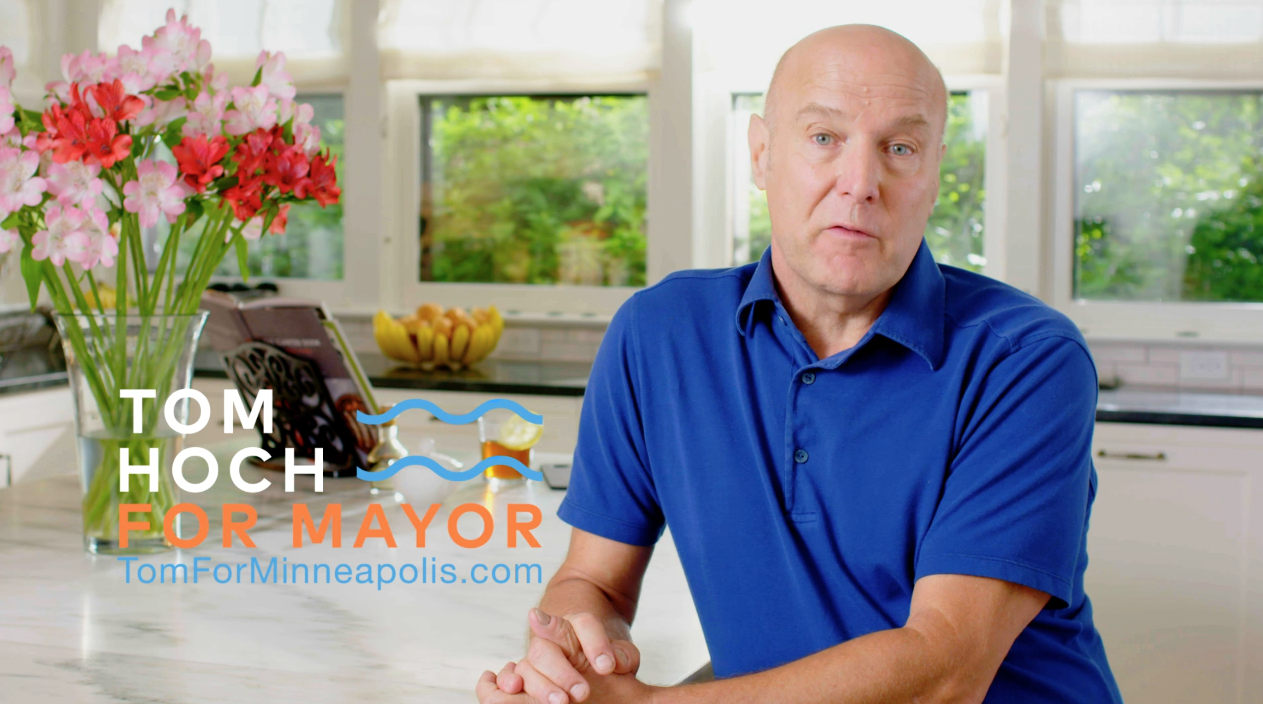 If imitation is the sincerest form of flattery, then republican Texas County Commissioner Gerald Daughtery should be blushing red. Daughtery's famous 2016 TV spot "Please Re-elect Gerald…Please!" in which Daughtery's wife pleads with voters to re-elect her husband to get him out of the house captured the internet by storm and became one of the most talked about political ads of 2016.
A lot has changed in a few months. With Donald Trump in the White House, progressives across the country are turning up the dial in their fight against the GOP agenda. In this 2017 twist on the famous TV spot featuring a candidate's pleading spouse, it's now Mark Addicks' turn to make the case for his husband, Minneapolis Democratic mayoral candidate Tom Hoch. Throughout the spot, Addicks is seen rolling his eyes and sighing because his husband can't stop talking about urban planning, policy issues and his vision for the future—even while they are doing mundane chores like washing the dishes. The spot is funny and well-produced. It will undoubtedly make the rounds on social media and with voters in Minneapolis.
"Please Elect Tom…Please!" is a clever and uplifting political TV ad—just what the country needs during these dark times," said Michael Rosenblum, the founder and former President of New York Times Television. He screened the TV spot before its release. "This spot, which highlights the inclusive campaign of an openly gay and accomplished candidate running for mayor of a major US city, stands in stark contrast to the polarizing politics of Donald Trump and the GOP's agenda."
"The spot takes a really effective ad from the Republican's 2016 playbook and adapts to the era of Trump," said Arick Wierson, a former political adviser to New York City Mayor Michael Bloomberg and Emmy award winner. Wierson has previously written for the Observer about Minneapolis politics. "In this case, Democrats are literally ripping pages from Republican scripts. If this is any indication of how progressive Democrats will be using media to power their message going forward, the GOP will be in very hot water."
Hoch, although a first-time candidate, is a serious contender in the race for mayor against incumbent Betsy Hodges. He is a former theater executive and progressive community activist. His husband, Mark Addicks, is the former chief marketing officer of General Mills.
Hoch is hoping that this ad, which will run through the end of July on broadcast and cable TV in Minnesota, will work the same magic that it did for Texas County Commissioner Gerald Daughtery, who won a very tight race for the 3rd Precinct Commissioner for Travis County, Texas last fall.
The Minneapolis mayoral election will be held November 7, 2017.
Richard Hecker is the CEO of Traction + Scale, an investment holding company that builds companies transform their industries. He is also the co-founder of SeedingX.org. You can follow him on twitter @RichieBlueEyes.