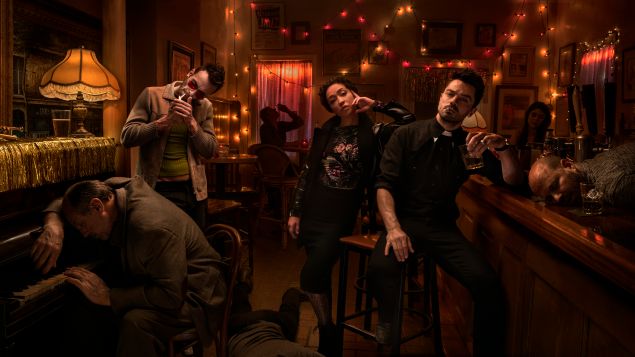 With the Season 2 premiere of Preacher right around the corner (Sunday, June 25, to be exact) the cast and creative team behind AMC's adaptation of the Garth Ennis/Steve Dillon comic series touched down in Los Angeles earlier in the week to promote the new episodes.
Season 1's main goal was to fill in the blanks, so to speak, on the backstory of conflicted preacher Jesse Custer, his hit-woman girlfriend, Tulip and their Irish vampire friend, Cassidy – offering up an origin story for the fans that was never provided in the original comics. When the Season 1 finale blew everything (and everyone) up, it felt as if the show was moving forward from a clean slate and, in doing so, we're finally getting the bonkers subject matter which initially made the Ennis/Dillon comic so unique and fun.
There's a lot to be excited about regarding Preacher's return — Herr Starr and The Saint of Killers! — but don't take my word for it. Here are four major takeaways to look forward to, as teased by Seth Rogen, Evan Goldberg and Showrunner Sam Catlin, and its stars Dominic Cooper (Jesse Custer), Ruth Negga (Tulip) and Joseph Gilgun (Cassidy).
Season 2 brings the action, the comedy and the horror in equal measures.
Seth Rogen: One of the most exciting things is the different tones the show is able to take on. It's able, we hope, to be funny and kind of ironic — almost, kind of winking to the camera, sometimes. Sometimes, it's very scary, very thrilling and shocking.
Dominic Cooper: There's a very volitile mixture of emotions unfolding as each episode progresses. You can feel it, sort of, bubbling under the surface and you're just waiting for the explosion. I think that's what makes the dynamic of the characters' relationships very different. And now, introducing these very larger than life bold dynamic ludicrous characters directly from the comic, I think it makes for a very disturbing combination.
Seth: On a content level, we do things that we'd have a really hard time getting away with in a movie. There are characters in the show doing things that, as much creative freedom as movies have, it would be pretty tricky to get some of that stuff by. On TV, right now, they're letting us do it. It's not just from a narrative standpoint. From a content standpoint, bizarrely, there's a lot of things in the show that I watch and I'm like, "We'd have a hard time convincing a movie studio to let us do that!"
This is the Jesse, Cassidy and Tulip we've been waiting for.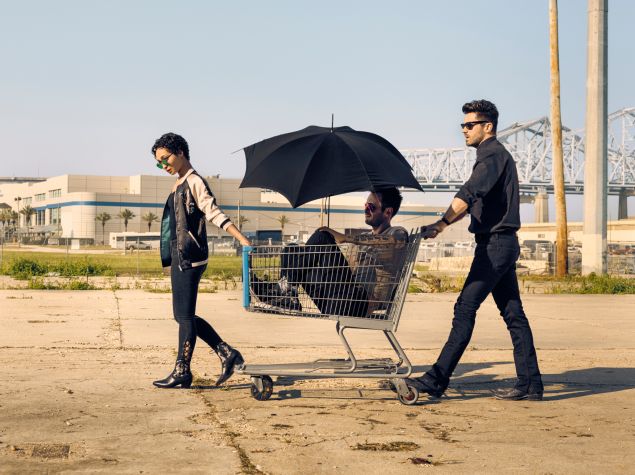 Dominic: I'm finding [Jesse] more and more selfish, actually. And however perturbed and disturbed he is by his past and the choices he's made, he seems inadequately remorseful about the things that he has done. [ … ] He's just so guided by this one thing that he's leaving the people closest to him in imminent danger and he's not caring so much about them. He uses this power that he has in the worst possible way.
You have to keep remembering that he's utterly criminal. He's trying and tried his hardest to make his life what he thinks it should be and what he thinks his father thought it should've been but he's wrapped up in guilt and remorse for his father, for the loss of his mother, living with these terrible people. He's soaked it in, it's part of him. This illness, this disease, this personality. I think that's why this entity can exist within him. It's because he's one of something and one of the other.
Joseph Gilgun: Here's a much more domestic of version of Cassidy. He's got responsibility. I was going to say he wasn't banking on finding this responsibility — but actually, I think he kind of was. He wants to prove that he is a valuable asset to the group. I think he feels, initially, like they were treating him a bit like this sidekick. I don't think he likes that. [ … ] It's a big problem for Cas. And it grounds him. There's definitely a difference — I mean he does still drink and take drugs, but he's just not as … he's definitely a different version of himself this time around.
I think Jesse and his whole God quest has made him question a whole bunch of things. I think he avoids everything, Cassidy, and he has done it this way for like 120 years. And for the first time, he's met this guy who's not dissimilar — who's lived a life of debauchery and fucking sin — and he's having a go of being this good guy. I think, at first, Cassidy just found it a fucking hilarious ludicrous idea … To not be what you are, who you are and what you represent! But I think Jesse's endurance to do the right thing … He's probably questioned it enough to have a little go at it himself.
Ruth Negga: This season, we have an opportunity to explore her more vulnerable side. I think we disarm her, both physically and mentally, this season. That's a very naked place for Tulip to be because she's always earthed and ready to go.
The thing about Jesse and Cassidy and Tulip is they're pretty hindered by the fact that they don't really have any other options. Annville's gone, it was exploded away. Tulip's on the run from god knows how many people and so is Cassidy, in a way. And he also has no friends left because they keep dying since he's so bloody old. And so they found this sort of itinerant misfit-y family. They found this for themselves and I think they're very willing to see what happens. Hopefully it'll be an adventure and hopefully they'll get to have fun and hopefully they'll keep all their demons at bay.
The big bads are bigger and badder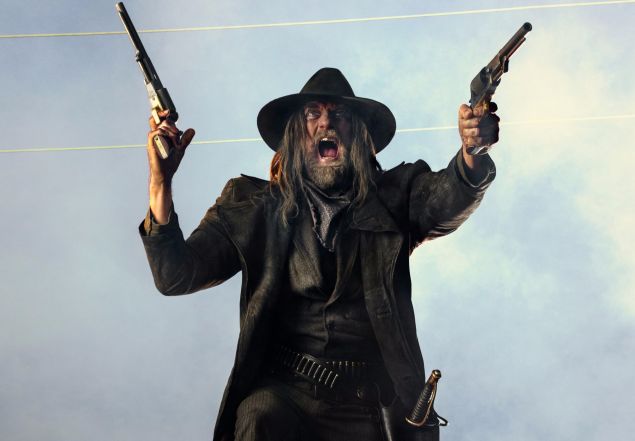 Evan Goldberg: [The Saint of Killers (Graham McTavish) and Herr Starr (Noah Taylor)] are both very prominent. And Herr Starr becomes a much bigger character, very quickly. [ … ] We wanted the first season to be more of a mystery and the second one to be where things take off. And now that it's taken off, we don't want there to be any mystery anymore. If you're unfamiliar with the comic, it's a discovery. If you're familiar with the comic, you're like, "It's pretty great!"
Seth: If you knew he was called "The Saint of Killers" the whole time, then you'd know he had some status in the world of heaven and hell. We kind of liked the idea that you literally did not have any idea why you were watching this cowboy's sidestory and had no idea how it would play into anything in the show, at all, until the very end.
Season 2 does the comics justice.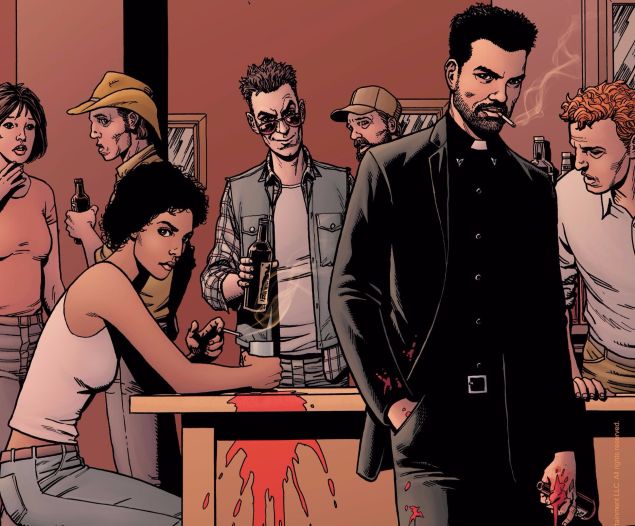 Seth: There's no single episode that's a single issue of the comic but this is the closest we've come to the books, so far. I think it is taking the shape, more, of the comic. But still, the writers take a lot of creative freedom as far as just trying to make it the best TV show they humanly can.
Sam Catlin: In terms of the world, the tone and the characters we're bringing in and sort of the larger questions of,  "What are Herr Starr's plans?" and "Where is Jesse going to go?" and "What has happened in his past?" … All those things are faithful to the comic. But we'll never be able to have a show where we're going to shoot Issue #21, followed by Issue #22. It's never going to work like that. It just can't work like that. It's not a television narrative. You'd also run out of story really quickly.
Dominic: We have this as our foundation and we have these characters. Anything can happen. That's why it always feel so unexpected, this show. There may be a ludicrous, beyond belief idea and then they just roll with it. Why not?
Preacher Season 2 premieres Sunday, June 25 at 10 p.m. ET/PT and moves into its normal timeslot on Monday, June 26, at 9 p.m. ET/PT on AMC.