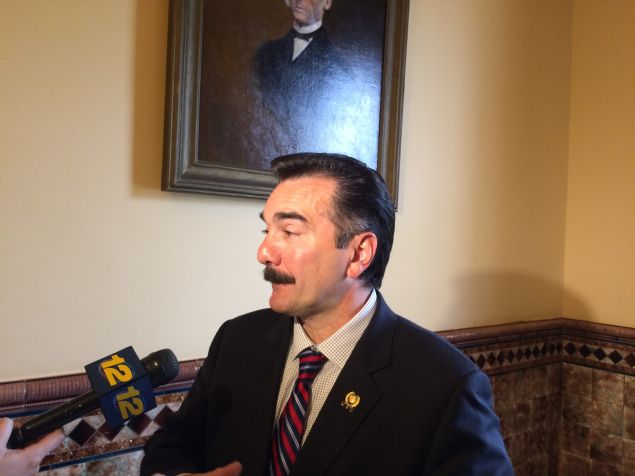 Assembly Speaker Vincent Prieto picked Mark Matzen to lead the Democratic Assembly Campaign Committee on Thursday, bringing in an experienced party hand after the previous director, Michael Muller, quit amid a battle for the speakership.
Matzen, co-owner of the political consulting firm FiftyOne Percent, was political director for one of Cory Booker's Senate campaigns and served as deputy chief of staff to Democratic governors Jon Corzine, Richard Codey and Jim McGreevey.
"Mark Matzen is one of New Jersey's brilliant minds and we are fortunate to have him to lead DACC's efforts," Prieto (D-Hudson) said in a statement released Thursday.
Matzen replaces Muller, who ran the DACC for 15 years in which Assembly Democrats successfully defended and grew their caucus. Muller resigned and took his staff with him last month after Prieto, in an unprecedented move, assumed control over the DACC's spending and decision-making amid a power struggle to keep the speakership.
Prieto's takeover of the DACC's finances was one of several moves he made to close ranks and consolidate power in his fight for control of the Assembly. Assemblyman Craig Coughlin (D-Middlesex) recently announced he has the votes to oust Prieto from the speakership next year, so long as Democrats win several close races and maintain their 52-vote majority after the November election, when all 12o legislative seats are on the ballot.
Muller took his team to Senate Democratic Majority, a similar committee he already ran that focuses on state Senate races but can also work on Assembly contests. Muller's wife, Carol Murphy, is an Assembly candidate in South Jersey who backed Coughlin's bid for speaker.
Asked whether having two rival campaign committees run by separate strategists would pose a challenge, Prieto spokesman Phil Swibinski said "that's something we're sensitive to" but added that Matzen and Muller have a good relationship.
"They've spoken already and Mark is reaching out to all the candidates in the competitive districts and other targeted districts to grow the majority," Swibinski said. "We expect to be working closely with Muller's team at Senate Democratic Majority and also with Phil Murphy's team."
Prieto announced Matzen's appointment during a fundraiser Thursday morning at the Trenton Masonic Temple. Swibinski declined to say how much money was raised, but said the event was well attended by political and labor leaders.
"I look forward to building on the excellent foundation left at DACC by Michael Muller and his team and continuing their record of winning difficult races and bringing progressive values to the Statehouse," Matzen said in a statement.