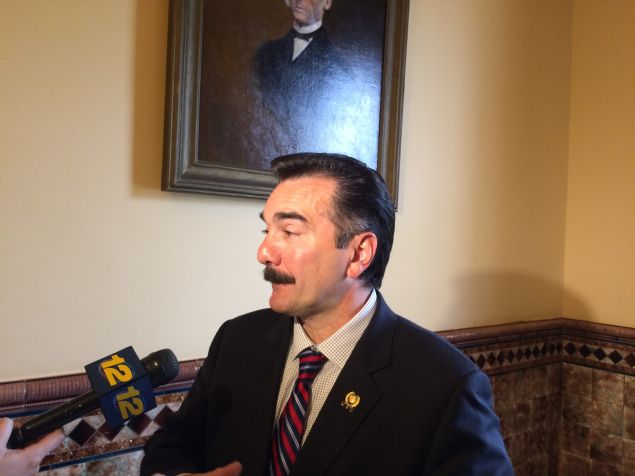 Senate President Steve Sweeney said he was open to raiding funds from New Jersey's largest health insurer, Horizon Blue Cross Blue Shield, so long as consumer costs were not affected.
Sweeney's comments were a shot in the arm for Gov. Chris Christie, who had been making the case all year, without success, that lawmakers should raid Horizon's $2.4 billion emergency reserve fund.
But shortly after Sweeney (D-Gloucester) came out in support of the idea Thursday morning and told reporters he would be presenting a bill to his caucus, Assembly Speaker Vincent Prieto said any such plan was dead on arrival in the Assembly.
"There's no way, shape or form we're going to entertain any bill of that nature just to one nonprofit," Prieto said.
The last weeks of June are typically some of the busiest for the state Legislature. More than 100 bills are up for votes today in the Assembly and Senate, and a new state budget must be enacted by July 1.
Prieto (D-Hudson) said Christie at a meeting earlier this week offered to sign off on a Democratic plan to boost school funding by $125 million in the fiscal 2018 state budget, provided that lawmakers passed two separate bills, one allowing the state to raid Horizon's reserve fund to the tune of roughly $300 million a year, and another to convert the New Jersey lottery into an asset of the pension system for public workers.
The speaker said he likely would be able to deliver the lottery plan to Christie, but he said the Horizon bill was dead.
"The governor wants to get two bills," he said. "I think I may get one of the two. I think that's a nice average. If you were a baseball player, you'd be Hall of Fame right away."
After the budget is done, Prieto added, the Assembly would be open to considering similar proposals. But they would have to apply widely to nonprofits, not just Horizon.
The Blue Cross Blue Shield Association requires Horizon to keep reserves worth at least 550 percent of what's needed to pay all its claims. Christie wants the state to take any funds above that threshold every year and dedicate the money to a new drug-addiction treatment program to combat the heroin death epidemic.
The governor's proposed legislation also would add four political appointees to the insurer's 15-member board and force the company to post executive compensation data online.
In a letter to Prieto and Sweeney, the president of the Blue Cross Blue Shield Association, Scott Serota, said Christie's proposal raised a series of concerns because it would impose requirements beyond what other states have and because its "vague language would create an extremely uncertain regulatory environment for Horizon to which no other competitor would be subject."
"This isn't about transparency, this is about giving politicians and political bosses a new piggy bank and patronage pit," Horizon spokesman Kevin McArdle said. "It is an unprecedented power grab that will hurt the very consumers Horizon has worked to serve for 85 years."
Sweeney at a news conference Thursday morning said he and state Sen. Joe Vitale (D-Middlesex), the chairman of the Senate health committee, would be working on a bill along the lines of what Christie has proposed. But they would include language in their bill to guarantee that any fund diversions would be permitted only if they did not cause consumer rate hikes. Asked how it would work, Sweeney said that the guarantee would be written into statute and that the measure would take effect in February 2018.
"The one thing we all agree on in this building is protecting the ratepayers," Sweeney said. "We are not going to do anything that's going to risk ratepayers having increased fees because of a Horizon bill."
A spokesman for Sweeney confirmed that Sweeney and Vitale would be working on a single bill. But Vitale himself later told reporters that he and Sweeney were working on different proposals.
Both ideas came up for discussion at a caucus meeting of the Senate Democrats on Thursday, "and no one was quite sure the direction to take," Vitale said, describing his own plan as a "longer-term reform."
"I'm hoping that the long-term reform will be the one being considered," Vitale said.
Vitale, who said he had been in talks with both Prieto and the counsel's office for Christie, described his plan as "less draconian" than what the governor has proposed. Under Vitale's bill, which has not been introduced, the state Department of Banking and Insurance and others would conduct a public process and take input from Horizon before establishing a cap on the amount of money it could keep in reserves. Vitale said he envisioned the process to be "non-adversarial."
"We do establish a range on the reserve but only after public comment and participation by Horizon to make sure that their range of reserve is appropriate," Vitale said.
He was not asked directly what would happen now that Prieto has ruled out moving any Horizon legislation before the June 30 close of the fiscal year. Vitale said he was working on a "compressed" time frame, hoping to meet Christie's budget deadline.
"I'd rather be having a margarita down the street than writing this bill over the last three days," he said
Michele Siekerka, president of the New Jersey Business and Industry Association, urged lawmakers not to move any Horizon proposal in the final days of the fiscal year.
"The $300 million in question is supposed to be used to pay the future health care bills of Horizon's 3.8 million policyholders, and any attempt to divert this money to pay for other state programs is inappropriate," she said in a statement. "These funds serve as a safeguard against unexpected increases in future health care claims and help maintain price stability for policyholders.
"Requiring Horizon to redirect hundreds of millions of dollars for other state purposes is imprudent, especially given the uncertainty in the health insurance market amid the ongoing discussions in Washington, D.C., about repealing the Affordable Care Act."
Update (5:39 p.m.): This story has been updated with comments from state Sen. Joe Vitale, who clarified that he and Senate President Steve Sweeney are working on separate Horizon bills, not a single one.