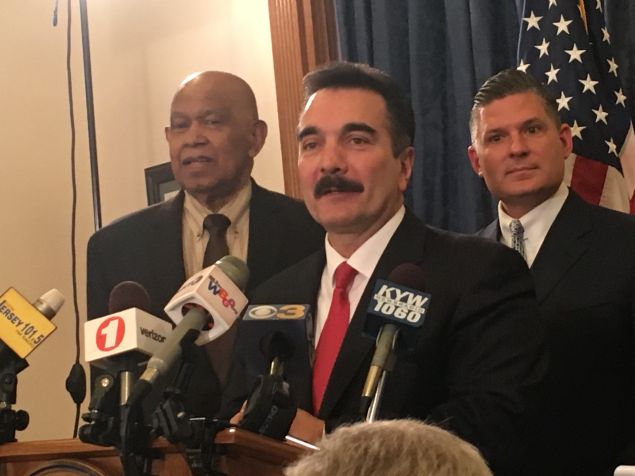 He was for it before he was against it.
In 2006, Assembly Speaker Vincent Prieto, then just a first-term back bencher from Hudson County, signed on as a co-sponsor of a bill that would have allowed the state to raid the surplus kept by Horizon Blue Cross Blue Shield and deposit the money into a state fund used to reimburse hospitals for charity care.
The Democratic bill would have let the state take Horizon's funds whenever the commissioner of Banking and Insurance "deems that Horizon's special contingent surplus for its group and other activities, excluding special contingent surplus for individual contracts, exceeds the capital and surplus financial requirements established" by state law.
Prieto this year is waging the fight of his political life, refusing to post a watered-down version of that bill in exchange for Gov. Chris Christie's signature on the Democrats' $34.7 billion budget.
"I'm not going to be extorted," Prieto told Observer this morning. He has called the new Horizon bill (S4) sponsored by Sen. Joe Vitale (D-Middlesex) a "Christie tax" on Horizon's 3.8 million policyholders.
"I can't say that I am stunned by hypocrisy in Trenton, but it is outrageous," Christie said at his news conference Friday, brandishing a printout of the 2006 bill as he lambasted Prieto. "So I don't think we can assume any longer that the speaker's reticence to do this has anything to do with principle."
Christie compared the speaker to former Secretary of State John Kerry, who ran for president as a Democrat in 2004 and was attacked for flip-flopping in memorable attack ads by the group Swiftboat Veterans for Truth.
The speaker later said at a news conference that "times change" when asked about the 2006 bill, A1771.
Prieto said "things change and things evolve" when asked about that bill.
"That was over a decade ago," Prieto said, and Congress at that time was not discussing a sea change that could gut funding for Medicaid, which could have wide consequences for the health care market in New Jersey. "Five hundred thousand residents that have gotten coverage from the Medicaid expansion — that goes away. So how do we cover those people? Times are different."
Other sponsors of the 2006 bill included Senate Majority Leader Loretta Weinberg (D-Bergen) and Assembly Majority Leader Lou Greenwald (D-Camden), who favor the current Horizon bill as well. The state treasurer at the time, John McCormac, said A1771 would invite court challenges and would likely be tied up in litigation for years.
"This just shows that the speaker is the obstructionist in this situation," a South Jersey source said. "This is why the budget got 24 votes — everyone is tired of politics standing in the way of progress."
Incidentally, 2006 was the last time the state government entered a shutdown.
Update (9:07 p.m.): Comments from Christie and Prieto have been added to this story and background information about legal concerns with the bill from the state treasurer at the time.