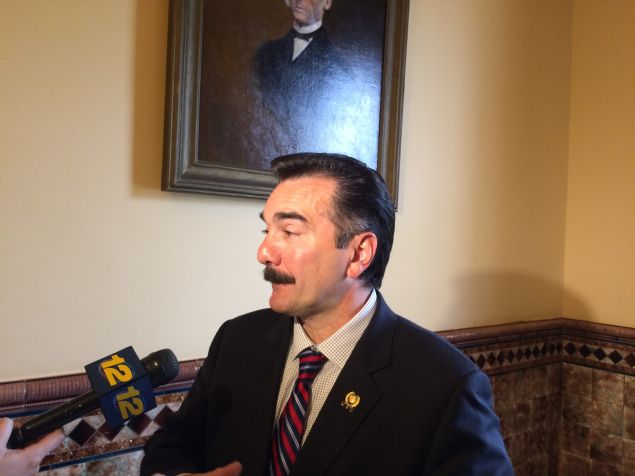 With hours to go before a government shutdown, Assembly Speaker Vincent Prieto said he will not be blinking first in the standoff with Gov. Chris Christie, the state Senate and 25 members of his own caucus.
The speaker will "absolutely not" post the Horizon bill that Christie wants to sign in exchange for approving the Democrats' $34.7 billion budget, he told Observer in an early morning interview.
"I'm not going to be extorted," Prieto (D-Hudson) said. "In good conscience, this is not something you ram down the throats of the people."
Up against the Republican governor and a large swath of his own party — in a fight that he concedes could cost him the speakership — Prieto was busy trying to build public support and urged people to call their legislators and back him up. He was scheduled to be a guest on NJ 101.5 FM with Bill Spadea, a popular host who supports him in the budget fight, on Friday morning.
Prieto said the Democrats pressuring him to post the Horizon plan for a vote were trying to help rehabilitate Christie with a bad bill that they are already talking about repealing once the governor leaves office.
Prieto said he sent an emissary to Christie's office on Thursday afternoon — after the budget failed to get enough votes in the Assembly — to offer the governor anything else in exchange for approving the spending plan.
Christie would only take the Horizon bill, he said, and has not taken Prieto's calls or answered his text messages in the last week. (The governor also wants a bill to fold the state lottery into the pension system as part of the budget deal, which he is likely to get.)
The governor's spokesman, Brian Murray, called Prieto's story "fiction."
"Governor Christie has read Speaker Prieto's claim that he sent a secret emissary yesterday afternoon to offer a new deal," Murray wrote in an emailed statement after this story was published. "No secret emissary ever appeared at the governor's office. … The governor remains ready to hear from the speaker directly."
Murray did not mention Prieto's claims about texting and calling the governor over the last week.
Christie trashed Prieto at a news conference Thursday after the failed budget vote in the Assembly, saying any shutdown of state government would be on the speaker.
"I'm ready to go, the Senate president is ready to go, the entire Senate body is ready to go, and the speaker's got to decide, is the speaker going to close state government to protect the multibillion-dollar insurance company?" Christie said. "And you've got to wonder what his incentive is here."
Christie added that he was "willing to compromise" but not "capitulate," which Prieto called "a lot of BS."
The speaker said his incentive was "doing good government," pointing out that every health care think tank, business group, labor union, editorial board and advocacy group in the state from right to left opposes the Horizon plan.
Prieto also had tough words for Senate President Steve Sweeney (D-Gloucester) and the 25 Democrats in his own caucus who withheld votes to pass the budget on Thursday as a pressure tactic to get the speaker to agree to the Horizon bill.
"They're the ones who are stopping government," he said. "These members are siding with Chris Christie, the Republican governor who is at 15 percent approval."
At a news conference Thursday evening, Sweeney revealed that the Horizon legislation — restructuring the company's board and forcing it to spend down its $2.4 billion reserve — could very well be repealed next year if Democratic gubernatorial nominee Phil Murphy wins the governorship.
Sweeney described the Horizon legislation as something that "is not going to be around next year."
"Listen, Phil Murphy says he doesn't support this," Sweeney said. "I said that earlier: Phil Murphy wants this repealed, it'll be repealed. But the point is, this is egos. It's Horizon banging its chest, and Christie, everyone's going at each other with this."
"We want to make sure the people don't get hurt in the middle," Sweeney added.
Prieto said Sweeney's remarks were "ludicrous" and an admission that Democrats were trying to con Christie into a fake budget bargain. Such an admission would only spur Christie to break his end of any deal premised on the Horizon bill, he said, giving him reason to veto out any spending he didn't like before signing the budget.
"Is this just for show, maybe to give the governor something so he can boost his ratings?" Prieto asked. "This is ridiculous."
In his remarks Thursday, Sweeney said the cold reality in Trenton was that Christie could take an ax to nearly $320 million in spending Democrats added to the governor's budget proposal unless he got the Horizon bill.
Of the 25 Assembly Democrats who withheld votes on the budget, 23 have signed a letter indicating they will vote to oust Prieto as speaker next year and replace him with Assemblyman Craig Coughlin (D-Middlesex).
Prieto said it showed that "definitely there's a political component here," as his opponents try to weaken him in the battle for the speaker's gavel.
The Assembly will reconvene at 2 p.m., Prieto said.
"I'm going to post the bill back up again, and I hope people vote on it," he said.
Update (10:15 a.m.): Christie spokesman Brian Murray wrote in an emailed statement that Prieto's claims of sending an emissary to the governor's office on Thursday are "fiction." This story has been updated with those comments.