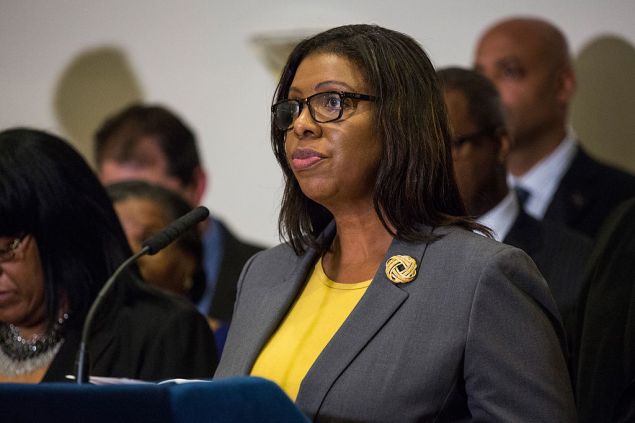 Public Advocate Letitia James called on Gov. Andrew Cuomo and the state Legislature to "step up" and take "bold and brave steps" to address the city's homelessness crisis, arguing that the city is "just treading water" without the resources of state government.
Last month, Cuomo launched a $20 billion, five-year plan to combat homelessness and advance the construction of affordable housing in New York State—supported by the release of $2.5 billion in capital funding delivered in the fiscal year 2018 budget, which he said will establish and preserve more than 110,000 units of affordable and 6,000 units of supportive housing over the next five years. Mayor Bill de Blasio, a James ally, recently unveiled his own long-awaited plan to lower the homeless population by just 2,500—about 4.17 percent—over the next five years, and to construct 90 such new homeless shelters over the next half-decade.
The pair have clashed repeatedly over the city and state's handling of the crisis, each accusing the other of not doing enough to combat it.
"We need a better working relationship between the city and the state because too many individuals are getting caught in the middle of this tension, if you call it that," James said at a Manhattan forum on ending the indigent crisis this afternoon, garnering roaring applause from the crowd. "I think the answer to that is making sure that we have more women in office."
James added that she knows "this will probably get me into trouble as always," but that it was important to note that the city is doing all it can do to address affordable housing, providing resources and giving individuals subsidies, among other actions—but that the state government is "primarily responsible for addressing the homeless situation."
She insisted that the state has "all of these resources," assets and a significant amount of underutilized land in the city.
"We need them to take bold and brave steps to address the crisis, a human crisis: the suffering of children in the city of New York," she said. "That is the call right now and that should be our demand. We are doing all that we can do but without state government, we are just treading water."
She urged attendees to lobby elected officials in Albany "so that we will no longer witness a child carrying their possessions in a garbage bag."
"I need all of you to speak to every elected official in Albany and urge them to step up and to urge the governor of the state of New York and the state Legislature to work with the city government, to work with the mayor, to work with my office, to work with the City Council to provide more resources to come up with more innovative plans and proposals to address the crisis of affordable housing in the city of New York," she added.
A spokesman for the governor's office told the Observer that just two days ago, the governor announced the second phase of the $20 billion plan. State agencies issued three separate Requests for Proposals to provide more than $650 million in capital funding and $30 million in service and operating funding for at least 1,200 supportive housing units for homeless people with special needs, conditions or other challenges.
"Publicly advocating is great, but we deal in facts—and the fact is no governor has done more to fight homelessness and create affordable housing than this one," Rich Azzopardi, a spokesman for Cuomo said, alluding to the governor's experience working as secretary of the Department of Housing and Urban Development during the Clinton administration. "We'll put this governor's affordable housing record—in office, as HUD secretary, and as head of a nationally recognized anti-homelessness not-for-profit—gainst anyone else's any day of the week."
Michael Whyland, spokesman for Assembly Speaker Carl Heastie, reiterated to the Observer that the Assembly has been working with the city on the issue.
"Assembly Democrats have long championed the need for more affordable housing and we work very closely with the city," Whyland said in an emailed statement.
Spokespeople for the Senate could not be immediately reached for comment.
During her roughly 40-minute speech, James said she has witnessed children carrying their belongings in big bags at the intake center in the Bronx and people sitting on the steps and panhandling on Atlantic and Bedford Avenues in downtown Brooklyn. She then took aim at Albany, saying that elected officials "can't go to Albany and do one thing and then come back and talk about the homeless crisis."
"We also must tell Albany that they have got to stop the hemorrhaging of affordable housing units in New York State and we have to cut off the spigot of those who just go to Albany and serve the developer unit and then come back home and talk about the crisis that's been going on," she said.
In April 2o16, the mayor announced that Department of Social Services Commissioner Steve Banks, who has frequently sparred with Cuomo's office over homelessness issues, would be in charge of all city services for the homeless. Banks temporarily led the Department of Homeless Services when after former Commissioner Gilbert Taylor resigned and spearheaded a 90-day review to tackle the homeless population and temporary housing in poor condition.
Just a month prior, Cuomo maintained the city's homelessness crisis was continuing to worsen due to the mayor's "mismanagement," despite de Blasio's insistence that the city made progress. The governor then put City Comptroller Scott Stringer in charge of reviewing conditions and operations of temporary housing in the city as part of his State of the State agenda.
De Blasio has expressed support for Queens Assemblyman Andrew Hevesi's plan, which calls for establishing a new rent subsidy so people can stay in their homes.
During her address at the forum co-sponsored by Care for the Homeless and Long Island University's Master of Public Administration program, James noted that as of April 17, there are more than 61,000 individuals sleeping in the city's shelter system, which includes 23,000 children—and said that homelessness "is at the highest level in New York since the Great Depression." She also said that there are 72,000 homeless students in the city's public school system.
She applauded the mayor's two years of rent freezes for tenants in regulated apartments and his recent update to his plan to create or preserve 200,000 affordable housing units by 2024 to cover more low-income individuals, but wants the city to go farther.
This story has been updated to include a comment from the governor's spokesman.