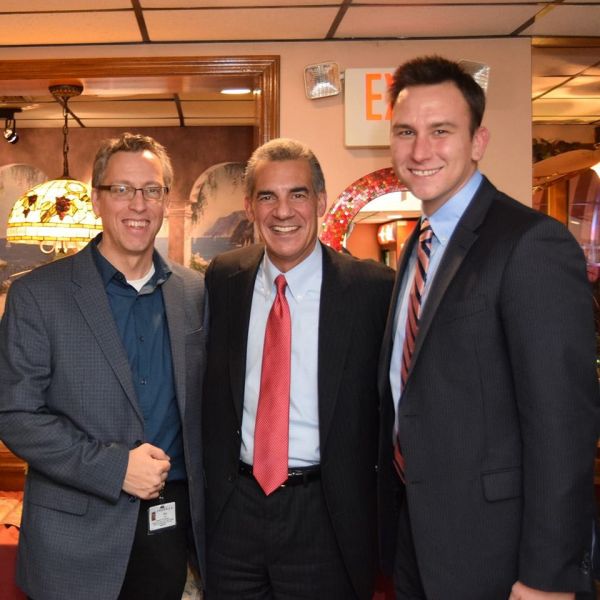 Rick Rosenberg's colleagues described him as one of the "good guys" in New Jersey politics, a tireless operative admired for his even-keeled competence. So the Republican consultant's unexpected death at 32 on Saturday morning touched off a wave of sadness and disbelief.
"He was a great talent and an even better person," said Chris Russell, who had recruited Rosenberg to work at his firm, Chris Russell Consulting. "I am heartbroken."
Rosenberg was a rising star in New Jersey politics who worked on national, statewide, county, legislative and local Republican campaigns since his 2008 graduation from Rutgers University. His roles included chief of staff to former Assemblyman Domenick DiCicco, Wisconsin state operations manager for Mitt Romney's 2012 presidential run, and the deputy director of intergovernmental affairs for the New Jersey Assembly Republican Office.
In 2011, Rosenberg worked as the executive director of the Assembly Republican Victory campaign, a GOP push to win back targeted legislative districts in New Jersey. And up until a few weeks ago, Rosenberg was running Assemblyman Jack Ciattarelli's campaign for the GOP nomination for governor.
Assembly Minority Leader Jon Bramnick (R-Union) remembered Rosenberg as a "true-professional, extremely hard working and a true friend in a difficult business."
"This is a really serious loss to the New Jersey community," Bramnick told Observer. "In the business of being a political consultant, it is tough because you have a lot of emotions from candidates. It is a very high-pressure business. You need somebody with a steady hand. He was always calm and professional. That is a very big deal."
Although Ciattarelli lost this year's GOP primary to Lt. Gov. Kim Guadagno, Rosenberg's work helped the assemblyman earn 31 percent of the Republican vote, no easy feat considering that his opponent was the sitting lieutenant governor and was long considered the favorite to clinch victory in the party primary.
"News of Rick's passing is incomprehensible, devastating and so terribly sad," Ciattarelli wrote in a Facebook post. "He was an incredible talent. More than anything, he was an incredible human being. My deepest condolences to the Rosenberg family at this difficult time."
"I am shocked and saddened by the passing of Rick Rosenberg," Guadagno wrote in a Facebook post on Saturday. "He was an amazing man who touched the lives of so many in this state with his talent, passion and dedication to growing the Republican Party. Our thoughts and prayers are with his friends and family during this difficult time."
Rep. Tom MacArthur (R-3), who worked with the consultant, said Rosenberg "touched the lives of so many in his short time with us."
"His energy and enthusiasm for life and politics was contagious and I join his family, friends, and colleagues in mourning his untimely passing," MacArthur said.
Frank Luna, MacArthur's chief of staff, said that "the world lost a true star."
"What I respected most about Rick Rosenberg was his work ethic and the blue collar chip on his shoulder," Luna said. "No matter the task — he never felt he was too big or too small for it. He was a believer in grassroots organizing and the people it takes to power campaigns. He respected the first-time volunteer as much as he respected the max-out donor."
Amanda DePalma, deputy chief of staff to Gov. Chris Christie, said that the news of Rosenberg's passing was "like a punch in the stomach."
"When [he] believed in something or someone, he put his everything behind it," she wrote on Facebook.
Rosenberg was found unresponsive in his Lakewood apartment on Saturday morning.
A viewing will be held for Rosenberg at the Bronson and Guthlien Funeral Home in Milltown on Thursday from 2 p.m. to 4 p.m. and 7 p.m. to 9 p.m. Funeral services will be held on Friday morning. In lieu of flowers, Rosenberg's family is asking that donations be made to a scholarship fund to be set up in Rosenberg's name.