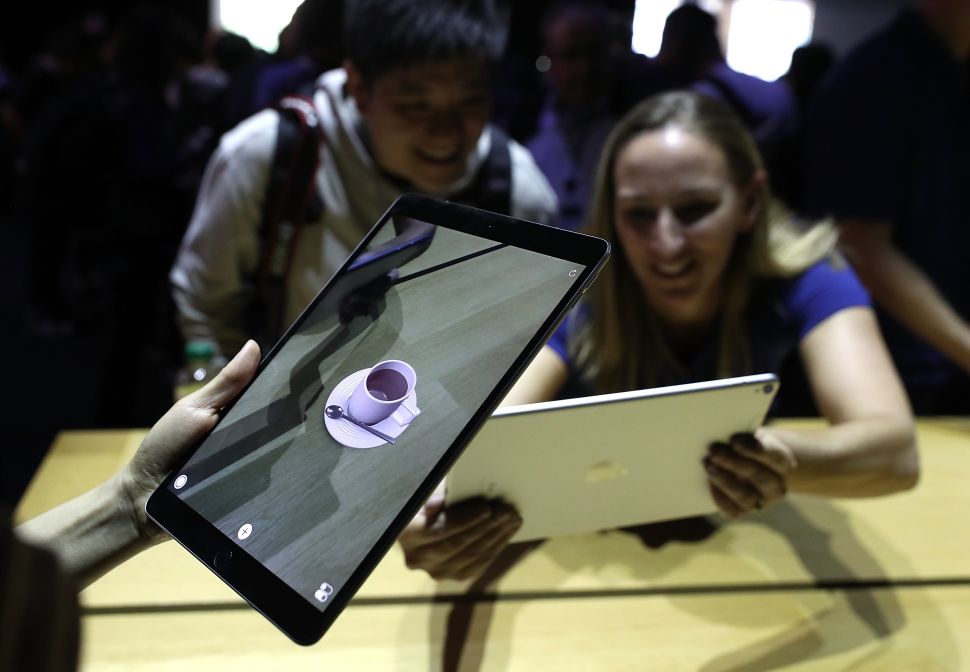 The past three years have been interesting for tablets. The iPad, once the standard, has decreased in relevance as consumers tune into much bigger phones or laptops that can also be used as tablets. Microsoft's Surface Pro, for example, has been the go-to device for those wishing for a portable tablet that runs a full desktop operating system (Windows 10).
When Apple released the iPad Pro 9.7 in the spring of 2016, Tim Cook claimed that the device could replace your laptop. Many disagreed with that assessment, and although the 9.7-inch iPad Pro received excellent reviews, sales for the iPad line continued to decrease throughout 2016.
When Apple first hinted at the upgrade to the iPad Pro line, there were a bunch of collective yawns. However, when Apple revealed the iPad Pro at Apple's WWDC conference in early June, Twitter lit up with excitement.
The excitement is justified, as 2017's iPad Pro blurs the line between tablet and laptop more than ever and will continue to do so when iOS 11 is released this fall. Although the 10.5-inch version of the iPad Pro won't replace a laptop for graphic designers or video editors, it is certainly a more viable and convenient option for bloggers or students who need to rapidly and comfortably get work done on the go.
All About That Screen
The biggest thing about the new iPad Pro is the screen, which you have to see to believe. Apple has upgraded the refresh rate from 60Hz to 120Hz, and the results are immediately evident when scrolling or swiping. Interacting with the screen feels like you are working with an art board that displays brilliant colors, and proves most useful when using the Apple Pencil. The writing experience easily outdoes that of the Surface Pro or even the Samsung Galaxy Note series. The Apple Pencil costs $99 and is oversized. But you will ignore any negatives once you start using it.
The Power 
Even though the iPad Pro doesn't offer a desktop operating system, it offers close to desktop (or at least laptop) power. The A10X Fusion chip is a 6-core CPU that is said to offer a 30 percent faster performance than 2016's iPad Pro, and the difference is immediately noticeable.
Multimedia
Besides the screen, the multimedia capabilities of the new iPad Pro easily outdo the Surface Pro and other competing tablets. Like last year's Pro, the 10.5 has four speakers in the same locations, but this year's speakers provide more bass and "oomph." The stereo separation is also good, and this is especially demonstrated when watching Avatar. The iPad Pro is just as good as a standalone music player, pumping a decent amount of bass and treble when listening to EDM music. The separation of the high, middle, and low ranges is evident when playing a song such as "On My Mind" by the Disciples.
Camera
The iPad Pro uses the same camera with the true-tone flash that is found on the iPhone 7. It takes great 12MP pictures, which look good even many low-lite situations. What's missing is the dual-lens camera that is found in the iPhone 7 Plus. It's hard to go back to a single lens camera after using the advanced one on the 7 Plus.
The new iPad also shoots 4K videos. Unfortunately, just like the iPhone, there is only a mono microphone that, at times, provides muffled audio. One can get a stereo mic adapter, but Apple should already include stereo sound recording with their products like Samsung does with theirs.
IOS 11
Unfortunately, the software that finally turns the iPad into a laptop competitor isn't out yet. Right now, the iPad Pro 10.5 feels incomplete as users wait for the software update that will allow such features as Drag & Drop, desktop-like multitasking, a macOS-like dock, an improved Siri who will translate your words into other languages, a new Files app, and a completely designed Control Center.
As Incomplete as iOS 10 seems on the iPad, it's not unusable. Remember, Apple has greatly improved their mobile operating system over the past few years. You'll still have no problem multitasking between Excel Documents while emailing your boss. And if this doesn't work, you can always download iOS 11 Beta.
Battery Life
While setting the brightness to 60 percent and consistently streaming movies, the iPad Pro 10.5 lasted 9.5 hours on a full charge, which is close to the 10 hours that Apple claims. This isn't spectacular for a tablet with a mobile operating system, but it's no slouch either.
The Real World
I like to write some of my articles while working on film sets, which allow plenty of down time. I've always thought Microsoft's Surface Pro was the ultimate device to bring with me since it doesn't take up a lot of space and usually offers a decent amount of battery life.
I decided to use the new iPad Pro instead, and I was shocked that it was actually a more useful device for my line of work. The optional keyboard cover, which is a huge improvement from last year's, didn't feel flimsy as the Surface Pro's cover does. I was able to comfortably use the iPad on my lap and type just as fast as I do with the Surface Pro. While I had to rely on touching the screen rather than using a touchpad, it felt natural.
I would never get rid of my 15-inch MacBook Pro with Touch Bar, which allows me to do heavy video editing tasks the iPad still isn't designed to do. However, if I decide to purchase the new iPad Pro, I wouldn't have to lug my MacBook Pro around with me wherever I go since the iPad can do many of the tasks the MacBook Pro does. 
Conclusion
It would be easy to ignore this year's iPad Pro, especially since Apple has made false claims about its usefulness over the years. However, if you go to an Apple Store and spend at least ten minutes with the new Pro, you won't be able to take your eyes and fingers off of it. The 10.5-inch iPad Pro is still a heavily priced item, but it will be worth every bite out of your wallet Apple loves to take.
Daryl Deino is a writer, actor and civil rights activist who has appeared on shows such as The Untouchables, Parks and Recreation and Two Broke Girls. Besides writing for Observer, he has also written extensively about technology, entertainment and social issues for sites such as the Huffington Post, Yahoo News, Inquisitr and IreTron. Follow him on Twitter: @ddeino.