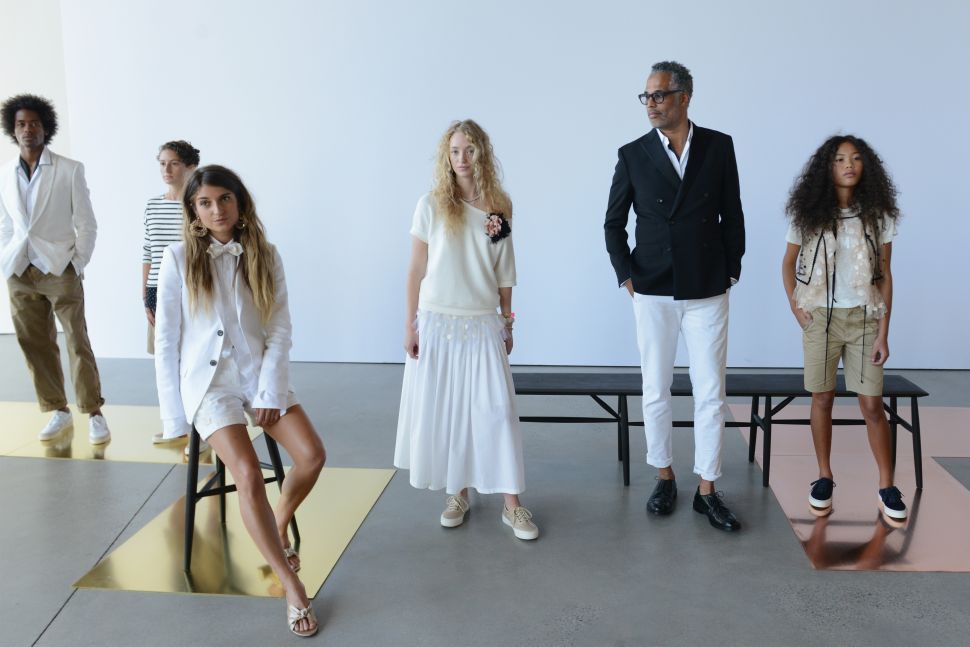 I remember the first J.Crew catalog I got as a teenager because a short-haired Linda Evangelista's cool presentation made otherwise stodgy Bush I-era prep look a lot more stylish than it actually was. J.Crew did that a lot in the early 1990s. I still own my barn jacket from that era, and I still recall the catalog that boasted the jacket's versatility and ubiquity: It was equally at home in barns and had once been seen at the Santa Fe Opera. At the opera! The teen mind boggled at the dream of effortless style no matter the setting.
This is how brand affinities are born. I'm sure I'm not the only shopper who can murmur a litany of J.Crew's greatest hits. For the last 14 years, it's been fun to watch J.Crew under the direction of Creative Design Director Jenna Lyons and CEO Mickey Drexler. She rebooted the company's aesthetic while he applied the Gap playbook to the business, incubating higher- and lower-end brands around a solid middle. In the 1990s, he launched Banana Republic to capture the Gap customers' grown-up dollars and Old Navy to capture shoppers who wanted cheap and cheerful goods. In the 2000s, he captured the 2000s-era impulse for masstige—traditional luxury goods at middle-market price points—by rolling out J.Crew Collection, and launched Madewell for young adults who thought of J.Crew as something older people wore to work.
These tactics worked for J.Crew until they didn't. Facing slumping sales and—perhaps more crucially—failing to anticipate or define recent sales trends for athleisure or minimalism, both Lyons and Drexler are leaving this year. Lyons' departure is not that surprising and even longtime fans were like, "Eh, it's time." Drexler's departure is a bit more of a shock. This is the second time Drexler has built up an American retail giant then left once it began to founder in the wake of the trends it launched.

So what? The company's foundering is more bad news for the increasingly-beleaguered section of  middle-market retail—both on the business end and the customer end. And while it may be vindication for J.Crew brand fans who have been blogging about their disappointment in its direction, the fact remains that you can't wear "I told you so" and you still have to find clothing you can actually 1) afford and 2) like. The new J.Crew CEO will be West Elm president James Brett; you may know West Elm by its baffling sofa the Internet decided to hate earlier this year. It will be interesting to see if "can sell furniture to millennials" translates to clothing.
Who cares? Retail nerds mostly. Mickey Drexler managed to alter the vocabulary of everyday Americans' wardrobes not once but twice. When he was at the Gap, his two lasting innovations that changed retail were the positioning of normcore clothing as iconic American cool and the introduction of high-mid-low brand families for Americans when Old Navy was rolled out as the cheery, cheap little cousin to Gap. Now, Old Navy has been the strongest-performing brand for Gap for the last five years—somewhat unsurprising for an early forerunner of fast fashion—and normcore is bog-standard in cubicle farms.
Similarly, at J.Crew, Drexler (with soon-to-be-gone Jenna Lyons' creative direction) changed how Americans dress by promoting the retail model of the high-low mix—a satin cocktail skirt and a t-shirt, for example—and that notion is now so commonplace as to be unremarkable.
He also retooled the company's price points higher by limiting quantities to create demand and using the catalogue to educate shoppers on the origin of fabrics, the details that implied a more accessible type of luxury, and the education in taste that presumably justified a $188 price tag for a simple cashmere tee. It's easy to draw a direct line from that approach straight to Everlane and Cuyana, both of whom incorporate textile origins and craftsmanship directly into their pitches.
A 2010 New Yorker article asserted that Drexler was capable of launching transformative retail phenomena because he was able to alchemize prevailing cultural currents while also having a massive retail apparatus at the ready to execute his vision. A 2017 New Yorker analysis of the ailing J.Crew demonstrated how tricky it is to keep a multimillion dollar retailer profiting off the zeitgeist:
During the Obama years, nostalgia might have seemed harmless, even admirable, but today it feels like a troubled and doubtful impulse. Does it make sense for young, urban men to dress up like Rust Belt factory workers, or for women to embrace the style of Hyannis Port in the nineteen-sixties? The answers to those questions has changed over the past six months.
It's been interesting watching how longtime American prep brands are navigating the wildly changing retail industry. Some have flailed as they moved from their roots (Abercrombie & Fitch, Eddie Bauer), others have refashioned "stodgy" into "heritage" (Lands' End).
And L.L. Bean dropped a summer "supply catalog" that clearly aimed at the disgruntled customer J.Crew had left behind in the Lyons/Drexler administration: The merchandise was photographed on a crisp white background, the mix-and-match components of the swimsuits a grown-up echo of the same catalog presentations Gen Xers will remember seeing in J.Crew in the early 1990s. The visual branding of the venerable Maine outfitter is clearly aimed at the same shopper who read about J.Crew resurrecting their 1990s-era scoop-back swimsuit and irritably wondered why in the heck more Greatest Hits couldn't come back to a brand that was big on "heritage" as a selling point for its aesthetic.
Still, one has to give credit to J.Crew for spending a decade succeeding at the balancing act of selling customers on the idea of heritage without actually maintaining any items a catalog reader from the 1990s would recognize. (In a New York Magazine profile from 2003, Drexler called several of J.Crew's iconic pieces "old and a little tired.")
I can't wait to see what the brand does now that it's no longer helmed by people who identified a moment in the cultural stream, then stayed there while shoppers moved on.
Want more? There's a whole archive of So What, Who Cares? newsletters at tinyletter.com/lschmeiser. In addition to the news analysis, there are also fun pop culture recommendations.