Flip through the slides for some inspiration.
Sage Lazzaro for Observer
Hot dogs
It turns out that your average hot dog tastes delicious with rosé. But it's not just because they're both great for summer--it's about the red in the wine and how it pairs with the dog. Try throwing on some sauerkraut. The freshness and acidity of it will give this pairing a boost.
Instagram/sae_ey
Beef hummus
Plain and most flavored types of hummus are to simple and flat to truly bring out the flavors of rosé. But beef hummus is a game changer.
Sage Lazzaro for Observer
Pizza
Rosé goes perfectly with Italian food, and that includes pizza. It's got the cheese, the tomatoes and the crust, and individually, they all work. So together, it's a great paring. "If you want to have a perfect pizza moment, open a bottle of Nectar," Osselin said.
Instagram/brunchgrls
Meat pies
Meat and rosé just works. Add a kick of spice in there and you're set for a blast of amazing flavors. Opt for BBQ pork or Thai chicken, like those shown above. Then pair it with the Nectar for a sweet and savory combination.
Sage Lazzaro for Observer
Ceviche
Ceviche, especially with shrimp, is fresh and crisp and has just what you need. It has that little spicy kick to it, but it's not the kind of heat that will numb your taste buds.
Sage Lazzaro for Observer
Lobster roll
Rosé champagne loves the kind of seafood with freshness, but also with texture. It's sparkling, and the bubbles create a texture in your mouth, so it's very good to have that in your dish too, like with the brioche here. And the lobster brings in that saltiness that pairs perfectly with rosé.
Sage Lazzaro for Observer
Berries
Strawberries and raspberries are a delicious paring, and not just because of their color. The flavors and freshness works. If you want them covered, though, opt for white chocolate. Despite your wine and chocolate nights, classic cocoa doesn't really love champagne.
Sage Lazzaro for Observer
When people think wine, they think luxury. They think white tablecloths and meals with several courses. The simplest they think is cheese plates. And while rosé has it's own summer reputation, this illusion of extravagance persists.
But we're here to let you know there are many ways you can drink rosé. On her first trip to the United States, we sat down with Moët & Chandon's winemaker Marie-Christine Osselin to enjoy a glass and a bunch of foods you wouldn't ever guess pair perfectly with summer's pink wine.
"Don't hesitate to pair a dry champagne with french fries or fried chicken," she told the Observer. "And with rosé wine you have that touch of red, so that gives you the capacity to pair with more complex dishes, with meat, with seafood and with spicy food."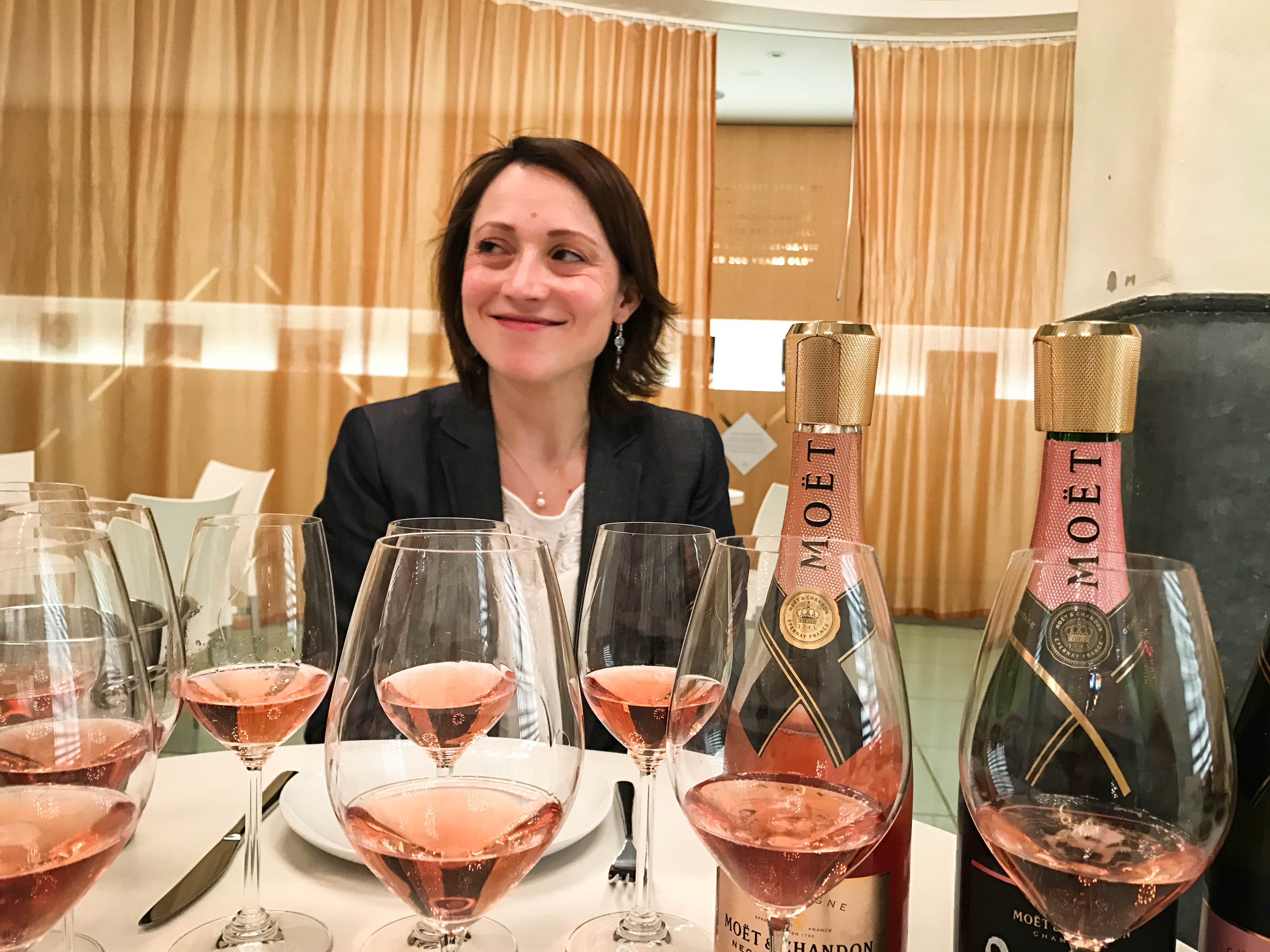 On hand, we had three varieties of Moët & Chandon rosé: the Nectar Imperial, the Grand Vintage 2008 and the Imperial Brut. In trying them with a smorgasbord of offerings from Chelsea Market in NYC and discussing just how wine pairing works, we got to the bottom of some unexpected combinations.
"You have two ways to prepare a paring. The first is you choose a flavor or sensation you have in your wine and you try to have the same," she said as we started tasting. "Another way is to choose something you don't have in your glass—one flavor that is not present and try to create a contrast. That's much more difficult, but sometimes you get very beautiful sensations this way."
From hot dogs to ceviche, flip through the slides above for some rosé pairing inspiration.