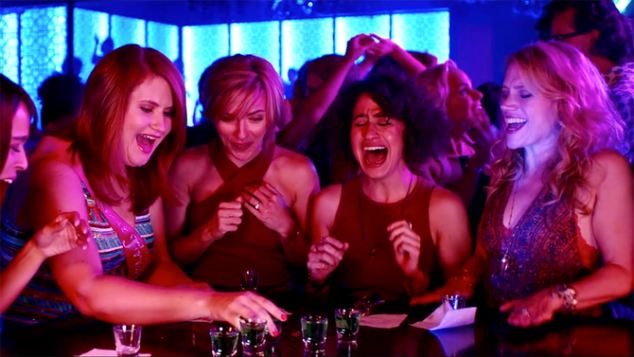 Formulaic feminism is a clear and present danger as Hollywood decides how to handle their "women problem." In the meantime, we've got a one step forward, two steps back situation with Director Lucia Aniello's The Hangover retread, Rough Night. There's a reason The Hangover Part 3 underperformed – and just on the horizon is a similar movie with African American flair – Girls Trip.
Let's just agree that Scarlett Johansson is no Lucille Ball. Here the brainy bombshell plays the bride, a political candidate on the verge of marriage to the nerd of her dreams (Paul W. Downs, who also co-wrote). Her college besties – played by Jillian Bell, Zoe Kravitz and Ilana Glazer — decide to throw her one of those elaborate bachelorette weekends in Miami Beach that ends with skid-marks in their G-strings. Add in my favorite Hillary Clinton – SNL's Kate McKinnon — as the odd woman out from Australia, plus a male stripper in a Velcro cop suit and stir. You can't make this up. Oh, wait, you can. Again and again.
---

ROUGH NIGHT ★1/2

(1.5/4 stars)

Directed by: Lucia Aniello

Written by:  Lucia Aniello, Paul W. Downs

Starring: Scarlett Johansson, Kate McKinnon, Jillian Bell, Zoe Kravitz, Ilana Glazer

Running time: 101 mins.

---
What could go wrong? Rough Night (sequel TBD Even Rougher Night aka Tough Brunch) dives into the shallow end with bland feminine hygiene humor. Self-waxers, Tampons and multiple vibrators all get tossed into the naughty adventure. McKinnon, who's had me laughing again and again on SNL, whether playing Clinton or Kellyanne Conway to her lovesick Angela Merkel, is the stand-out but she's straight-jacketed by a script (co-written by Aniello) that gives her cheap stunts and flaky come-backs. An obvious subplot by Demi Moore and Ty Burrell as the swingers-next-door falls flat.
Listen, I wanted this to be better. I rooted for it. I hoped that maybe if ScarJo knocks this out of the park, her Black Widow will come out of development and into production. Maybe McKinnon will get a feature where she plays all the major parts like Sir Alec Guinness in Kind Hearts and Coronets.
I have a dream!
I spend a lot of column inches advocating for women directors, an honorable cause. But maybe I should be more specific. Maybe I wasn't asking for what I actually wanted – a common problem. For example, I ask if you need a sweater when it's me who's cold and needs to close the window. So, to be clear, what I really want is women directing fresh and original scripts with relatable complicated heroines and big laughs or big cries. For example, Maude, reviewed elsewhere.
What I don't need is more undercooked leftovers: elevator pitches that satisfy the suits (It's The Hangover with chicks!) because risk-averse studios don't want to take any chances with that chick stuff and therefore create a self-fulfilling prophecy of estrogen dreck.