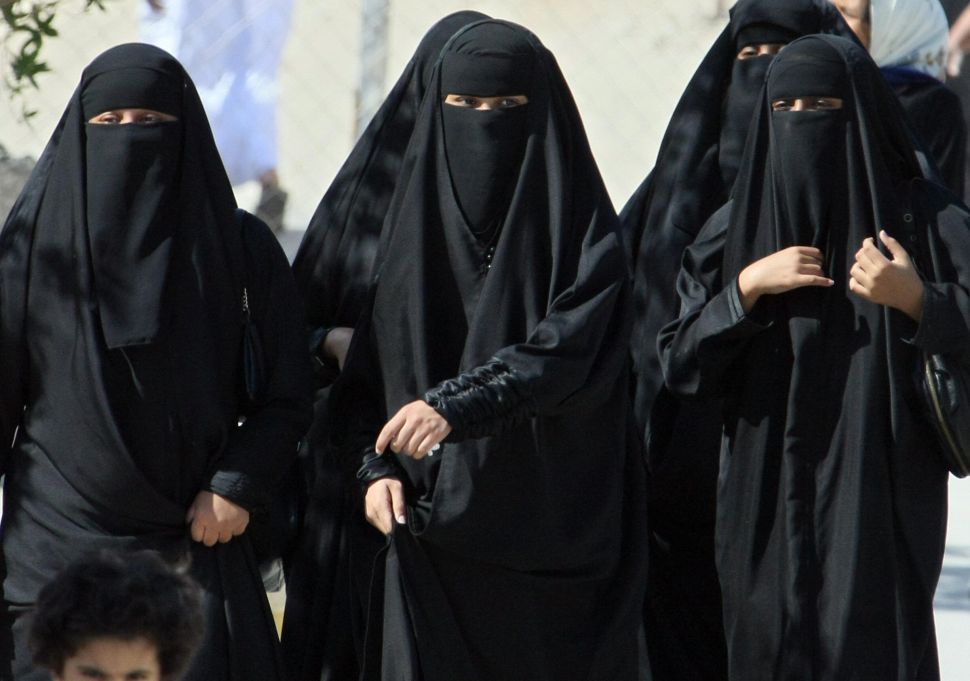 Despite several efforts made by Saudi Arabia to wash away its human rights abuses with public relations campaigns, the authoritarian government continues arresting and suppressing Saudi women trying to escape or fight back against the country's subjugation of women. On June 5, Amnesty International reported that one of Saudi Arabia's most prominent women's rights activist, Loujain al-Hathloul, was arrested. They noted she has no access to a lawyer and that the reason for her arrest has not been disclosed, though the organization believes it's in relation to her activism. In 2014, she was arrested and detained for 73 days for driving. Director of Campaigns for Amnesty International in the Middle East Samah Hadid said, "The Saudi Arabian authorities' continuous harassment of Loujain al-Hathloul is absurd and unjustifiable. It appears she is being targeted once again because of her peaceful work as a human rights defender speaking out for women's rights, which are consistently trammeled in the kingdom. If so, she must be immediately and unconditionally released. Instead of upholding its promise of a more tolerant Saudi Arabia, the government has again shattered any notion that it is genuinely committed to upholding equality and human rights."
Loujain al-Hathloul is one of many Saudi women who have been arrested by Saudi officials so far in 2017 for challenging the Saudi Arabian government that treats women like property.
On May 16, Turkish authorities deported two Saudi Arabian sisters, who were 18 and 19 years-old, seeking refuge from an abusive family. The hashtag #SaveAshwaqAndAreej emerged on Twitter to raise awareness of their predicament.
"We have been dealing with domestic violence since childhood from the mother, father, and brothers, even the younger ones. From the uncle and even other relatives. No one cooperated with us. We tried talking to them," said the sisters in a video posted on social media while they were being transported by Turkish immigration officers. "We have been locked up by our uncle in a room and bathroom, like a prison, for a month. Without food, we got kicked out of our family's house. They kicked us out and told us to live with our uncle."
The sisters arrived in Turkey in February 2017 and claimed their family in Saudi Arabia fabricated allegations that they were tied to ISIS to get them deported to Saudi Arabia. The sisters added in another video that their family will likely have them executed upon return. "They may say anything just to get the police to help them to kill us or put us in a prison forever."
Saudi Arabian human rights activist Moudi Aljohani tweeted that the sisters left voicemails that they were beaten by Turkish police for refusing to sign papers and give a blood test without lawyers present.
The Sydney Morning Herald reported, "Sahar Nassif, 63, a literature professor who campaigns for an end to the guardianship system, has been sleepless and numb since seeing Areej, her former student, in the videos that have circulated widely on Arab social media." Nassif told Fairfax Media, "My whole body trembled and eyes started tearing up when I first saw Areej's face because I instantly remembered her sitting in my university office telling me about the harrowing abuse she suffered from her father."
Their situation resembles a case that sparked the hashtag #SaveDinaAli, in which a Saudi Arabian woman fleeing Kuwait on a flight to Australia was detained while on a layover in the Philippines by Saudi embassy officials. Reports confirmed Ali was returned to her family over what was described by Saudi officials as a family matter, but no information is available to what has happened to Ali since she was returned in April 2017. A Canadian woman on the same flight as the woman, Meghan Khan, helped her share the story on social media and posted a full account of the incident on her Facebook page. According to Human Rights Watch, who spoke to an airport security official, three men took Dina Ali, duct taped her by the feet, mouth, and arms, and forced her on a return flight to Riyadh, Saudi Arabia.
Saudi Arabia has run several public relations campaigns recently to try to distract the global community from their human rights abuses. On May 9, Saudi Arabia announced "unofficial" male guardianship rules would be banned, but the actual order keeps the current abusive system intact. On May 20, they paid for the Riyahd Summit to trend as the top event on Twitter, likely with the help of member of the Saudi Royal family, Prince Alwaleed Bin Talal, who owns over one-third of the company. These actions are obviously PR stunts, which several mainstream U.S. media outlets and American officials have enabled, while Saudi Arabia continues ravaging the country of Yemen and its civilian population with U.S. bought weapons, aiding and funding several terrorist groups, and oppressing women to lives of servitude for men.