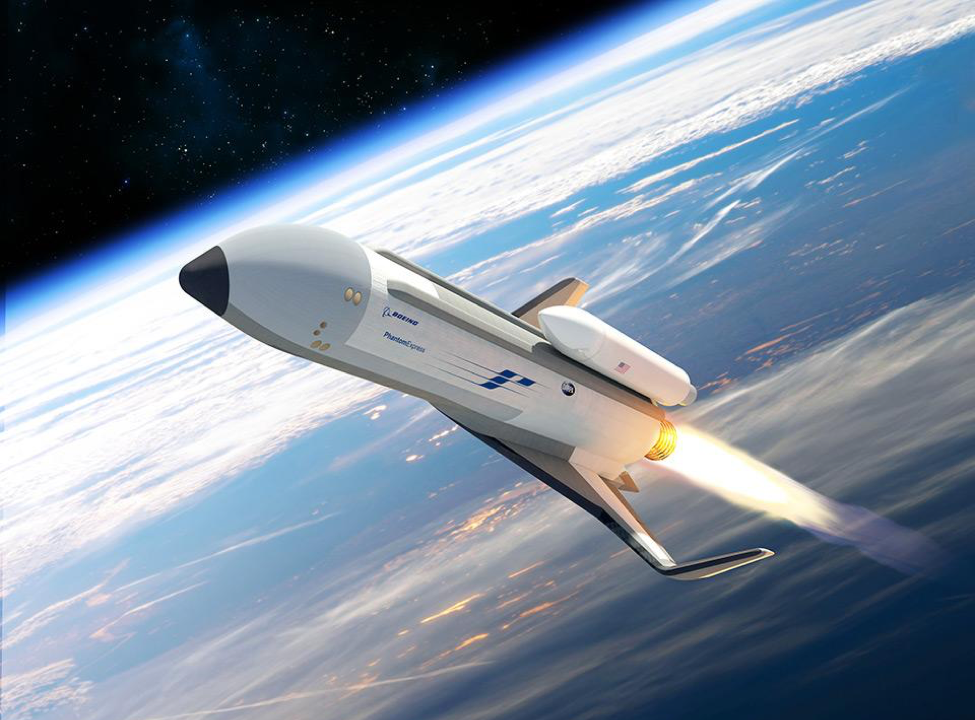 The Defense Advanced Research Projects Agency (DARPA) will base operations of its new autonomous spacecraft at Cape Canaveral Air Force Station. The XS-1 is being built as a rapidly reusable vehicle with the capability to launch vertically from a pad then land on a nearby runway on Florida's space coast. The experimental spaceplane is about the size of a small jet.
Dubbed the "Phantom Express," the robotic XS-1 is being developed by Boeing after the company was awarded a $146 million contract last month to complete design work. Spaceflightnow reported that they beat out competing aerospace manufacturers Northrop Grumman and Masten Space Systems for the job.
With the XS-1 project, DARPA hopes to "build and fly the first of an entirely new class of hypersonic aircraft that would bolster national security by providing short-notice, low-cost access to space," according to a statement.
The experimental spaceplane is 100 feet in length and 24 feet in height with a wingspan of 62 feet. It does not require any external boosters when lifting up to 3,000 pound payloads to low-Earth orbit. Test flights of the XS-1 are expected to begin in 2020 from a still-unknown launch pad at Cape Canaveral.
"The XS-1 would be neither a traditional airplane nor a conventional launch vehicle but rather a combination of the two, with the goal of lowering launch costs by a factor of ten and replacing today's frustratingly long wait time with launch on demand," said DARPA program manager Jess Sponable in a press release. "We're very pleased with Boeing's progress on the XS-1 through Phase 1 of the program and look forward to continuing our close collaboration in this newly funded progression to Phases 2 and 3—fabrication and flight."
Ultimately, DARPA wants to be able to fly the spaceplane 10 times in 10 days and will initially conduct test-fires of the engine on the ground within that time frame. DARPA is also aiming to eventually keep operating costs at $5 million a flight.
The spaceplane will be powered by an AR-22 engine similar to the main engine used on NASA's fleet of Space Shuttles. Built by Aerojet Rocketdyne, the engine burns liquid hydrogen and liquid oxygen. The hypersonic spaceplane will initially be flown at mach 5 (five times the speed of sound) for demonstrations but will be pushed to Mach 10 after thorough testing.
According to Boeing, the XS-1 "would reinvent space missions for commercial and government customers by providing rapid, aircraft-like access to space. Within minutes, the autonomous, reusable spaceplane would launch its upper stage to deploy small satellites into low Earth orbit. It would then land on a runway to be prepared for its next flight." DARPA hopes this kind of rapid capability will enable them "to recover from a catastrophic loss of military or commercial satellites."
The military has already launched the classified X-37B fixed-winged miniature spaceplane from Cape Canaveral multiple times and has landed the vehicle like an aircraft at the Space Shuttle landing facility at nearby Kennedy Space Center. SpaceX will launch the Boeing-built X-37B for the Air Force for the very first time in August on its Falcon 9 rocket.
Robin Seemangal has been reporting from the newsroom at NASA's Kennedy Space Center for the last two years for the Observer with by-lines also in Popular Science and Wired Magazine. He does in-depth coverage of SpaceX launches as well as Elon Musk's mission to send humans to Mars. Robin has appeared on BBC, Russia Today, NPR's 'Are We There Yet' Podcast, and radio stations around the world to discuss space exploration.