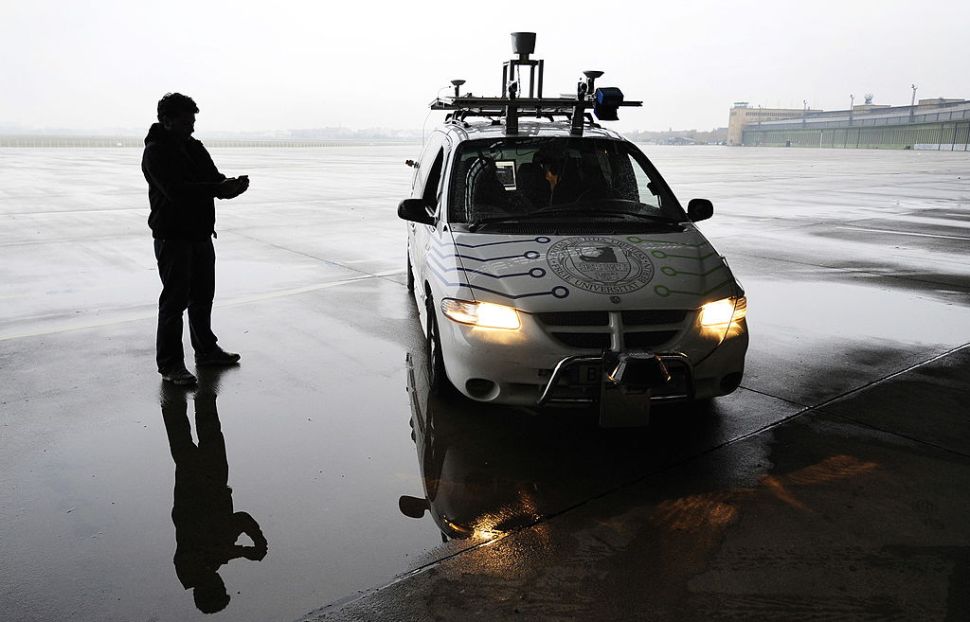 Nat Beuse may be a Washington regulator, but he knows how to talk like a regular human being. He can even tease a crowd while keeping them on his side.
"Everyone in this room is a perfect driver, I'm sure. It's everybody else," he said today at a D.C. conference on security and safety inside connected cars, sponsored by the Federal Trade Commission. We first saw Beuse when he presented on a panel at SXSW this spring. 
Beuse works for the National Highway Traffic Safety Administration (NHTSA). He oversees its research into safety technology. He opened his talk congratulating the industry on automobile features that warn drivers when conditions get dicey. He feels so good about them that he'd like to see more cars take more control before close calls get too close.
"Consumers really don't understand that they need help driving," he said. There's a lot drivers misunderstand a lot about car technology today.
New safety features have always been tested on public roads, but the public didn't know or didn't care. "A lot of the testing that's been going on, if you look at previous technologies, has been out of the public eye," Beuse explained. That changed with automated vehicles. "Now, the public is fully engaged in this technology."
So here's some points Beuse hopes more consumers understood about connected vehicles and self-driving cars.
Some cars are smarter than others
The public understands that different vehicles have different levels of off-road capability. They get that Subaru can handle conditions that a Volkswagen Beetle can't, that a Land Rover can beat a Subaru and that a monster truck can beat a Land Rover.
Their understanding of autonomous vehicles is not so subtle. People don't really seem to understand that just because a car can handle some situations, that doesn't mean it's a self-driving car. Traditionally, carmakers talk about five levels, from completely dumb cars up to the real world equivalent of Herbie.
Beuse simplifies that continuum: there are cars that need humans to pay attention all the time, cars that can take over under certain very limited conditions (which might vary from vehicle to vehicle) and cars that can handle any condition that a human can.
"We have to be very clear what level of technology we are talking about," Beuse cautioned.
Just because a car has a camera, that doesn't mean it's watching
"When manufacturers are integrating this technology there is a lot of discussion about data," Beuse said. The public seems to believe that any data that can be collected and sent back to central servers actually is collected by automakers, but he argues that this isn't necessarily true.
He refers obliquely to a manufacturer who recently admitted that it's collecting a ton of information from drivers' cars already, without naming the company. He was probably referring to Tesla. It's existing cars are already collecting loads of real world data and sending it home, according to the MIT Technology Review.
Waymo, the Google subsidiary, doesn't have any cars available to consumers yet, but we previously reported on how its systems do the same thing. Every Waymo car is controlled by the same brain, which means as soon as one car encounters something weird on the road, all its cars have seen it.
Still, Beuse contends, just because a car has a forward facing camera, that doesn't mean its logging the license plates of all the other cars it meets on the road. That camera might just be used as an on-board sensor or it might send data to the cloud that's analyzed in the moment without being stored. Car companies probably couldn't afford server farms large enough to store all the data their cars could possibly collect.
The OBD port wasn't built to control cars
There's a decent chance readers are thinking, "What's an OBD port?" If the device itself isn't familiar, this probably is: motorcycle gangs stole more than 100 Jeeps before getting caught by the FBI, as Bleeping Computer reported, using weird hacker tricks to do it. The OBD port was a key part of their exploit. Once inside the car, they used it to reprogram Jeeps to accept the gang's key.
It was clever, but the OBD port wasn't meant to have quite so much access to vehicles. It was created as a way to access diagnostic data collected by cars, but carmakers started using it for more and more applications.
"This is not something we can fall asleep on," Beuse argued, and he's hopeful that new strategies will make these sorts of violations tougher. Rather than trying to seal up every access point, Beuse argues for systems that do a better job of sounding alarms when behavior looks like an intrusion (for example, it might always be a good idea for an owner or dealer to get an alert if their car changes which key it uses). 
Safety regulators aren't in the business of saying no
"We're not in the business of picking technology winners and losers, but we want to make sure all the technologies get out there if they are going to save lives," Beuse said. 
Self-driving cars have a lot of different kinds of road sensors on them now, such as radar, LIDAR, traditional cameras and etc. NHTSA isn't out there picking the technologies that carmakers must use. Instead, it's reviewing the data to see which ones are safe enough to deploy and greenlighting everything that looks reasonably promising. The regulators aren't interested in designing cars, but making sure that everything companies develop is safe enough to hit the road.
Furthermore, new rules aren't always the best way to make progress. In March, NHTSA announced an agreement among carmakers to making automatic braking systems standard on cars sold in the US by 2022. That's far faster, Beuse argues, than NHTSA could have gotten it out there with a new rule.
So if you buy a car in a few years, it will have one extra little bit of help to keep you a bit safer, thanks to this agreement.
Not that you need it, of course. It's just those other drivers that do.