Welcome to She's the Boss, a column spotlighting kickass businesswomen who are making waves as founders. Each week, we'll chat with a different entrepreneur about herself, her business and her thoughts on the issues and challenges women face in the business world.
With sexism, mansplaining, the wage gap and countless other challenges and toxic work issues women in tech face, it's no wonder they are always looking to each other for support.
To give these women a much needed space, Felicia Jadczak and Rachel Murray founded She Geeks Out, a certified B Corp company hosting various types of women-only tech events and meetups while also providing diversity training. Over the past few years, they've held around 75 events with over 50 corporate sponsors—and they have their next 20 already planned with confirmed sponsorship.
To learn more about their company and perspective on being women in business, we chatted with Jadczak and Murray for She's the Boss.
Can you tell me about your company?
Jadczak: She Geeks Out is just over two years old, although we have been holding events in the Boston area since June 2013. It started when my boss at VMware wanted to put on an event for women in tech in Boston, and so I found Rachel to help make it happen. The event drew 80 women, and we realized there was a clear need and desire for this type of programming in the Boston area. We started putting on events every month and officially formed She Geeks Out in 2015. Today, the company is focused on building dynamic communities through events—networking, professional development and social. She Geeks Out also provides corporate diversity and inclusion training, with the goal to help companies of all sizes enact organizational transformations. We hold events and training in Boston and New York and hope to continue to expand in the future.
What's your background?
Jadczak: I went to Haverford College, a small liberal school in Pennsylvania, where I studied Comparative Literature in French and English. After graduation, I ended up working for a small technology transfer consulting firm. I moved to Boston to work for Northeastern University's tech transfer office doing market research and development. After a few years, I decided to go to business school and went to Boston University for an MBA and Masters in Information Systems. During grad school I interned at a software company called VMware, and then I joined them full time after graduation. I spent around six years at VMware working as a program manager, focusing on innovation programs and building a grassroots group for their female engineers. In college I thought I wanted to go into publishing and maybe work in the nonprofit world. If you'd told me that I would end up spending my career in tech and become an entrepreneur, I'd have said you were crazy!
Murray: I was a History major in college and had begun my Master's in History and Archival Studies at NYU before falling in love with building websites in the late '90s. I decided to be a full time Webmaster—yup, this was the actual title—and rode the first dot-com boom and bust. I worked for several different types of companies and organizations, including startups, nonprofits, large companies and even the World Health Organization. In 2005, I moved to Boston and wanted to connect with other women in tech, which is how I started Boston Girl Geek Dinners in 2008. It didn't take off until VMware and Felicia got involved in 2013. I quit my day job toward the end of 2013, taking on three businesses because I can never be bored. I now just have the one job, and I'm definitely not bored. Go figure.
What kinds of issues do you see women in the industry facing?
Jadczak: There is a lot of conversation nowadays about how to get more women into STEM and how to hire more women. People talk a lot about the "pipeline problem" and how to focus on it and build it out. The pipeline is certainly a piece of the puzzle, but we also see that company culture can play a large part in whether women feel included and supported in their work. There is a lot of emphasis on getting women into companies. However, many times what ends up happening is that the candidate gets a job and starts working, only to feel like they are forgotten, unsupported or, worst of all,  placed in a position of having to do extra work because they are now expected to speak for and represent all women. There can sometimes be a gap where a lot of time is spent focusing on women in their early careers and a lot of focus is placed on women who are more senior, but those in the middle tend to get overlooked or left behind.
Imposter syndrome is also a very real concept that we talk about a lot. This doesn't affect just women or women in tech, but it can be very damaging. We see women all the time who are very self-critical. If they can't match all the requirements on a job description, they will self select out of the pipeline. Or, they don't self-promote or tout their accomplishments because they don't feel like they deserve to be where they are or are uncomfortable doing so.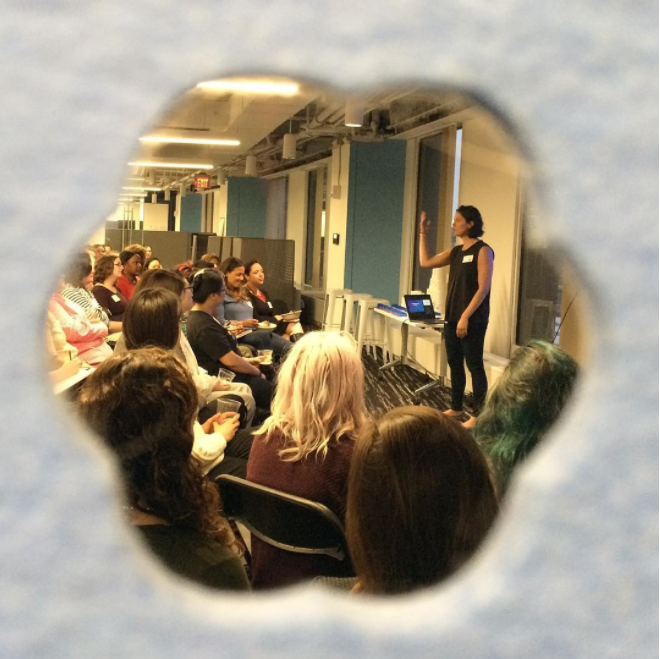 What can be done to solve this and make business better for women?
Jadczak: Our goals are to help women gain the skills to overcome some of these issues and at the same time work with companies to ensure that their organizations are set up to help grow and support women to the fullest extent. We are also big believers in the power of women-only events. To be clear, we have no problem with events that are open to all genders. But, at the same time, we find that women need a place to be together. Having a space and opportunity where we can share our interests, connect with each other on personal and professional levels and talk about whatever topics are top of mind without being talked down to, hit on and mansplained is so important.
Is there anything you want to add?
Jadczak: Please check out our website for ways to connect with our community in Boston and New York.