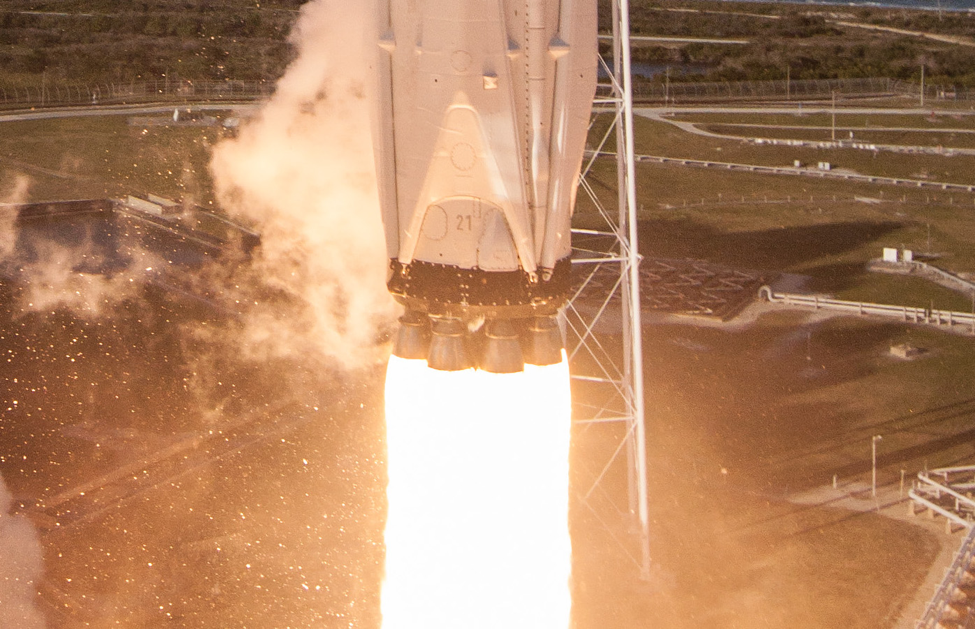 CAPE CANAVERAL, FL—Sorry folks, there won't be any awesome rocket landing videos from SpaceX after they launch the Intelsat-35e satellite on Sunday. The Falcon 9 will suffer the same fate as its many predecessors over the last 60 years: perishing in the ocean, never to fly again. It's a change of pace for SpaceX after the company has completed 13 successful rocket recoveries and two re-flights.
Sunday's liftoff from NASA's Kennedy Space Center will occur during a one-hour window that opens at 7:36PM ET. That window could move to Monday if the weather doesn't cooperate. The 45th Weather Squadron, who oversees all forecasting for launches from Florida's space coast, predicts 40 percent favorable conditions, citing cumulus clouds overhead. A routine test-fire of the legless and finless rocket was held Thursday night on its launch pad.
The Elon Musk-founded spaceflight company will be delivering its payload, Intelsat-35e, to a geostationary transfer orbit which could be as high as 26,000 miles above Earth's surface. The communications satellite is unusually heavy, weighing in at around 13,000 pounds. The far-off destination, coupled with the large haul, will require a hard thrust by the Falcon 9 to deliver the payload to a preliminary orbit. That will leave no fuel in the rocket's booster to navigate it back home.
This expendable Falcon 9 will likely be one of SpaceX's final doomed rockets as they are due to operate an upgraded version at the end of this year. The upcoming Block 5 Falcon 9 will have eight percent  more thrust, better flight controls, and more importantly, increased reuse capability. We've already seen part of that upgrade during last weekend's doubleheader when SpaceX launched a Falcon 9 with new titanium grid fins. The waffle iron-shaped black fins are designed to withstand extreme reentry temperatures without the need for refurbishment between missions.
Instead of using paint to finish the Block 5 Falcon 9 fuselage, SpaceX will now use a thermal protection coating also designed to better withstand heat. Currently, upon landing, the Falcon 9's legs are deployed before touchdown but can't be retracted so SpaceX ground crews are dispatched to remove them. The new Falcon 9 will have retractable legs that can enable easier and faster shipping. SpaceX also wants to install a permanent heat shield below the rocket to protect its cluster of Merlin engines.
SpaceX will still have reasons to celebrate on Sunday despite having to discard a rocket costing tens of millions of dollars. That same morning, the SpaceX Dragon cargo spacecraft will depart the International Space Station for a return trip to Earth. This particular Dragon was the first capsule SpaceX ever recovered, refurbished, and re-flown to the station on another cargo run.
SpaceX is also on a sprint to reach its ultimate goal of launching a rocket, recovering it, then launching it again within a single day. If SpaceX can pull of the launch from the former Apollo 11 Launch Complex 39A on Sunday, it will beat the record for turnaround on that pad.
SpaceX launched their second-ever reusable rocket last Friday from Kennedy Space Center to deliver a Bulgarian satellite. Sunday's launch will establish a 9-day turnaround window from that mission to Intelsat-35e at Pad 39A. SpaceX could beat the previous record of 17 days held by the Space Shuttle program since 1985. Liftoff on Sunday night will also mark an unprecedented completion of three missions within nine days for the company who has already launched more times this year than any other year since its founding.
Robin Seemangal has been reporting from the newsroom at NASA's Kennedy Space Center for the last two years for the Observer with by-lines also in Popular Science and Wired Magazine. He does in-depth coverage of SpaceX launches as well as Elon Musk's mission to send humans to Mars. Robin has appeared on BBC, Russia Today, NPR's 'Are We There Yet' Podcast, and radio stations around the world to discuss space exploration.