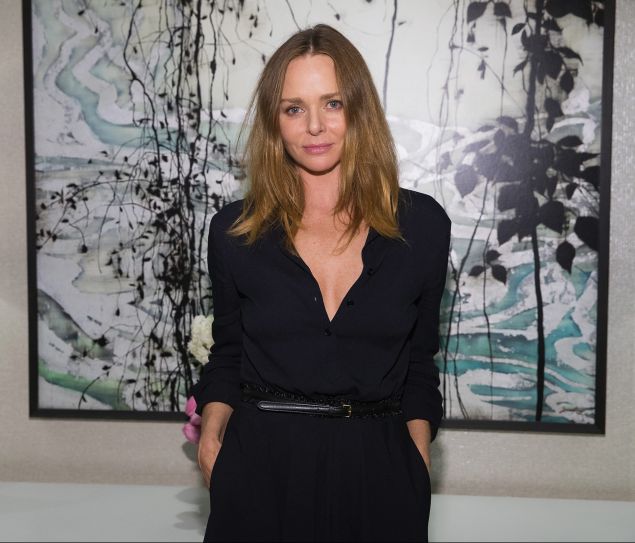 Designer Stella McCartney seems to have taken the phrase "one man's trash is another man's treasure" to heart. Starting this summer, she will begin incorporating plastic debris found in the ocean, including fishing nets and bottles, into her designs. McCartney won't have her employees hitting the high seas in search of garbage; she is partnering with Parley for the Oceans, an organization that makes Ocean Fabric, a yarn fiber from those aforementioned items that are polluting the seas.
McCartney has agreed to use the Parley material in the creation of shoes, bags and outerwear, replacing existing woven and recycled polyesters in her collections. These recycled fabrics will be reworked into a leather alternative that is both vegan and good for the environment. But will garbage, fashioned into the handbag of the season, allure the luxe customers that Stella McCartney is known for?
"If they don't notice it and if they feel that living on this planet longer is a luxury, then yes, to me that's my idea of luxury," the designer matter-of-factly told The New York Times. By now, loyal customers of the brand know that all their leather is faux and their fabrics are low-impact. Since the label was started in 2001, Stella McCartney did what fashion critics and consumers thought would be impossible: She made vegan clothing, accessories and shoes that were not only chic, but also extremely desirable.
So it's pretty unsurprising that this isn't the designer's first time working with Parley; she was first acquainted with their products through an all-white sneaker she created for the Adidas by Stella McCartney fitness range. The athletic brand has partnered with the organization on a number of designs, including a collaboration that resulted in an eco-friendly take on three of their most popular sneaker styles: the Ultraboost, Ultraboost X and Ultraboost Uncaged. Each shoe was created from about 11 plastic bottles and the discarded material was used to create the laces, the webbing and lining of the heel and the built-in sock liner covers.
"It's time to make peace between mankind and the sea. No social group is suited better for this challenge than the creative class. Stella McCartney is not only a fantastic designer; she is a pioneer of creative activism. Her work has changed the industry," said Cyrill Gutsch, founder of Parley for the Oceans. He hopes that this designer's embrace of their recycled plastic will be contagious and will help the organization reach their goal: to standardize the use of Ocean Plastic in more and more luxe consumer goods.
Each year, it's estimated that 8 million metric tons of plastic is introduced into the sea. This invasive pollution effects not only the health of the sea creatures, but due to the food chain, can also effect the health of humans around the world. Now, your excuse for buying a new handbag can stretch even further, as your purchase will positively benefit the oceans…and also humankind.