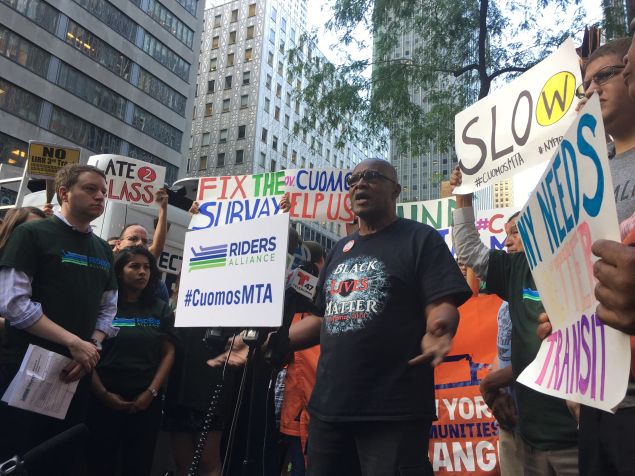 Roughly 60 public transit riders, advocates and community leaders rallied in front of Gov. Andrew Cuomo's New York City office to call on the governor to "take charge" and come up with a plan to fix New York City's subway system following an A train derailment in Harlem. They blasted what they said is his "lack of leadership" and "lack of political will."
Newly appointed MTA Chairman Joe Lhota—Mayor Bill de Blasio's 2013 Republican opponent who Cuomo recently selected to lead the agency—told reporters on the scene on Tuesday that a southbound A train just outside of the 125th Street Station went into emergency mode and the emergency brakes automatically went on. The train bumped forward, then bumped backwards and in the process. Two of the train's eight cars derailed and scraped the side of the wall.
Lhota announced that the preliminary investigation found that the cause of the derailment was an "improperly secured piece of replacement rail that was stored on the tracks," attributing it to "human error, not a track defect." Two MTA supervisors were also suspended.
John Raskin, executive director of the Riders Alliance, a membership organization of subway and bus riders in New York, asked the individuals in attendance if any are public transit riders and the crowd cheered loudly in response.
"And how many of you are sick and tired of delays and breakdowns and this uneven derailments on Governor Cuomo's MTA?" Raskin asked.
"Boo!" people yelled in response.
"And we're out here tonight to demand a solution from Governor Cuomo, who runs the MTA," Raskin added.
Following the rally, Raskin told reporters that the MTA's $30 billion capital plan is enough to sustain the system but not to completely update and overhaul it.
"The MTA capital plan is enough money to keep the MTA from falling apart entirely… but it's not nearly enough money to fix and upgrade and modernize the system," he said. "So we are calling on Governor Cuomo to take charge, to lay out a plan to fix the MTA and, most importantly, to find the money that will be required to get the job done."
Indeed, he said that if the capital plan and Cuomo's leadership were sufficient, the subway system "would be on the mend instead of falling apart."
"We know the answers," he said. "We don't have a lack of ideas. We don't have a lack of technical solutions. We have a lack of leadership and a lack of political will and that's what we are calling on Governor Cuomo to provide."
Vaughn Armour, a member of New York Communities for Change, a membership-based organization of working families fighting against economic and racial oppression, expressed frustration over train and bus delays.
"There's always delays," Armour said. "You get on the 2 or 3 train, it's a delay. You get on the A train, another delay. It's crazy out here getting on trains, traveling with delays."
The protesters shouted chants such as, "Governor, governor, it's a shame! Governor, governor, fix our train!," "No more delays! Cuomo, fix the MTA!" and "We're in trouble underground, Cuomo's nowhere to be found!"
Jaqi Cohen, campaign coordinator for the NYPIRG Straphangers Campaign, which organizes the riding public to call for affordable fares and safer, more reliable transportation, said that she came to the rally "because our city is facing a transit emergency."
"Yesterday's A train derailment was a dangerous and a stark reminder that New York City's transit system is facing a crisis point and that the issues plaguing our system will not go away on their own," Cohen said. "Our transit system needs an overhaul, which can only happen with real leadership and direction from Governor Cuomo."
She noted that six weeks ago, they rallied in front of the office and asked Cuomo to come up with a plan to fix the subway. Six weeks later, she said, they have yet to see a plan as subway service has continued to deteriorate.
"So Governor Cuomo, in this critical time for New York City's subway system, we need your leadership on solutions that will actually improve service, and we need it now more than ever," Cohen continued. "The fate of New York City's overburdened transit system depends on it."
The City Council announced on Tuesday that it would hold an oversight hearing "to closely examine areas where the MTA has fallen short," arguing that state partners have to step up and provide "real leadership and investment in the MTA."
Transit reform advocate Michael Sciaraffo, who was among riders that got stuck on a hot F train that lost power earlier this month, said that the city needs to have an emergency evacuation plan.
He also said that people need to know how to get off of a train in the event of an emergency, saying that he is a subway rider who, like others who were in attendance at the rally, "knows what the state of affairs our subway is in."
"We know that we need it to be fixed," he said. "We also know that we've come to the point where we're just a bunch of lawsuits to the MTA, that we can't even get off of a train in the event of a catastrophe."
Cuomo said that the derailment is "an unacceptable manifestation of the system's current state" and that with Lhota's leadership, the MTA "will address the fundamental issues plaguing the transit system and overhaul the organizational structure of the MTA."
"As the governor previously said, the current state of the system is unacceptable and New Yorkers deserve better," Dani Lever, a spokeswoman for the governor, said in an emailed statement. "Joe Lhota is a proven manager and the state will provide the MTA with the support it needs to address the fundamental issues plaguing the system."
The MTA said it put together a six-point plan, and MTA Interim Executive Director Veronique Hakim recently announced that the the agency is conducting a top-to-bottom review of subway delays.