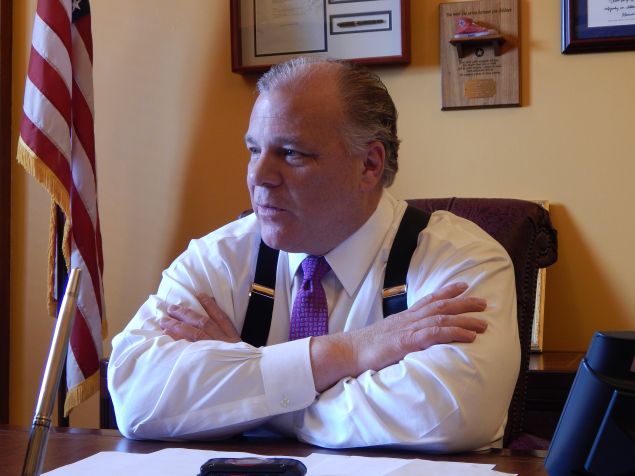 Allies of Senate President Steve Sweeney are punching back at the leaders of the New Jersey Education Association, the powerful teachers union spending heavily to defeat Sweeney in the November election for his Senate seat.
Democrats and other union leaders aligned with Sweeney say it's extraordinary that eight top NJEA officials each earned from $1.7 million to $3.7 million in salary and benefits over a six-year period, according to tax records.
A super PAC that backs Sweeney, New Jerseyans for a Better Tomorrow, is calling the NJEA leaders "a group of millionaire Trenton lobbyists" so focused on unseating the Senate president that they have endorsed Fran Grenier, a Republican "who backs Donald Trump's vindictive agenda."
Put together, Sweeney's supporters say, the NJEA leaders' pay and their support of a pro-Trump candidate show they are out of touch with the rank-and-file members who contribute more than $100 million a year to the union in dues.
"They just want to hold politicians hostage and hold the public hostage and they're doing an injustice to their membership," said Bill Mullen, president of the New Jersey State Building and Construction Trades Council and one of Sweeney's strongest allies.
"The rank-and-file teachers that have liberal Democratic views are not going to vote for this Republican because the leadership of the teachers union wants to hold Steve Sweeney hostage," Mullen said of Grenier.
According to 990 tax forms, reported salary and benefits for eight top NJEA officers and staff members totaled $20 million from 2010 to 2015. The highest-paid in that group was former executive director Vincent Giordano, who averaged $623,000 a year during the six-year period, and the lowest-paid among that group was Marie Blistan, the NJEA's vice president, who averaged $281,000.
The others are President Wendell Steinhauer (averaging $357,000), former president Barbara Keshishian ($398,000), current executive director Ed Richardson ($457,000), business administrator Timothy McGuckin ($361,000), regional services director Zella Felzenberg ($507,000) and top lobbyist Ginger Gold Schnitzer ($365,000).
"Those figures are certainly eye-opening and seem more in line with salaries of Wall Street executives than teachers' representatives," said Assemblyman Paul Moriarty (D-Gloucester). "Ultimately, though, it's the union members and their dues that pay those salaries, and if they approve of those numbers that's all that matters."
"Our national leadership doesn't get paid anywhere near that," said Bob McDevitt, president of Unite Here Local 54, the casino workers' union in Atlantic City, a Sweeney supporter who had encouraged him to run for governor. "That said, I'm sure that the members of the NJEA have voted to provide these compensation packages for these folks. If they feel that's what they're worth, that's up to them."
Without naming anyone, Moriarty complained that some union officials who go on leave from teaching continue to collect credits toward their pensions. Public pension data do not show that any of the eight top NJEA officials are active members of the pension system. Sweeney himself declined to comment.
NJEA spokesman Steve Baker said it was fitting to see Sweeney echo Gov. Chris Christie, who has spent years calling union officials and public workers overpaid and greedy as he seeks to reduce their benefits.
"Given how close Steve Sweeney and Chris Christie are, it's not at all surprising to see Sweeney using the Christie playbook to try to smear those who tell the truth about him," Baker said. "New Jersey has had enough of the Christie-Sweeney way of doing business. New Jersey deserves better than the Christie-Sweeney team."
The strained relationship between Sweeney and the NJEA reached a breaking point last year, after the Senate president yanked a promised ballot question to guarantee pension funding in the state constitution.
New Jersey could not afford the amendment, Sweeney said then, because Christie and Democrats had just struck a transportation-funding deal that would raise the gas tax exclusively for road, rail and bridge upgrades. To get Christie's agreement, Democrats agreed to cut other taxes that had been used to fund budget programs such as the pension, and that killed the amendment's viability, Sweeney said.
The move enraged many in the labor movement, but no union has declared war on Sweeney like the NJEA, which is spending hundreds of thousands of dollars this year on attack ads and whose leaders have begun to excoriate him regularly.
"Steve has acted like the adult in the room and it seems to me that the NJEA is going after him because they don't want to face the same challenges that the rest of us in the labor movement face in fixing pension funds and making sure those pensions are there for future retirees," McDevitt said. "The answer is not just to pass the cost off to the taxpayer. They don't have it."
The teachers union says Sweeney has lost his Democratic street cred and has become a threat to the labor movement after two terms of cutting deals with Christie that have eroded benefits for public workers.
Sweeney has held the Senate presidency since 2009 and already has the caucus votes for another term should he win re-election to his seat in South Jersey's 3rd District. The NJEA did not field a Democrat to challenge Sweeney in the primary. Earlier this month, the union endorsed Grenier, the chairman of the Salem County GOP.
Grenier may be a Trump supporter, but at least he's honest and not beholden to any bosses, NJEA officials have said.
"Our members fall everywhere on the political spectrum, and NJEA has a long history of building relationships on both sides of the aisle," NJEA Secretary-Treasurer Sean Spiller said in a statement when Grenier's endorsement was announced. "We value honesty, reliability and respect."
For his part, Grenier proposed term limits for state legislators this week, charging that Sweeney has "become consumed with backroom deals" after 15 years in office. Asked about the Trump connection, Harrison Neely, the campaign manager for Senate Republican candidates, said "Fran's campaign is about South Jersey getting their fair share."
"He's an independent guy that's ready to fight for his district," he said.