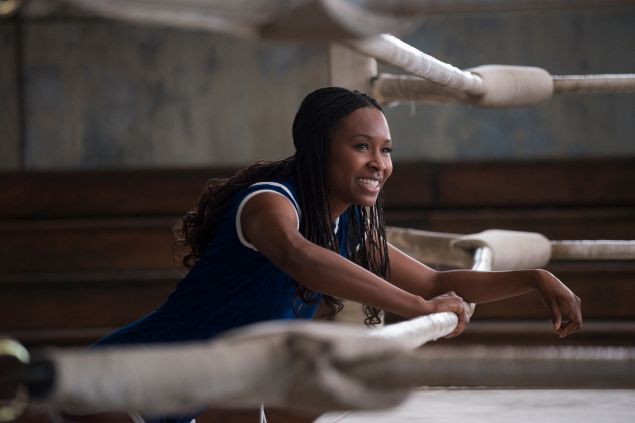 It was the era of leg warmers, big hair and roller disco. What a lot of folks don't know is that the '80s also gave us a TV series about ladies duking it out in the ring.
Inspired by the real story of a female wrestling league, the series GLOW – which stands for Gorgeous Ladies of Wrestling — tells the fictionalized story of a group of women, all on a mission to improve their lives in one way or another, who find themselves working together to create a television show about women competing in the ring.
"There are struggles and unification, as we push forward in a very male-dominated world," says Sydelle Noel who plays Cherry Bang in the series.
"It's a very unique group of women who start out looking for something, not sure what that is, and find themselves caught up in this," explains Noel. "You'll see that there are a lot of issues that we go through. This is an ensemble piece and everyone has something different that they're dealing with."
Noel found that the character of Cherry was rather tailor-made for her. "My character is almost like the madam of this group in that she takes care of everyone." She goes on to say, "When I auditioned they were like, 'think of Pam Grier as Foxy Brown,' I was like that's how I always pictured myself so this is perfect!"
The fact that GLOW is set in the 80s was a bonus for Noel. "I loved that part! I was a baby in the 80s. I' fascinated with Blaxploitation films of that time and I love those clothes. Now, I'm doing a show where I get to basically play dress up. It's all this authentic stuff. When I first saw the clothes, I was like, 'my mom wore this,' and I think that's so cool!"
She laughs a little as she adds, "I thought I would get to have an Afro, but Cherry is stuck in the '70s. I was like, 'wait, what, I don't get to have an Afro?!' But, in the end, I'm ok with it because I think I still look really good in my 'Cherry' costumes."
To prep for the physical part, Noel admits that she had to start from ground zero.
"I knew nothing about wrestling besides what I saw on TV. At that time when I thought about wrestling the first person who popped into my mind was Hulk Hogan."
And so the real bodywork began, "We had four weeks of training. It was truly like going to wrestling camp. We worked for hour and hours. We did everything from little things like a hair pull to big things jumping off the ropes. To simply say, 'we learned a lot during that time,' is a vast understatement. We really earned A LOT."
To recover from the intense workouts, Noel revealed, "I did Cryotherapy — that's where they basically put you in a tank and freeze you for three minutes. I also got a lot of massages. It was months of aching, but it was well worth it because it made me very confident in the ring."
Noel is aware that there's a segment of the population who might be put off by the concept of women fighting, to which she says, "You have to be open. Yes, it's wrestling, but it's not all just wrestling. It's more about these women's lives. Just like the characters, if you watch this, you're walking into a world that you have no idea what's to come and what you find my surprise you."
She also wants the viewing audience to remember that this is based on real-life women. "You have to have a lot of respect for them. I mean, they actually did this — they didn't have a coach, they just figured it out. No one showed them what to do. They got injured. They broke bones. They just did it. If you watch for nothing else, watch out of respect for these women who were real pioneers."
Playing the role of Cherry Bang changed Noel, she says. "When we were doing the final episode, which is all about the ladies actually shooting the pilot version of GLOW, I like blanked out. When they said, 'action,' I was so into it. During the time I was wrestling, flipping in the air and everything, I lost myself in it. I never felt that feeling before. Until then I didn't really understand what it feels like to be in the ring and doing it. It was very powerful."
In her best sales pitch, Noel says, "Just watch it, I know that you'll find it to be a lot of things – funny, smart, intriguing, and more. Trust me when I say, 'this unlike anything you've ever seen on TV and that's a fact!'"
All ten episodes of 'GLOW' are available for streaming on Netflix on June 23rd.