Curvy ladies, we've got some good fashion news for you: Tanya Taylor is expanding to include plus sizes to her beloved range of floral dresses and cheerfully embroidered blouses. And you can thank Saturday Night Live's Aidy Bryant for this size-inclusive fashion moment.
Back in January, the designer was tasked with creating a red carpet look for Bryant, who is size 18. The challenge, put on by Glamour, offered insight into an issue the actress faces when it comes to finding cute formal dresses in her size.
"There's no conversation happening between plus-size women and designers. The door is never open," she explained to the glossy. She went on to recount that she often shows up for photo shoots with her own outfit selections in tow, after one nightmare experience where she was given three options that looked "something like what an 80-year-old woman would wear to sing at a funeral."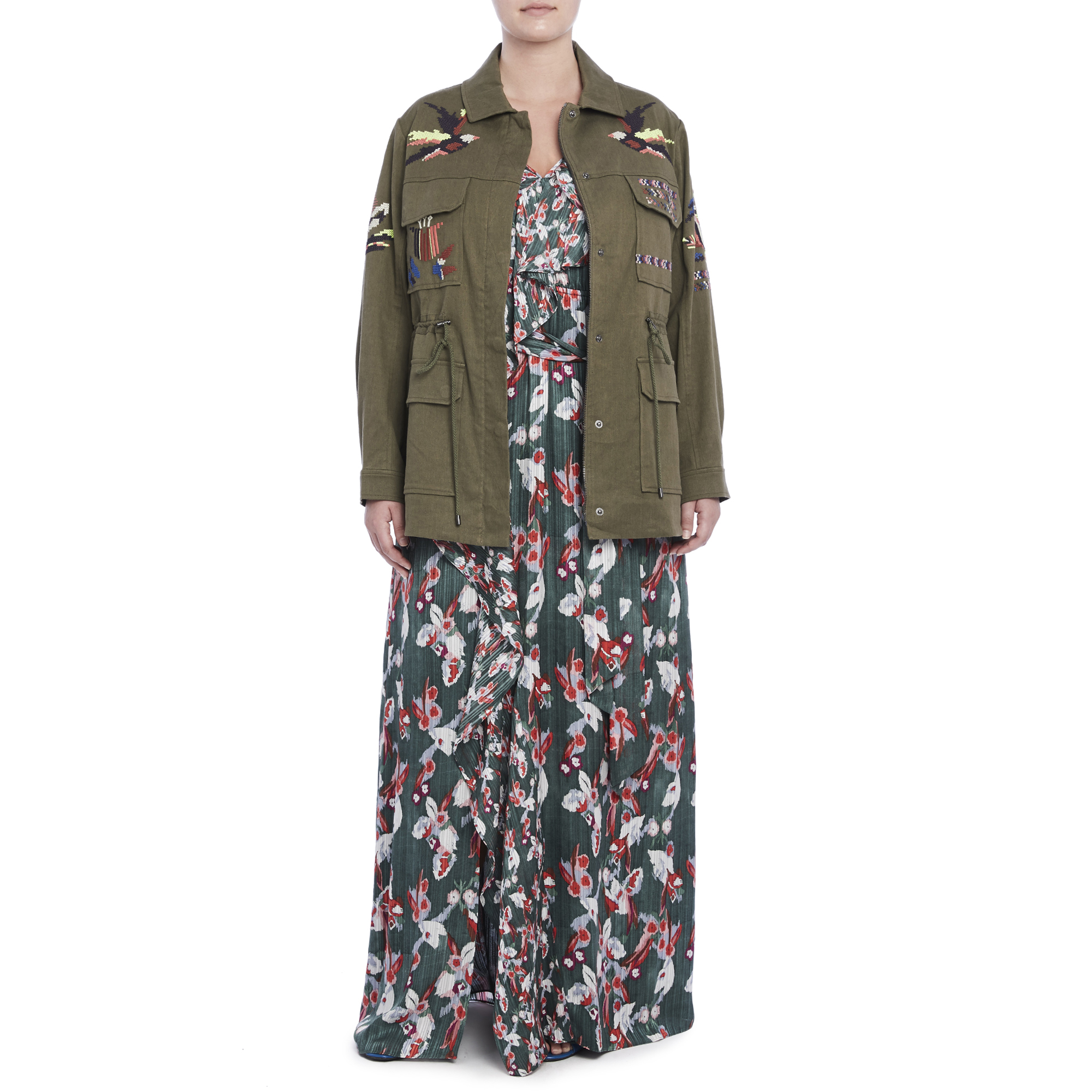 So Taylor crafted a beautiful custom blue dress with an intricate floral embroidered detail in Bryant's size; the SNL star happily wore the frock for an appearance on Late Night With Seth Meyers. And it looks like the designer took Bryant's criticism to heart, as she continued to create custom designs for her, eventually deciding to offer these larger, beautiful designs to all women.
"Collaborating with Aidy Bryant…opened my eyes to a market that is missing feminine, flattering and optimistic clothing. Aidy and I are the same age, share a similar joyful approach to life and love color and print yet we have access to different clothing, I personally wanted to change that," Taylor said.
Launching today with a five-piece capsule collection as part of her pre-fall 2017 collection, the two tops, two dresses and one jacket will be offered on Taylor's site in sizes 14 to 22. They each come with Taylor's signature whimsical touch and will be priced between $350 and $695. Obviously Bryant was the first to wear this inclusive range, selecting the navy floral dress for an appearance on The Today Show.
https://www.instagram.com/p/BV0pFJpjQvc/?taken-by=aidybryant
"We are an inclusive brand defined by a point of view, not a range of sizes and we are thrilled to expand our collection going forward to invite more women to celebrate with us," Taylor explained. So feel free to reach out and have your voice heard…and scoop up some cold-shouldered floral blouses while you're at it.