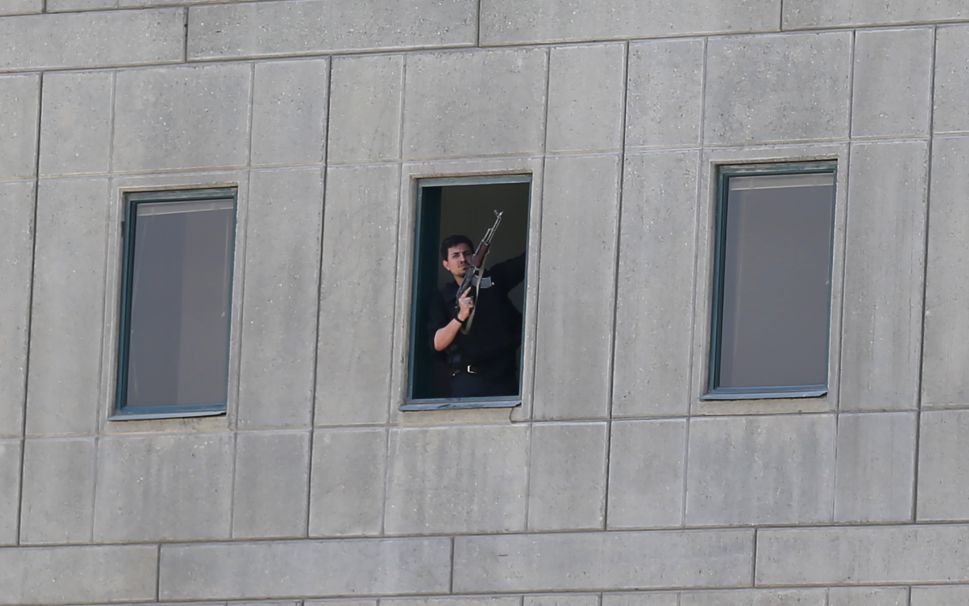 ISIS claimed responsibility for the double terror attacks in Teheran, Iran. Iran, however, blamed Saudi Arabia for the attacks, which killed 14 of their citizens and wounded dozens of others.
Iran is not a fan of Saudi Arabia. They have blamed the Saudis, along with the United States and Israel, for the creation of ISIS. In Iran's mind, that triumvirate—Saudi Arabia, the United States and Israel—created ISIS in order to destabilize their region.
Of course, Iran is wrong, but being wrong does not stop it from promoting lies as facts.
Iran knows that ISIS is gunning for it, literally and figuratively. Iranian officials have made public statements about how they were anticipating ISIS strikes against their country. They also know that these attacks were not merely another element in the usual conflict between Sunnis and Shiites, the sectarian conflict on steroids devouring large swaths of the Arab world. These attacks were perpetrated by Iranians who joined ISIS.
Ali Shamkhani, secretary of the Supreme National Security Council of Iran, said that the alliance between Iran, Russia, the Syrian regime, Iraq and Hezbollah isn't temporary. He said, "ISIS will change the geography of its operations from Syria and Iraq and will move to other places." Iranians think they know why.
Iran is convinced that ISIS has a serious motivating factor for attacking them. The Iranian logic goes like this: ISIS is now losing its control in its long-held areas in Iraq and Syria, so they need to exert influence in other ways and in other places.
The Iranians have a point.
ISIS' primary goals are to continue to gain recruits and impose their vision and influence on Islamic lands and societies. ISIS has concluded that the best way to accomplish those goals is through terror.
In other words, there is an equation at work. The more ground and cities ISIS loses, the more likely they will be to increase their acts of terror. The highest priority targets of ISIS terror are Iran and the West. Then comes other Sunni areas, which ISIS considers easy prey.
The conflict between Shiite and Sunni Muslims dates back to the death of Mohammed. The conflict revolved around the question of upon whom the great legacy of the Prophet Mohammed would be bestowed. There were those who believed that succession should follow the blood line—they were the Shiites. Sunnis believed that the best successor for Mohammed would be his best student.
From that point onward, there has been a schism and conflict between Shiites and Sunnis. Massacres and blood baths have long been the cornerstones of the conflict. Each sees the other as heretics, and in their world, it is far worse to be a heretic than to be a non-believer. Shiites were persecuted by Sunnis and both were allowed to kill the other with impunity.
In the present day, Sunni ISIS observes Shiites in the region and has concluded that Shiites have expanded their role in the recent past. In response, ISIS expands its role to check Shiite power grabs.
But not everything is working according their plan. There has been an essential shift in ISIS' power over the past four months. ISIS is starting to lose battles. Instead of more and more areas falling into ISIS hands the way they used to, whole regions are falling under Iranian Shiite control. Syria, Lebanon and Iraq—all Shiites—have strong positions and are exerting control and influence.
Together with the Russians, Iran has propped up Assad in Syria. Iran has a massive loyal Shiite militia in Iraq. Hezbollah is fighting to keep Assad in power while also maintaining a strong presence in Lebanon, especially southern Lebanon.
So, ISIS is attacking Iran. They selected two highly visible and symbolic locations as their targets: the Iranian Parliament and the mausoleum of the Ayatollah Khomeini, the founder of the Iranian revolution. Khomeini was the power in front of and behind the ousting of the Shah of Iran, which led to the creation of the new Islamic Republic of Iran.
These were not easy targets to penetrate; they are heavily guarded. ISIS attacked the heart and soul of Iran. To have chosen lesser targets would mean watering down their message. ISIS needed these attacks in order to reinvigorate their mission and gain back momentum.
This was a huge victory for ISIS.
Expect more ISIS terror in Iran and in the region. ISIS is not just about Western targets in London, Paris and Brussels. As much as they hate the West, ISIS circa Summer of 2017 is even more committed to attacking Shiites targets than Western targets.
Micah Halpern is a political and foreign affairs commentator, author the "The Micah Report," online and host of the weekly TV show "Thinking Out Loud w Micah Halpern." follow him on twitter: @MicahHalpern