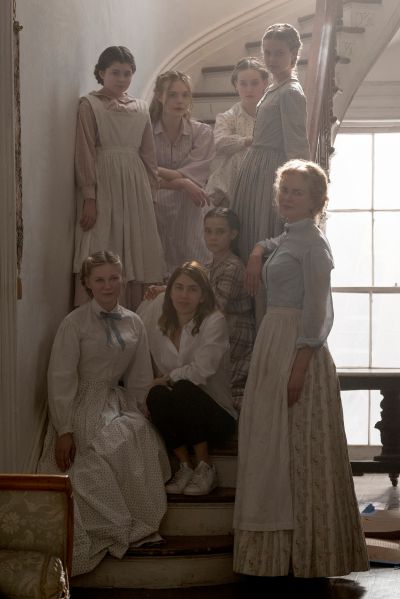 At first glance, one might not think Sofia Coppola's The Beguiled has much in common with Lemonade, Beyonce's 2016 Grammy-nominated Best Music Film.
Serious Beyoncé fans, however, have noted that both of the productions share some very similar backdrops. Indeed, Coppola and Beyoncé both chose to shoot major parts of their films at the Madewood Plantation House, a Greek Revival style property that was build circa 1846 as a sugarcane plantation.
Coppola's film, for which she won the best director award at the Cannes Film Festival (becoming the second woman ever to receive the prize), depicts a slightly run down girls' boarding school with a Southern Gothic vibe. The estate is used for exterior shots, as well as the kitchen and dining room of Martha Farnsworth's Seminary for Young Ladies, per Architectural Digest.
But the mansion is actually a national historic landmark that functions as a bed and breakfast. And don't worry—all that period furniture in the film is just that; Coppola's crew brought it in themselves.
The property is owned and operated by Keith and Millie Marshall, and while Coppola's movie is set in Civil War era Virginia, the bed and breakfast is actually located in Napoleonville, Louisiana. It's comprised of five bedrooms in the main house, and a night's stay in the historic home is actually somewhat affordable.
Standard rates, which include a wine and cheese reception in the library, a set-menu dinner in the dining room and coffee and brandy post-dinner as well as a two-person breakfast, start from $229 to $265 Sunday through Thursday, and from $259 to $298 Friday and Saturday. There are also special packages for those who want to book an extended stay at Madewood, for when special "food, art and lifestyle weekend getaway packages" are offered.
https://www.instagram.com/p/BGaJrpGLROt/?tagged=madewoodplantation&hl=en
Aside from Beyoncé and Coppola, as well as the film's stars like Kristen Dunst, Nicole Kidman, Elle Fanning and Colin Farrell, there's another famous guest who's ventured to this charming B&B.
Among the rooms, which have whimsical names like "mystery lady room" and "Mrs. Marshall room," is the "Brad Pitt room." According to the website, the actor rented the room for an afternoon to study his lines while filming Interview With a Vampire," which was shooting nearby.