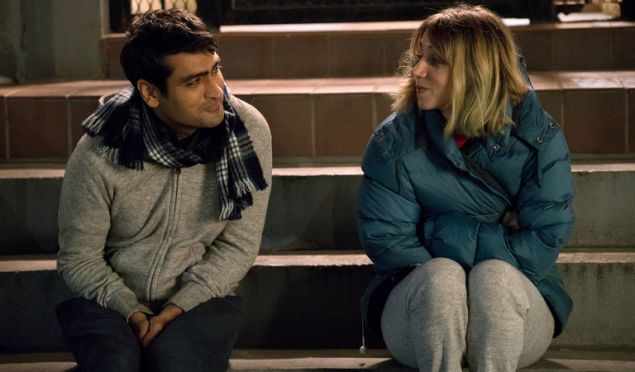 There is a scene more than halfway through The Big Sick, the dangerously but justifiably hyped new romantic comedy from producer Judd Apatow, in which a minor character gets a big moment. Played by Vella Lovell, (Crazy Ex-Girlfriend), the part of Khadija is typically nothing more than comedy roadkill in a movie like this. She is one of a string of women the family of Kumail, played by the film's co-writer and star, Kumail Nanjiani, has arranged for him to meet with an eye towards marriage. (He keeps a pile of their pictures in a cigar box in the crappy Chicago apartment he shares with a fellow stand up comedian.) In the scene, one of four Lovell gets in the movie, you get a real sense of who Khadija is and why such a funny and beautiful young woman would subject herself to the humiliating process of auditioning to be a stranger's arranged wife. As Kumail is confronted with the kind of emotional outburst and hurt feelings he has spent his life trying to avoid (he is only going through the motions to placate his parents), all he can do is half-smile and shrug. Khadija, meanwhile, becomes vulnerable, cajoles, insults— and in the space of a couple of minutes— really lives. Like Lovell's other brief appearances in the movie, the scene marks the opening salvo of what promises to be an exciting movie career.
---

THE BIG SICK ★★★1/2

(3.5/4 stars)

Directed by: Michael Showalter

Written by: Emily V. Gordon and Kumail Nanjiani

Starring: Kumail Nanjiani, Zoe Kazan, Holly Hunter

Running time: 119 mins.

---
It also embodies the greatest strength and perhaps the biggest weakness of a film that both fits perfectly within the greater Apatow filmmaking mold and also marks a dramatic step forward for the producer. Like Khadija, characters large and small in The Big Sick feel fully-fleshed and deeply considered, not just as deliverers of one-liners and foils for the lead man child's inevitable emotional growth, but as people who have their own concerns and worldviews that exist outside of the will-they-end-up-together axis of the film. But this character development comes at a price: at literally a minute under two hours, The Big Sick tops the runtime of Four Weddings and a Funeral, Mike Newell's classic romcom that Nanjiani has cited as an inspiration for the film. (Both in the movie and on Twitter, where he boasts nearly 1.5 million followers, the Silicon Valley actor has copped to a serious Hugh Grant fixation.)
That a light comedy would require such an extended stay may put off some, and for good reason. In Apatow productions such as This is Forty (two hours and 14 minutes), and Knocked Up (two hours and eight), the extended running time was often an indication of flabby editing, overindulging the assembled yucksters, and— relatedly— a general inability to yell, "Cut." But that is not the case here. Working with a story taken from their real life and really scary meet cute, Nanjiani and his wife and co-writer Emily Gordon craft a script that's tight enough to bounce a quarter off, this despite shoehorning two major conflicts that threaten to keep the fated couple apart where most movies would make due with one. Within the film's solid architecture— Apatow and producing partner Barry Mendel put the nascent screenwriters through three years worth of rewrites— spending a little extra time with these people seems more of a blessing than filmmaker indulgence.
The couple's first obstacle is cultural. While Kumail leads a modern secular life as an Uber driver, stand up comedian, and occasional creator of one-man shows (those scenes deliciously send-up fears of what The Big Sick could have been in lesser hands), he pretends to have an interest in Islam and the traditional Pakistani ways of his parents Azmat and Sharmeen (played by Indian actors Anupam Kher and Zenobia Shroff.) Why put up the ruse? His family members are a joyful, hilarious bunch; after a single dinner with them, you can see why Kumail became a comedian. They have no idea of his secret life as a player— his choice pick-up line is to write a girl's name in Urdu— and he doesn't breath a word about Emily (Zoe Kazan), a grad student he met when she had the temerity to heckle his low-key stand up routine and with whom he has gradually fallen in love.
Emily breaks up with Kumail when she discovers the aforementioned cigar box, but he comes back into her life a few weeks later when she becomes seriously ill and is put into a medically induced coma. It is a great compliment to both the screenwriters and Kazan— a talented writer herself (Ruby Sparks)— that Emily is a prickly, complicated presence even when she is asleep. The film is aided by the inspired casting of Holly Hunter and Ray Romano as her parents. It a lot of personalities to cram into one humble movie but Michael Showalter somehow makes it work. The Hello, My Name Is Doris director and The State alum serves as perfect host, keeping the mood light and giving everyone ample room to do their thing. But the real stars are his screenwriters. By borrowing from their real life, Gordon and Nanjiani have crafted the rare romance that sparkles with real life emotion. By the time we reach its well-earned ending, you are left with the powerful sense that for this pair, things have only just begun.