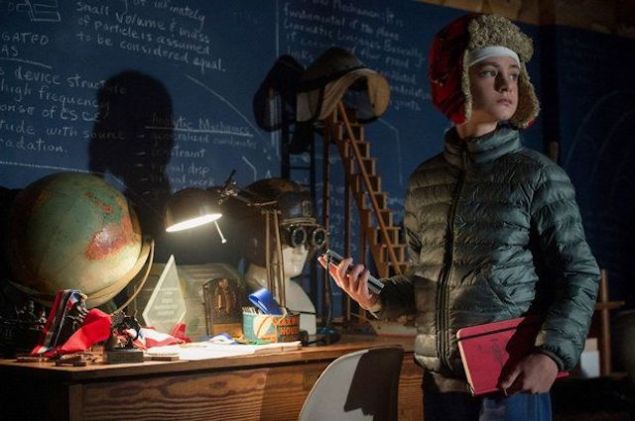 I had never heard of The Book of Henry until a few days ago when I saw an advertisement for it, and watched the trailer. It looked great. It's by Focus Features, and is about Naomi Watts raising a genius kid who thinks the dad next door is hurting his step-daughter and asks his mom to make it right.
As I was on the way to see it, I noticed it had an extremely low rating on Rotten Tomatoes. After the ending, I was shaken up, crying and laughing at the same time. But, I think I figured out why so many other reviewers hated it.
The genius kid in the film, Jaeden Lieberher, is so smart that he bosses adults around like his teacher and principal, and handles his mom's finances. He defends his little brother from bullies, and cheers him up by pretending to be an arctic explorer when he's sad. He has the greatest clubhouse in the woods you've ever seen, and that you imagine he built himself. He seems to be the adult in the house when his mom is playing first person shooter video games. He sees a guy pushing his girlfriend around in a grocery store, and wants to do something to help before being begged off by his mother. He seems to know the answers to everything while also being emotionally mature to a level of almost seeming detached. Basically, he's the most perfect kid possible; a film creation designed to teach the rest of us how to be human.
---

THE BOOK OF HENRY ★★★1/2

(3.5/4 stars)

Directed by: Colin Treverrow

Written by:  Greg Hurwitz

Starring: Naomi Watts, Jaeden Lieberher, Jacob Tremblay

Running time: 105 mins.

---
I think other critics found him, and the second half focus on making things right by plotting to kill the man next door, unrealistic, emotionally manipulative, and disjointed. However, those thoughts never actively entered my mind while watching it, because I was swept up in the emotional realism of it all with nothing but grounded performances from the whole cast.
If Henry, the kid genius in the film, is the plot device that the film is structured around, then Naomi Watts as Susan is its emotional core. She is so present in every scene as a mother barely holding it together trying to raise two kids while working at a diner. When she puts the younger son to bed with a children's story she wrote herself, and asks the two boys "light on or off" and "door open or closed" it felt like everything was right with the world.
The film constantly took me to unexpected places. In the beginning of the movie, Henry stands up in front of his class and gives a speech about legacy where he talks about how wanting to do something with your life is really just fighting off existential dread, and our legacy in life is about the people in it. I thought the movie might go in a Charlie Bartlett situation where this smooth talking wonder kid would use his intelligence for financial gain and to exploit others, but instead it turned into a meditation on family and helping others.
The Book of Henry by director Colin Trevorrow is so fantastical that it could never truly happen and that's why I place it straight into the magical realism category that his first major feature Safety Not Guaranteed is in. The charm, humor, and emotional heft of Henry made me buy into the premise, and had me believing that anything was possible. In Safety Not Guaranteed, Mark Duplass was so sincere and trustworthy, that he had me believing he could take himself and Aubrey Plaza back in time. Here, I was rooting for this kid genius to save his family and the girl next door.
Sarah Silverman, as Naomi Watts' friend Sheila from the diner, has proven herself to be a real treasure in her dramatic roles bringing heart and sass to what would otherwise be a throwaway character whose main purpose is to be the kind of emotional ballast to Susan that sometimes only other adult can be. In other words, they get drunk and commiserate together.
It really is an entirely different film in the second half with Susan getting Sniper training from Henry over a headset. It sounds crazy that Henry convinces her to kill Glenn, the next door neighbor and police commissioner, but he proves it to her in the titular book that the film is named after. In the book, Henry has laid out advanced reasoning, along with Leonardo Da Vinci looking drawings, showing that calling child protective services or the police won't help; only his plan to stop Glenn will. We don't feel any remorse for Glenn, because he's a well-acted but stock villain character whose screen time mainly consists of being passive aggressive with Susan about the leaves in her yard, and doing God knows what to his step-daughter.
Its Henry's noble intentions, and Susan's absolute trust in her son, that enable the shift from charming family story to justice murder plot to work in an emotional sense. The Book of Henry is a wildly imaginative film with a lot of shifting parts, and an absolutely huge heart. A film this original deserves to be seen and felt.