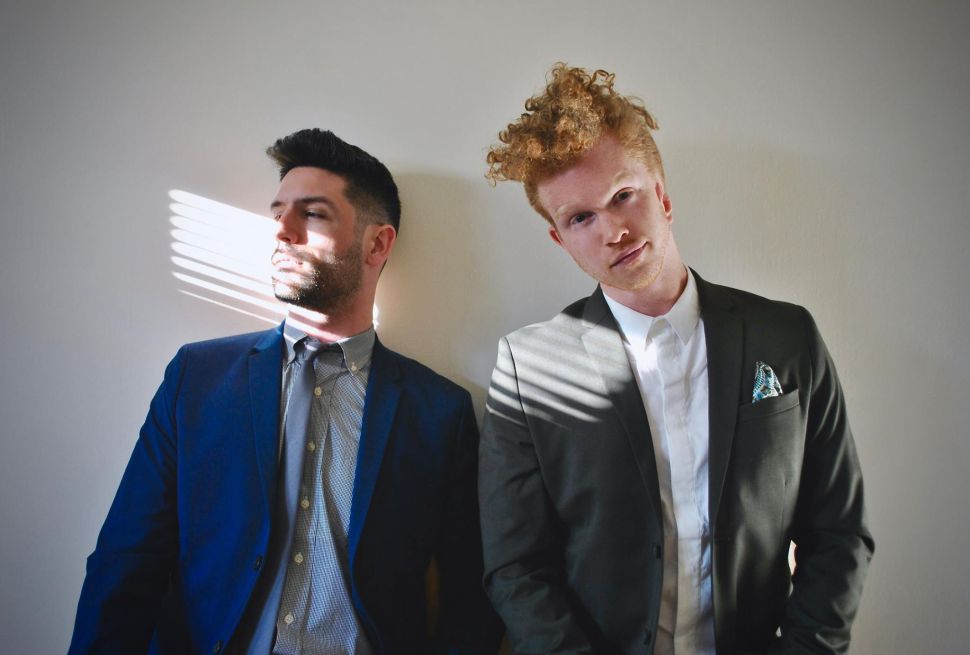 The life of an independent musician in New York City is filled with euphoric highs and resounding lows. Jack Tangney and Chris Davies know all this all too well, as the two childhood friends have been cruising on the industry's choppy surf and have come out on the other end with the musical project The Caption. It's a venture that combines both of their skill sets, including Tagney's performance know-how (he competed on season three on NBC's The Voice) and Davies' expertise working as a producer and studio engineer.
The result of their collaboration is a heartfelt project filled with meaningful lyrics and catchy melodies, with both qualities front and center on their debut single, the emotive track "Crutch." Here, the two talk about their creative process, how sadness can sometimes be beautiful, and what it's really like to be on a show like The Voice.
How did you guys get together?
Chris: I had known Jack going back for a bit. We grew up in Long Island together and were in the same circles. A couple years ago, Jack came to me with a tune he was working on, and we started collaborating on really small piano and acoustic guitar stuff, and it just organically blew up from there. We realized we really enjoyed the way the process evolved.
What were your earliest inspirations that spurred the original sounds of your collaboration?
Jack: When I was growing up, I was a real sucker for singer-songwriters. Female vocalists like Fiona Apple, Bjork or Robyn. They had this emotiveness I'm always after. I like people who put it all on the line. Chris and I didn't have too much musical taste in common growing up, but what's cool about this is that it's less about a style we were chasing. It was a project about honesty and lyrical intention, and that was the basis of it. Crying it out in the studio and then the other guy in the studio saying, "Hey, I think you missed something there." It was about making sadness into something beautiful.
Jack, you were on The Voice. That sounds like an incredible experience. Tell me about it.
Jack: That was actually an overwhelmingly positive experience for me. What they don't show you on television is that you're sequestered at the hotel with two hundred really talented, ambitious musicians. It's like a boot-camp and it's one of the best networking opportunities I ever had. You have people from all across the country doing the same thing in the same place. It was a lot of appreciating how hard some people were working to make music happen in their life. At the same time, I realized the reality TV circuit was not for me at all. It made me go home and center on actually what I want to do with my time as a musician.
What's your creative process? How do you go about crafting songs? Does someone handle the lyrics and someone else handles the music? How does that dynamic work?
Chris: This is probably the only project I've ever been in which is one hundred percent democracy. Especially being a producer and studio engineer where you learn how to compromise. Every creative decision has been completely 50/50 down the middle. Who knows if it will keep happening… maybe down the line, Jack and I will kill each other over something [laughs]. We have a similar creative language; it's a feeling and not so much a specific technique. When we were writing lyrics, we'd jot out pages and pages of stuff and then sort through it. Sometimes I'd basically put my soul on the page and I'd hear, "That's dogshit, keep writing." There's a folder somewhere of legal pads and legal pads of failed songs because we have to be completely happy with every line.
Jack: There's a brutal honesty between us.
Tell me a little about "Crutch," the debut song.
Jack: So, "Crutch" was kind of a sleeper for us for a second. We didn't know what we wanted to do with it. We liked it but we weren't sure where the drums or other instruments were going. We were thinking about keeping it real simple with just piano and vocals. Through the grapevine we met a string arranger by the name of Mitchell McCarthy and he found the wavelength we were looking for. The strings on top of it is this wonderful cap. The song itself is this resignation where you're too tired to be mad anymore. It's about a lot of heartbreak, and a lot of loss. At the end of that when you run out of all of those emotions, it's about accounting for how you got there. It's about taking stock in where you are.
And this is your first song? Is that nerve wracking to unleash your very first song onto the world?
Chris: It is a little bit in a really boring way. We realized really quickly that just throwing songs online isn't an effective way to spend your time. So what we tried to do was we tried to create a lot of collaborations with other artists, visual artists especially, and have a little bit of a community of people who work on videos with us and have really beautiful solutions to problems that are in the music industry. Like, we need a graphic designer for a lyric video so we hired a calligrapher and he wrote the lyrics on an eight foot piece of Plexiglas. We're trying to turn the digital space in this project into something a little more organic and beautiful, and create a dialogue with other talented people. What makes music work for me is the connections with other talented people, and to sort of watch them do their thing, and be privileged enough to watch it.
Jack: At the end of the day, this is a super satisfying project to work on. Getting the feedback we've gotten… That, to me, is a bigger reward than anything else. No matter what happens, the project has already been a resounding success thanks to the really wonderful people we've met and worked with along the way.