Get ready to head back to the island as Tuesday (June 20) marks the Season 2 return of TBS's surprise hit comedy, Wrecked.
For those not in the know, the TBS single-camera series tells the story of an oddball group of airline passengers who become stranded on a desert island after their plane goes down. The first run of episodes clearly used ABC's LOST as a jumping off point, parodying many moments from Bad Robot's groundbreaking series.
Yet, as we gear up for new episodes, it feels as if the program — created by Jordan and Justin Shipley — will dig into other pop culture references as well.
To help the promote the new season, TBS invited a select group of press to a desert island-themed pop-up barge sporting an open bar, some coconut skeeball and, oh yes, a mechanical boar for folks to ride.
Amid all the shenanigans, I had a chance to catch up with the show's core cast — Zach Cregger (Owen), Brian Sacca (Danny), Brooke Dillman (Karen), Ally Maki (Jess), Will Greenberg (Todd), Asif Ali (Pack) and Jessica Lowe (Florence) — to get a better understanding of what we're in for once Season 2 premieres.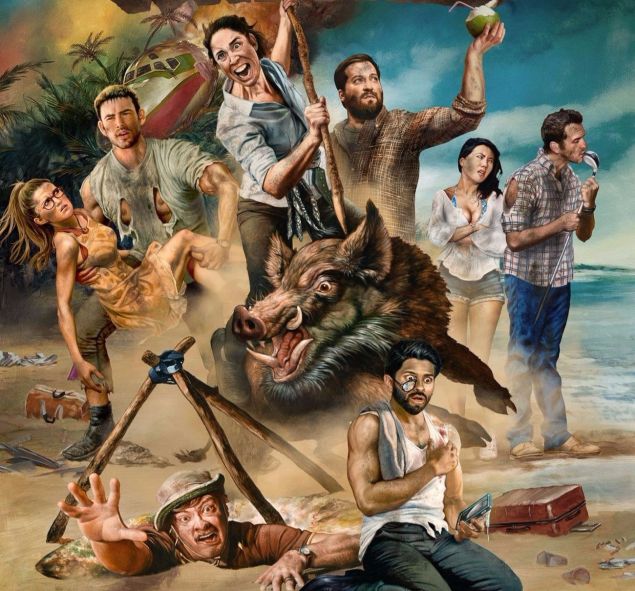 The stakes will be much higher.
Will: We've got a lot more action this season because of the pirates. There are so many twists and turns!
Asif Ali: The stakes are higher this time. In the first season, we're just trying to survive each other. We're just trying to find food and just make it to the next day. At the end of the first season, we're like, "Oh we're going to get rescued!" Nope, it's pirates … And they're not leaving. So we've got to figure out a way to live with these pirates. They have guns, which we don't have. And they have beer, which we don't have. And they have music, which we don't have. So it's no longer just about us.
Zach: The second season moves really fast. It's a lot more danger. It's very high stakes. You know, the first season takes place over the course of like three and a half weeks. The second season takes place over the course of like four days. It's a lot of high energy danger.
They shot Season 1 in Puerto Rico and Season 2 in … Fiji?
Will: We shot in Fiji. That's another reason to watch. It was amazing and very difficult. There's no real infrastructure in Fiji so it was a tall task.
Brian: I can't tell you how many times I was late in getting somewhere because the car had to stop because there was a yak in the road. That's not an exaggeration — it's just there, like chillin'.
Zach: Our wardrobe and props would have to fly to Sydney to buy things in mid-production so we could have them ready for the shoot. It was pretty intense. The only other TV show that shoots there is Survivor. So there it is … A show about suffering in the middle of nowhere!
Brooke: I like to run for exercise and I'd go down this dirt road and there would just be cows and goats and horses. It's beautiful and the people are so friendly — it's just a wonderful soothing place to be. That is, until we moved in.
Ally: When you're dealing with the elements … the first day, we had some heat stroke happening. We were doing 16 hour days in direct sunlight with these big group scenes on the beach during a big heatwave. Things got better as time went on but Day 1 literally almost killed us. It was bananas.
The group dynamic has changed.
Brian: What I will say is, the pirates' landing is the inciting incident but it creates a storyline that has some really huge shifts in it. It's fun, it's something you don't see in half-hour comedies a lot. The story changes in a big way half-way through the season and it's unique. And then the story changes again! There are a couple really big turns.
Jessica: There's nothing that bonds you better than to have one foe to direct all of your energy to. Florence lost her best friend in Season 1 and she has to have a little bit of independence and strength. She has to be on her own a little bit and she needs to prove her worth to the group.
Ally: I feel like Jess, my character, has been able to finally find her voice, especially with her douchebag boyfriend Todd. They'll finally be able to kind of work together this season and she has a little more self confidence and strength. So you'll get to see us work together this year which will be cool.
Brooke: There's still a lot of wrestling of giant beasts. I love pigs so much and my character has to kill them all the time. It's deeply troubling. She gets significantly more sexually aggressive. She's got needs, you understand?
Wrecked Season 2 premieres Tuesday, June 20, at 10 p.m. ET/PT on TBS.