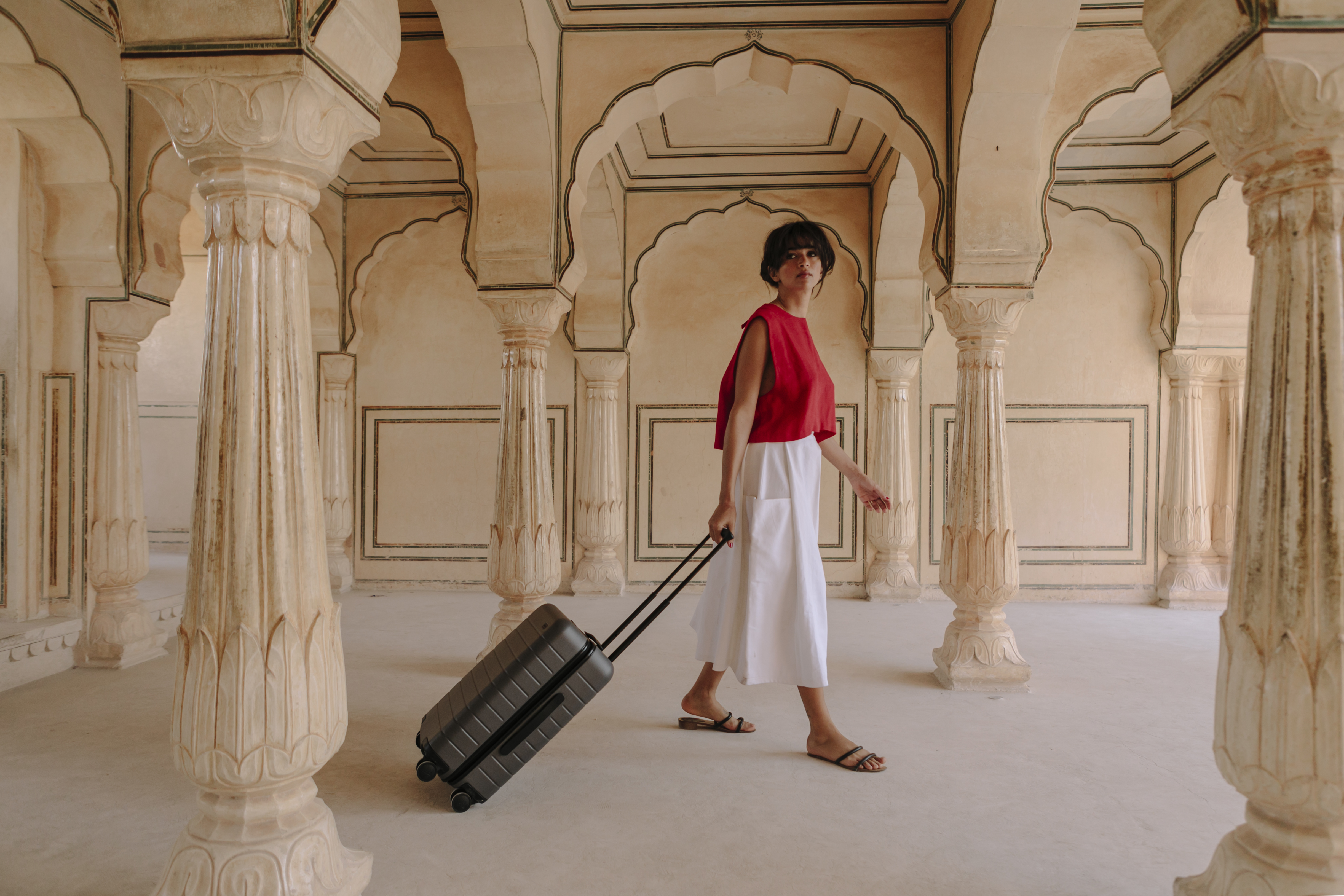 You might not know it, but there used to be a time—long before we were checking in at an airport on Facebook and posting a window seat picture on Instagram stories—when cool and affordable luggage wasn't an option. Travelers could find super luxe suitcases, with sleek shapes and thoughtful features accompanied by eye watering price tags, and extremely affordable valises that were essentially just vessels with wheels, but there was nothing in the middle.
Now, thanks to the smart luggage startup Away, there's a middle ground for regular travelers. And their bags are more than just functional; they've become a topic of conversation. Seriously, purchase one of their rolling bags, which are guaranteed to be indestructible, light and come affixed with a portable battery, and just wait for the comments to roll in. Your friends will ask you when you acquired such a piece and strangers at the airport will longingly gaze at the way your Away easily glides on four wheels. You will lock eyes with fellow Away owners and give them that knowing nod, admitting that these bags, with their compression straps and carefully separated sections, have the power to make packing for a trip easier than usual.
Away co-founders, Jen Rubio and Steph Korey, didn't set out to make luggage that people actually tried to match with their outfits, but that's exactly what has happened with their hard-shell designs. (Seriously, Rubio explained that customers have started buying the same piece of Away luggage in a multitude of colors.) The two Warby Parker alums were simply interested in creating a really good bag that took into consideration their personal travel desires; they had no formal experience in the luggage industry. However, they also wanted to offer a quality product, at an affordable price, that far surpassed what the pros were making. So Rubio and Korey surveyed 800 people on their travel preferences and even voyeuristically observed as their friends packed for various vacations. But they wanted to make sure their product looked good, too.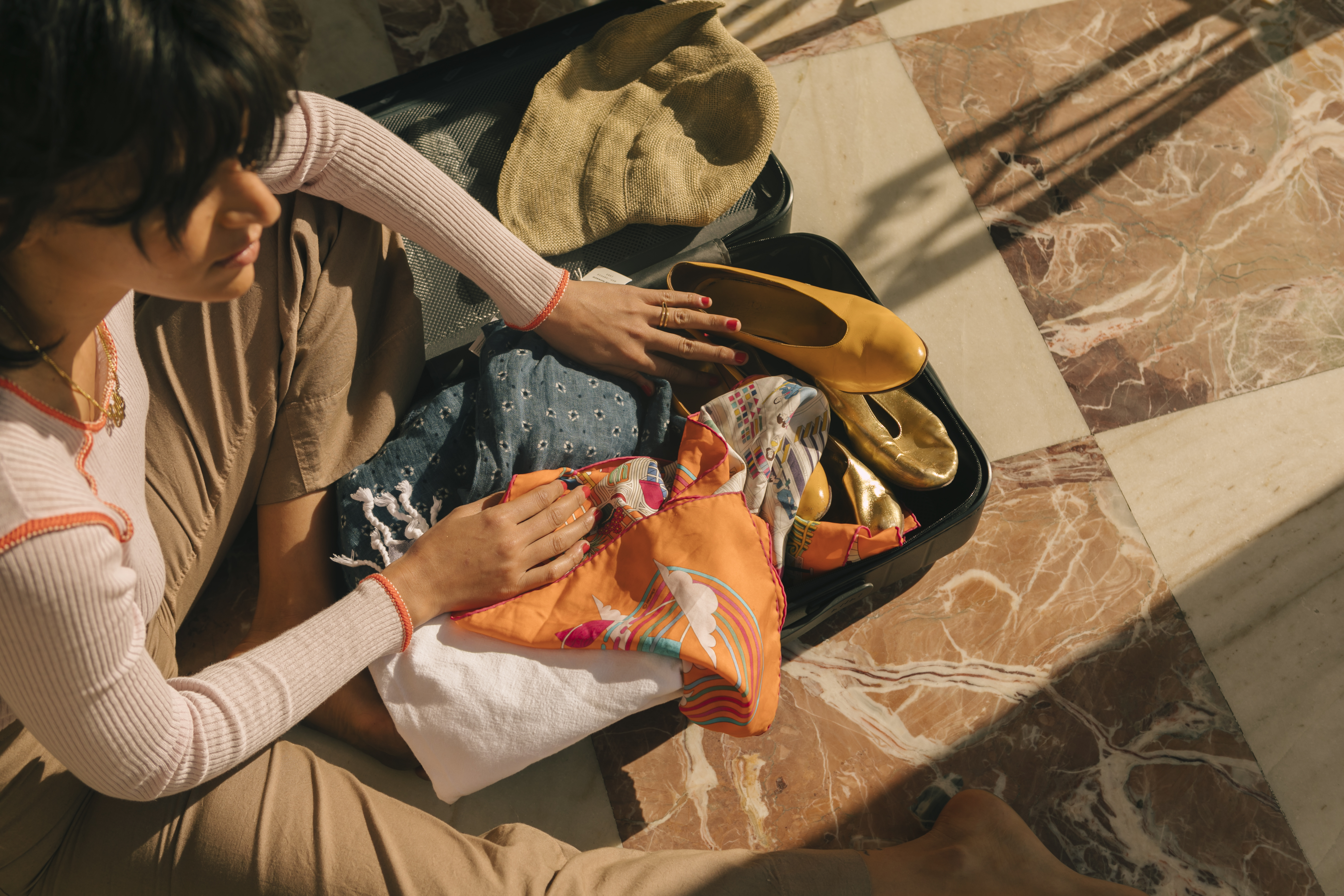 "I had a lot of ideas in terms of aesthetic," Rubio explained from a glass-walled conference room in Away's cavernous Noho offices. "We knew we wanted it to be really clean and minimal. And we wanted your luggage to be something that lasts you a lifetime." As such, each Away bag comes with a lifetime warranty, but seeing as they are crafted from the highest quality materials—YKK zippers, Hinomoto wheels, a German-made polycarbonate shell and telescopic handles—there aren't many replacements that the brand has done since they launched in February 2016.
In fact, their original design hasn't changed at all since the introduction of their original Carry-On bag; the brand has simply expanded the sizes of their offering, including the best-selling Bigger Carry-On, The Medium and The Large. To date, Away has sold around 100,000 bags and in May 2017, closed a $20 million series B round. As you might assume, expansion is in the cards for Rubio and Korey.
That includes a New York flagship store that will open sometime this summer, followed by a number of Away boutiques around the country—and one international retail destination. But don't expect to just see suitcases in the shop; Rubio wants their boutiques to be more of a general travel store, packed with mini skincare and haircare products, plus bikinis and other travel-specific pieces you probably forgot to pack.
And you can certainly trust these entrepreneurs for knowing a thing or two about what stocking up on travel necessities: "I was in Austin on Monday and Dallas on Tuesday, I go to Stockholm tomorrow and then I go to Berlin. I'm on a plane every week," Rubio explained to the Observer.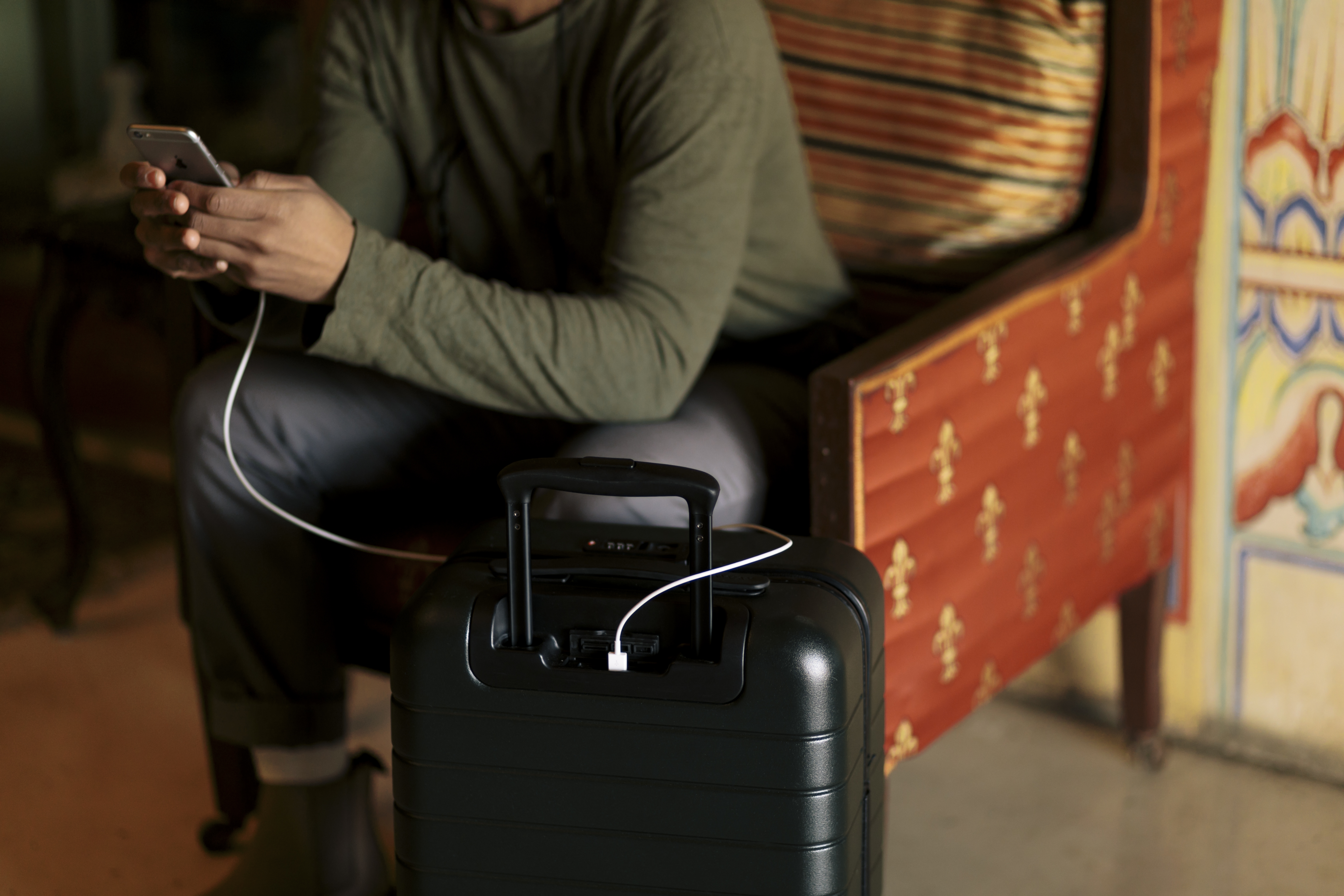 Partnerships have also been a big part of the startup's expansion. Following a collaboration with Madewell, where the Bigger Carry On was re-interpreted in a white and cream color combo, the luggage company turned out some bright yellow Minion-themed luggage, along with a coordinating luggage tag, in the lead up to the June 30 release of Despicable Me 3. The brand's collaboration with the Bluetooth tracker, Tile, hit the market this month as well, in the form of a $30 tag that will help locate your luggage via app.
Beyond offering luggage and some coordinating accoutrements, Away also has a travel-focused podcast, Airplane Mode, and will be releasing a print and digital magazine over the next few months. During our visit to the office, we also spotted a slew of new Away colors, which will definitely make finding your luggage at the airport infinitely easier, and chicer. However, it goes without saying that Away's biggest accomplishment thus far is their undeniable ability to make luggage cool again.
"Luggage hasn't been a thing that people cared about, because there was a lack of cool brands that people associated with a good product," Rubio said about their status symbol luggage. "For us, it's been about making a bag that people care about, as part of their outfit, but also making a product that lasts a long time and will withstand trends."