Cyrielle Gulacsy is an art director living in Paris, pretty far removed from the happenings of SpaceX, NASA, and the rocket launches that inspire her illustrations. She creates striking pieces with graphite or ink and has produced detailed illustrations of past space-faring machines. Gulacsy's work was on exhibition last year throughout Paris making stops at the Ddessin Art Fair and at the Structure, L'amour.

This year, Cyrielle Gulacsy completed her first solo showing at the Hotel Grand Amour in Paris and has now brought some of her collection to New York City, where it will be on display at the Cafe Henrie for a month. The Observer reached out to Gulacsy to learn about her art and interest in space exploration.
When did you first become interested in space?

I've always been drawn to space but it turned into a full-fledged passion when I read Stephen Hawking's A Brief History Of Time. A storm was unleashed within me, a curiosity that hasn't dulled since. I've been drawing forever and when space became a major passion, it was evident the two would merge.
What about space inspires you?

I read a lot on astrophysics and quantum mechanics. The concepts I encounter there are a great source of inspiration. There's an obvious link between cosmos and the mind and that's a parallel I want to explore. And I like the idea of leading people to those questions through an unexpected channel.
Can you tell us a little about your spacecraft pieces?

The satellites and the rocket are part of a body of work I started years ago about art's ability to communicate a vision. I don't choose objects randomly. First of all, it's a subjective choice, because I'm passionate about them, but this is not the only reason. These are very technical objects and their purpose is primarily functional and non aesthetic. It is through my perspective and my interest for these subjects, that I attempt to reveal their aesthetic aspect to others through my drawings. I show these objects from a different viewpoint and I strive to make them sculptural. To me, it's a way to make science accessible through sublimation.
What is your favorite thing about space exploration right now?

Tough question! I can't wait for the next James Webb telescope to start operating and I keep myself informed of all current research attempt to solve interstellar travel issues (emdrive, warp drive, solar sails, etc…) and the conquest of Mars, of course!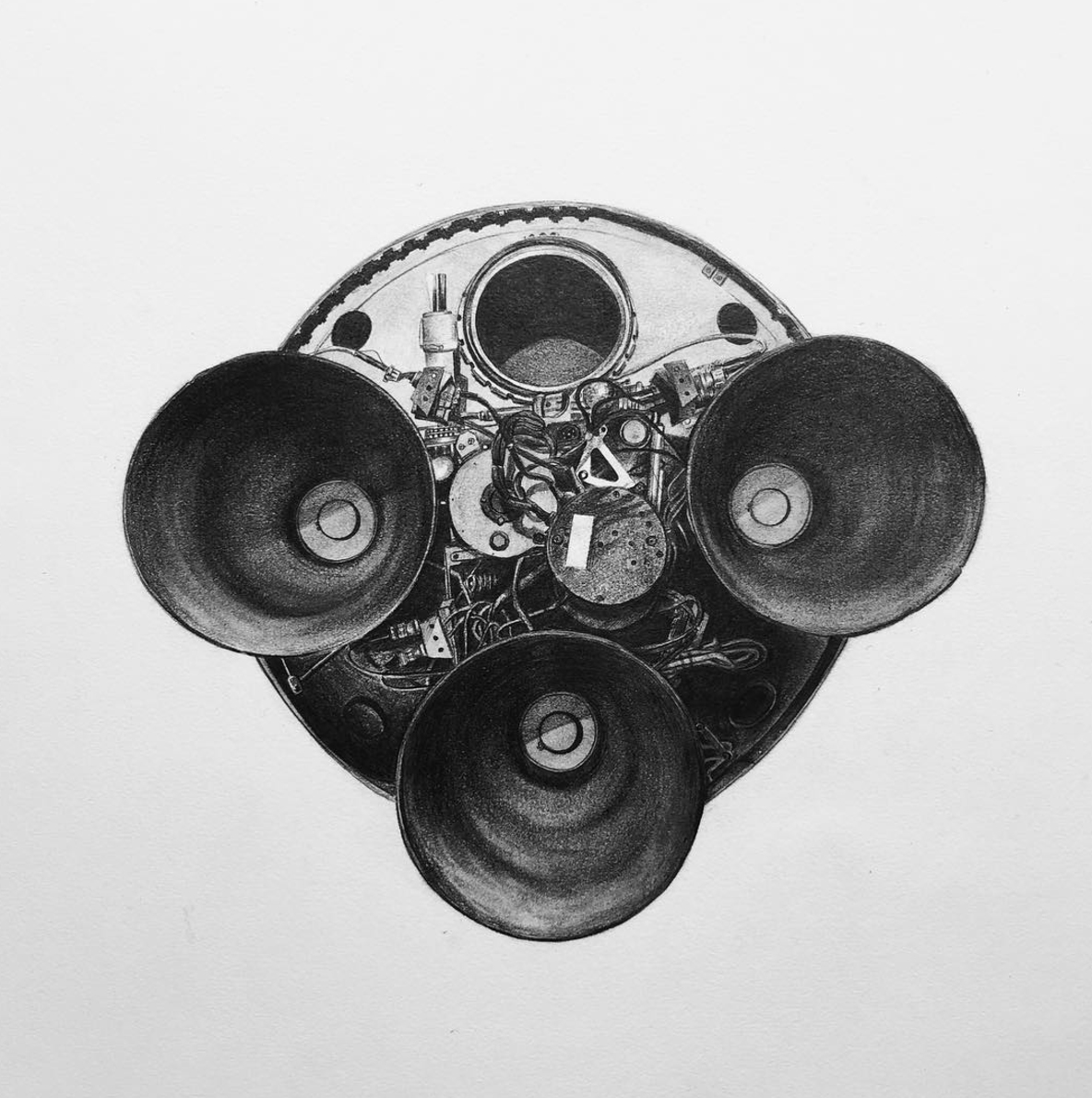 What's your dream job?

I think I'm just about to reach my dream job, I'm currently working on my drawings and going to collaborate on a science fiction series with 3D animation called Black Holes. Check it out,  it's really awesome. The real dream would be to collaborate with NASA or Space X to create something between art and space. Or just being a little closer to them, I don't know how for the moment, but I just want to be at the place where the future is built.
You witnessed your first rocket launch by SpaceX this weekend in California, any quick thoughts?
It was stunning because it was the first time but a little frustrating. I wasn't close enough to see well. But it gave me motivation to make a real plan to see a launching in front row. It left me a strange sensation like a new goal that was gonna inspire me and motivate me.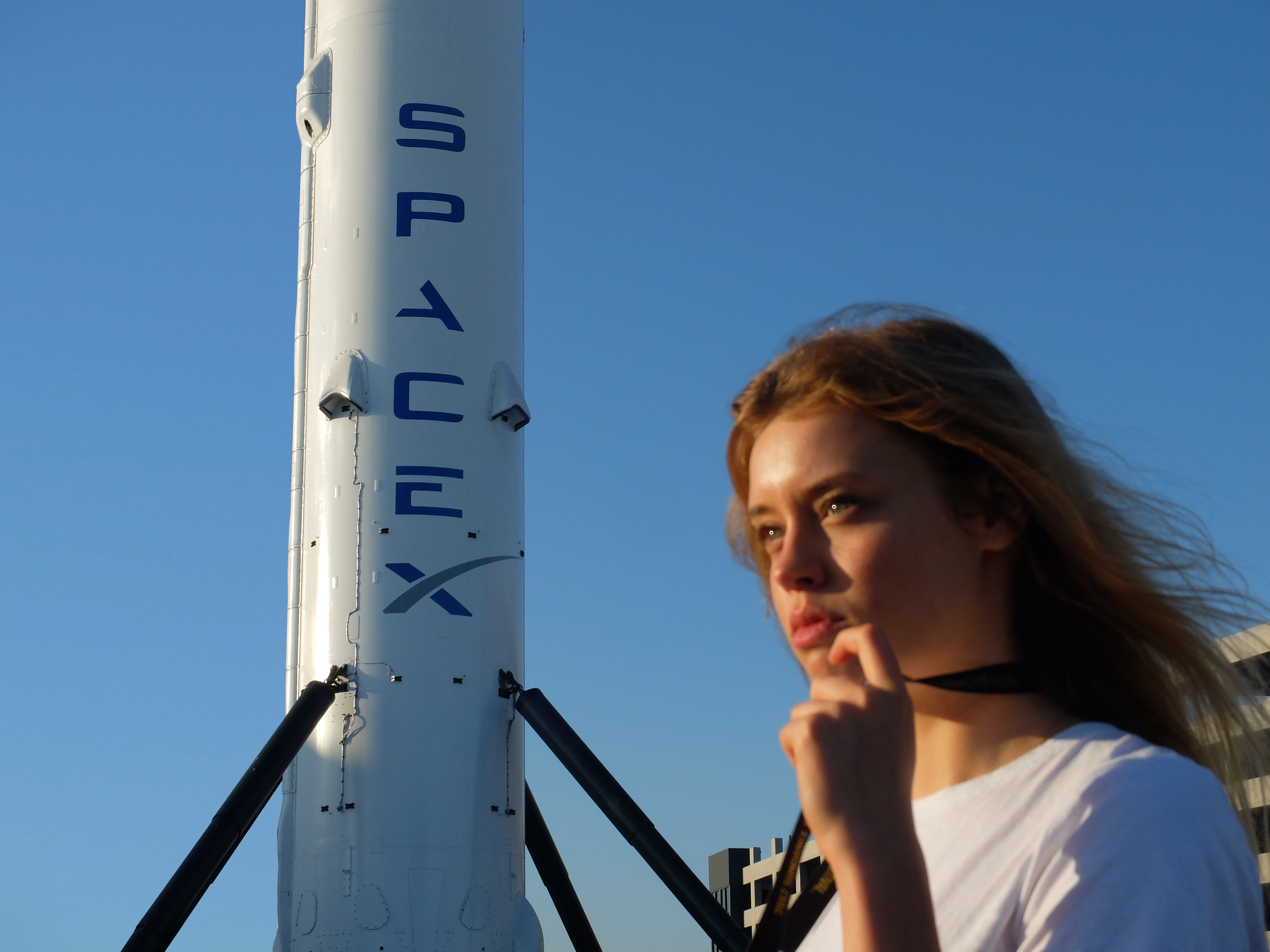 Do you have any space pieces planned for the near future?

Space is always part of my work one way or another. At the moment I'm preparing a series on plane engines and mechanical rocket parts for my next series.
Robin Seemangal has been reporting from the newsroom at NASA's Kennedy Space Center for the last two years for the Observer with by-lines also in Popular Science and Wired Magazine. He does in-depth coverage of SpaceX launches as well as Elon Musk's mission to send humans to Mars. Robin has appeared on BBC, Russia Today, NPR's 'Are We There Yet' Podcast, and radio stations around the world to discuss space exploration.