Scroll through to see the Tribeca apartment Savannah Guthrie and Michael Feldman just put on the sales market.
Alex Wong/Getty Images
Feldman purchased the apartment in 2012.
Sotheby's International Realty
It's on the market for $6 million.
Sotheby's International Realty
The nursery.
Sotheby's International Realty
A custom-designed bar.
Sotheby's International Realty
A sleek open white glass kitchen.
Sotheby's International Realty
One of three bedrooms.
Sotheby's International Realty
It's a combination unit at 77 Reade Street.
Sotheby's International Realty
Where to next?
Sotheby's International Realty
10-foot ceilings throughout.
Sotheby's International Realty
One of the bedrooms.
Sotheby's International Realty
Today Show co-host Savannah Guthrie has some news of her own to share. She and her husband, Michael Feldman, are ready to leave their Tribeca condo behind.
Feldman actually purchased the three-bedroom, four-bathroom apartment at for $3.8 million in 2012, before he and Guthrie married in 2014.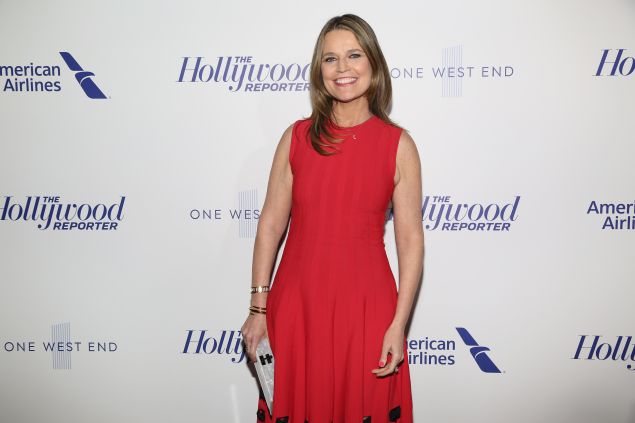 Perhaps now that the couple has welcomed their second child (their son was born in December 2016), they're ready to upgrade to a larger space.
Not that this 2,691-square-foot home, which Feldman and Guthrie have listed for $6 million, looks cramped. It has 10-foot ceilings and hardwood floors throughout, as well as an open kitchen with white glass finishes and a great room with five floor-to-ceiling windows and a custom-designed bar with black granite countertops, a beverage center and a wine fridge.
The master suite includes a walk-in closet and a bathroom with a soaking tub, rainfall shower and a double vanity, according to the listing held by Sotheby's International Realty broker Cortnee Glasser.
Guthrie has been a correspondent for NBC News since 2007, and she became a co-host of Today in 2007, before eventually replacing Ann Curry as Matt Lauer's co-anchor of the show in 2012. Perhaps she's taking a cue from fellow NBC anchor Lester Holt, who put his own Greenwich Village apartment on the market in April for $6.6 million.
Or maybe Morning Joe's Mika Brezinski, who listed her Bronxville house earlier this year—both Brezinski and Guthrie found themselves at odds with Kellyanne Conway when she came on their respective shows.
Hopefully Guthrie isn't planning on moving too far, like, say, to the Upper East Side, where her co-anchor Matt Lauer has owns an apartment (when he's not helicoptering to and from his Hamptons abode), as we doubt Guthrie's Today Show co-host Jenna Bush Hager wouldn't be too happy to have her friend leave Tribeca.
The two are currently next door neighbors, and Hager said the two can "literally, see into each other's apartments," and that their daughters are "such dear friends." Guthrie and Bush Hager even plan their Halloween together, complete with an Instagram of their daughter with #tribecagirls in the caption. For social media's sake, Guthrie shouldn't move too far.