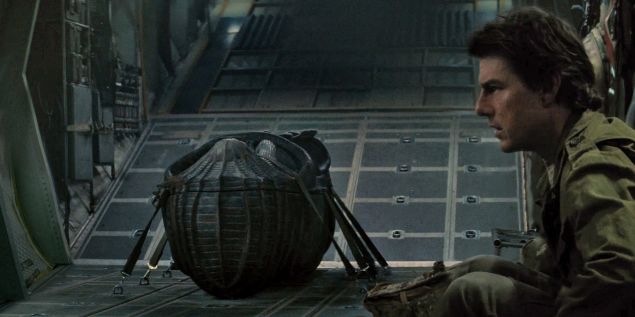 Note to Tom Cruise: Please keep your shirt on. This isn't 1983.
It isn't just that the middle-aged A-lister apparently still feels compelled to strip and stir up the 'lady-fans' at some point in his popcorn franchises — it's that by now there's a whiff of desperation to this enterprise and his manly-man jokes. Was I the only audience member who winced when his character expresses concern that his latest sexual conquest claims he only has a good 15 seconds in him? Or have I seen too many erectile dysfunction ads on SyFy?
You only have to watch the trailer to know that Producer-Director Alex Kurtzman's reboot of Brendan Fraser's once-charming mummy movies is full of embalming fluid. Cruise adopts the role of scampy soldier of fortune Nick Morton, a twinkly-eyed adventurer in the vein of Michael Douglas's Jack Cotton in Romancing the Stone or a much-less-charming version of Indiana Jones circa Harrison Ford. While trolling for treasures in Iraq, he and his reluctant partner Chris Vail (Jake Johnson) uncover a sarcophagus thanks to a purloined letter from Morton's last one-night stand, Jenny Halsey (Peaky Blinders' Annabelle Wallis). Surprise: the box contains the very, very cranky centuries-old supernaturally tattooed man-eater Ahmanet (exotic Sofia Boutella).
THE MUMMY ★1/2
(1.5/4 stars)
Directed by: Alex Kurtzman
Written by: David Koepp Christopher McQuarrie and Dylan Kussman
Starring: Tom Cruise, Russell Crowe, Sofia Boutella, Annabelle Wallis Running time: 120 mins
.
Ahmanet comes with a curse, as well as the usual baggage: daddy issues, fratricide and a dalliance with the dark side. This proto-mommy mummy seems poised to animate a more interesting version of the franchise. She is Egyptian jealousy and Juju unleashed in a striking female form, a woman who likes to be on top and telepathically mess with men's minds. And, given that one of the early writers is Jenny Lumet (Rachel Getting Married), there's a glimmer of something interesting buried under the pile-on of white male Cruise-friendly screenwriters that followed, including David Koepp (Mission Impossible) and Christopher McQuarrie (Jack Reacher).
Fixating on Morton, Ahmanet hopes to sever him from his mortal coil with a ruby-handled sacrificial knife and transform him into Set, the Egyptian God of Bad Shit. Make good choices, mummy! Yeah. Yeah. Yeah. Imminent doom threatens, along with episodes of monstrous spiders, chubby rats and flesh-hungry undead. Enter Russell Crowe at his hammiest as Dr. Henry Jekyll (aka Mr. Hyde) in a mythological mash-up subplot that contributes to the script's crazy quilt lack of focus. Ironically, in comparison to the out-of-control Cruise, Crowe seems almost restrained. Almost!
I passionately believe that if you're going to throw money down a well and reboot a franchise, you also have to freshen it up. This can be hard with mummies, who were musty to begin with way back in 1932 when Boris Karloff got wrapped up as the original Imhotep. The Fraser series, particularly those with Rachel Weisz, had a joyous balance of wit, danger and romance, which eventually unraveled (sadly, along with Fraser's blockbuster career). Now, joining Mission Impossible and Jack Reacher as a Cruise delivery vehicle, The Mummy is, like Ahmanet herself, dead on arrival.