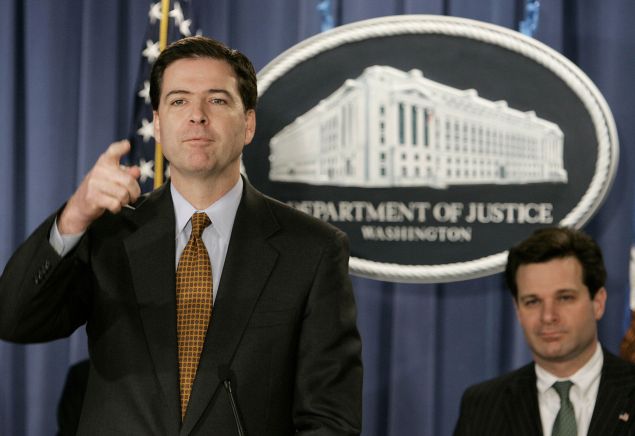 President Trump has chosen Christopher Wray, a former Justice Department official during the George W. Bush administration who later represented Gov. Chris Christie during the Bridgegate scandal, to be the next director of the FBI.
The president announced his choice Wednesday morning on Twitter, one day after meeting with Wray and another finalist for the job, John S. Pistole, and one day before the former FBI director, Jim Comey, testifies before Congress about an ongoing investigation into potential Russian ties to the Trump presidential campaign last year. Trump fired Comey last month.
Wray, a litigation partner at the Washington law firm King and Spalding, was Christie's personal attorney during various investigations into the George Washington Bridge lane-closing scandal. A different law firm — Gibson, Dunn and Crutcher — represented the governor's office and billed the state more than $10 million.
Christie was not charged. But two high-ranking political associates — Bill Baroni and Bridget Anne Kelly — were convicted and sentenced to prison. Another onetime Christie associate, David Wildstein, pleaded guilty and is due to be sentenced soon. An offshoot investigation led to the conviction of one of Christie's political mentors, David Samson, on a bribery charge.
At a news conference last week, the New Jersey governor declined to say whether he advised Trump to nominate Wray for the FBI position.
"I don't talk about what advice I give to the president of the United States," the governor said.
The FBI job comes with a 10-year term and requires U.S. Senate confirmation. (But Trump fired Comey less than four years into his term, and Comey said afterward that as a legal matter, the president may dismiss the director for any reason or no reason.)
Christie said he first got to know Wray, a graduate of Yale Law School and Republican donor, when both men worked in the Justice Department under President George W. Bush in the years after the 9/11 terrorist attacks. Christie was U.S. attorney for New Jersey at the time, and Wray the principal associate deputy attorney general and later head of the criminal division.
"I have the utmost confidence in Chris," Christie told reporters at a news conference in Trenton on Thursday. "He's an outstanding lawyer. He has absolute integrity and honesty. And I think that the president certainly would not be making a mistake if he asked Chris to be FBI director. I don't know what the president's going to do, what choice he's going to make, but Chris Wray is an outstanding guy and I think would provide great leadership at the FBI. I think most people who have dealt with Chris over the course of his professional career would tell you the same thing."
They dealt closely with one another on one of Christie's biggest cases as U.S. attorney. In 2005, Christie charged Bristol Myers Squibb with conspiracy to commit securities fraud, and the company entered a deferred prosecution agreement admitting guilt and paying $389 million to shareholders and the Securities and Exchange Commission.
The agreement was criticized by House Democrats at the time, who suggested Christie pressured the pharmaceutical company to endow a $5 million ethics chair at his alma mater, Seton Hall University Law School, as part of the deferred prosecution agreement. At a tense congressional hearing in 2009 about several controversial deferred prosecution agreements, Christie defended himself, noting that Bristol Myers Squibb initially planned to fund an ethics program at Rutgers University, which already had one. Seton Hall is the only other law school in New Jersey.
However, after the Christie-Bristol Myers Squibb agreement got national attention, the Justice Department changed its rules to end similar actions and prevent U.S. attorneys from requiring payments to unrelated outside institutions.
"I worked with Chris a lot, particularly on the Bristol Myers Squibb prosecution we did, and that's where I got to know Chris the most during our time in the Bush administration," Christie said Thursday of Wray. "And then, obviously, Chris represented me in the course of the investigation into the things that happened at the Port Authority and the George Washington Bridge."
Christie has maintained that he had no role authorizing the lane closures in 2013, which led to days of traffic paralysis on the New Jersey side of the world's busiest bridge. Not much is known about Wray's work for the governor in a personal capacity. It was left to Randy Mastro and his team at Gibson Dunn to comb through the governor's files and personal devices and conduct interviews about the traffic jam. Wray had one of Christie's cell phones in his possession during the investigations.