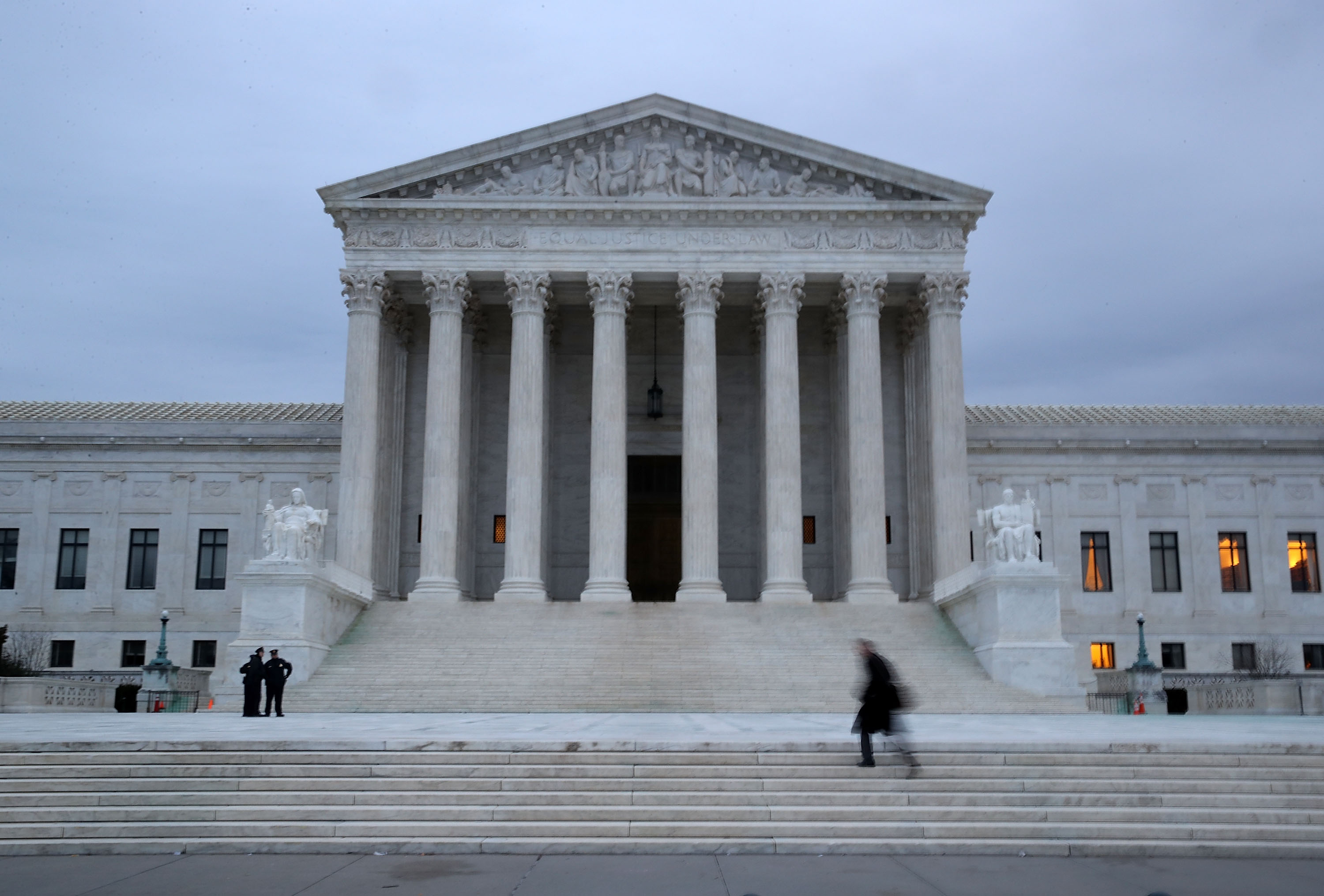 The U.S. Supreme Court announced Tuesday that it will hear arguments from New Jersey in favor of legalizing sports betting at racetracks and casinos despite a federal ban that has blocked the state's efforts for five years.
The high court announced it will hear one hour of oral argument at an unspecified date in its new term, which begins in October. The justices will review a decision from the Third Circuit U.S. Court of Appeals, which last year ruled that New Jersey's attempt to legalize sports betting in 2012 violated a 1992 federal law.
New Jersey has long sought to offer Las Vegas-style sports gambling to help state's struggling casino and horse racing industries. Industry groups estimate that billions of dollars are bet illegally on sports each year.
But the state has lost several legal battles to legalize sports wagering over the years. New Jersey voters approved a constitutional amendment legalizing sports gambling in 2011, and Gov. Chris Christie signed laws in 2012 and 2014 to implement that amendment. Five of the biggest leagues in the country, including the NFL and the NCAA, filed legal challenges to strike down New Jersey's law, claiming it would ruin the good clean fun that many love about professional and college sports.
Most recently, in August 2016, the Third Circuit ruled that New Jersey's law repealing a ban on sports gambling violated the 1992 Professional and Amateur Sports Protection Act, a federal law that bars states from authorizing sports betting. However, such wagers are allowed in Nevada and three other states that passed their own laws before PASPA went into effect. Nevada is the only state where gambling on individual games is allowed.
The Supreme Court receives about 10,000 requests to hear appeals per year and grants 75 to 80 — a minuscule number.
Christie said Tuesday that he was thrilled that the justices took the case and noted that attorney Ted Olson of the law firm Gibson Dunn was handling the case.
"I'm very optimistic and looking forward to having conversations later today with Ted Olson who represents us on the Supreme Court," the governor said. "I'm feeling pretty good. He's got a .750 winning percentage in the Supreme Court, so I feel pretty good having Ted Olson represent us."
A Supreme Court ruling on the case could have national implications, potentially opening the door for other states to legalize sports betting. Supporters of New Jersey's efforts see it as a states' rights issue.
"These decisions should be made at the state level," said state Sen. Joseph Kyrillos (R-Monmouth), whose district includes the Monmouth Park race track. "That's why this is an important case not only for New Jersey, but for every state in the nation."
Two New Jersey congressmen who have tried to legalize sports betting on the federal level also welcomed the Supreme Court's decision to take the case.
Rep. Frank LoBiondo (R-2) said sports betting would bring tourism and tax revenue to South Jersey and reinvigorate Atlantic City, where five casinos have closed since 2014.
"Long time coming, today's SCOTUS announcement is welcome news to South Jersey residents who overwhelming voted to allow sports-betting," he wrote on Twitter.
Rep. Frank Pallone (D-6) said both Congress and the Supreme Court should respect New Jersey voters who decided to legalize sports betting.
"Rather than continuing to allow criminal and offshore entities to reap the benefits of illegal gaming, there is now an opportunity for the Supreme Court to allow the democratic process in New Jersey to appropriately regulate sports gaming," Pallone said in a statement.